Over the years I have compiled a nice collection of graphic tees and tanks. What can I say, I like a t-shirt that has a little personality. A tee that spreads love, sunshine, good vibes and…..more love! ALWAYS. MORE. LOVE. I don't know what it is about a cool graphic tee and tank that just makes my look feel complete and a little more playful. I rounded up a few of my favorite graphic tees and tanks to share with you for summer…
Old Navy's Love Graphic Tee
Simple, happy and a rainbow to boot! This tee has a relaxed fit, is 100% cotton and will be repeat all summer long!
Tee (wearing xs)
Amazon's Sunshine Tee
Not everyday can be sunny, but it can with this tee! This tee guarantees a smile
Anine Bing Tee
The splurge of all of my graphic tees. Anine Bing brings the cool factor with this edgy tee. The LA based designer offers modern everyday wardrobe essentials to leave you feeling confident and cool.
Tee (wering xs) | Jeans | Sandals
Amazon's Dolly Parton Tee
There is a saying that you can only wear a band or musicians graphic tee if you have seen them in concert. And you know what I say to that? Nope, sorry, I don't care I love Dolly and I am wearing this tee.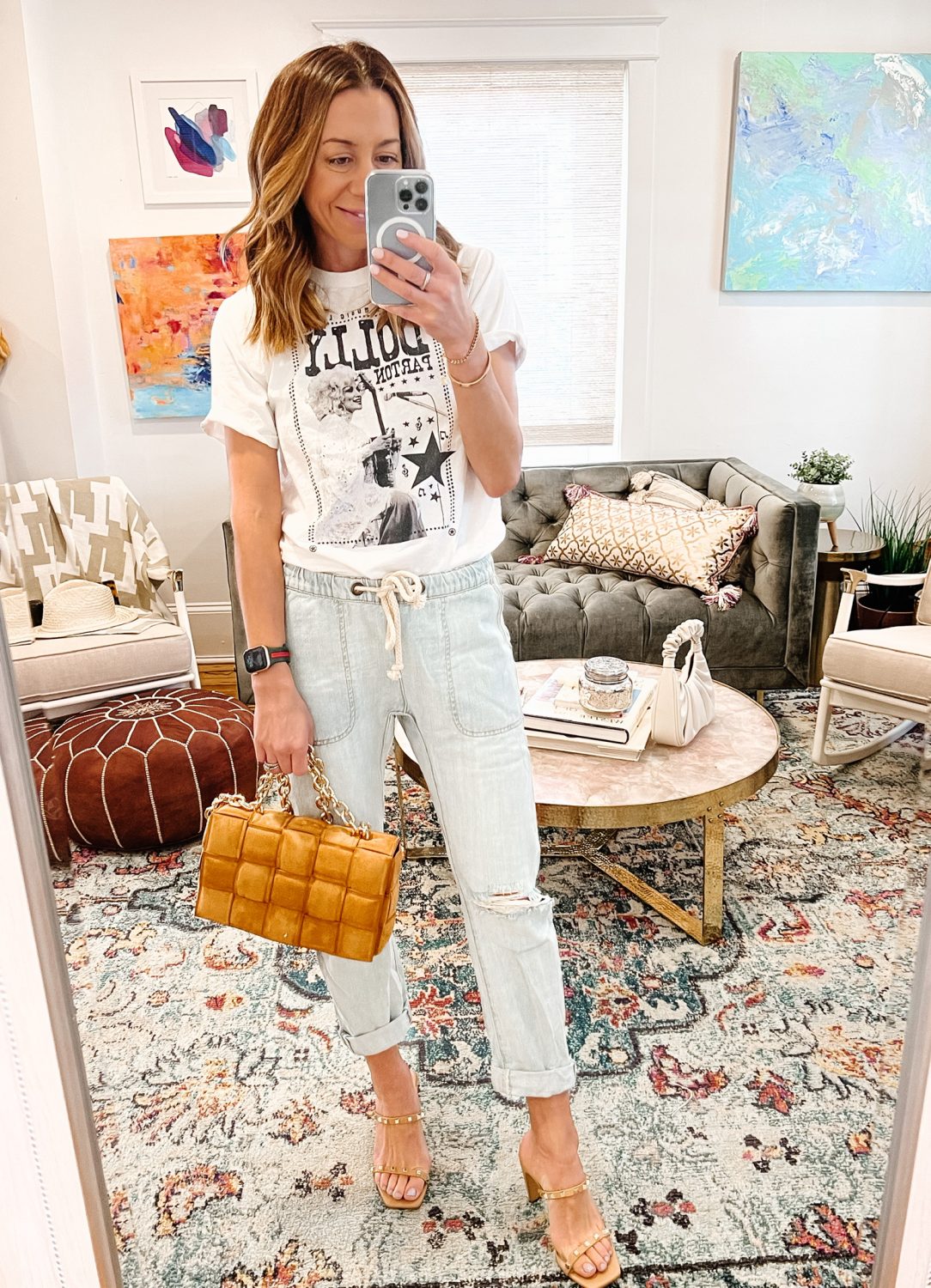 Tee (wearing xs) | Jeans | Shoes
Spiritual Gangster's Love Tank
Because there is always more room for another graphic love tee….or in this case, a tank! Simple and to the point! This love tank is buttery soft, works great with denim and is perfect for layering under a cool spring jacket!
Tank (wearing xs) | Shorts | Slides
Amazon's Good Vibes Tee
If you have been following me for some time then you know this is a favorite! It's kind of my motto. If I can put out the good vibes then hopefully the good vibes will come to me.
Tank (wearing small) | Shorts | Sandals
Spiritual Gangsters Warrior Sweatshirt
Because sometimes this girl gets chilly, especially on the sidelines. If you have made it through a crazy busy week then break out this sweatshirt and be a weekend warrior.
Sweatshirt (wearing xs) | Shorts | Hat | Lunchbox
More fun graphic tees we ❤️: