I feel like there are two kinds of people when it comes to Disney. You are either a Disney person or you are not. You can either see past the long lines, the sweat, the crowds the $10 ice creams and $45 bubble fans for the priceless smiles on your kids' faces, or you don't. Prior to this trip I was the latter. If someone said "Disney", I inhaled, my nose flared and my eyes rolled. I'll chalk it up to a prior Disney visit with four kids under 10 (one with a broken arm), where I showed up with high expectations and zero research. Spoiler, you can't just show up at Disney and have a grand time. There are a lot of things that Disney is: Disney is clean, Disney is organized, Disney is over the top in terms of the rides, the shows and the experiences. But Disney IS also very confusing. The apps, the Genie plus lines, the overwhelming amount of choices that can lead to a bad combination of anxiety and FOMO… it's a LOT to plan for but in order to have a great time, you need to put in the work (or have someone do it for you).
My BEST Disney advice is two-fold:
Lower your expectations. Your kids will whine at Disney. Your kids may even cry at Disney. You will get hot and bothered and overwhelmed whilst at Disney. It's ok. There is not a magic potion in the air at Disney that all of a sudden makes your kids happy, perfect smiling angels who LOVE waiting in lines and dripping sweat. But if you know that going in, and you don't let it get to you, the smiles, the excitement, the pure, innocent joy of seeing their favorite characters and experiencing epic rides will all be worth it.
Get. A. Disney. Planner. Here's the thing. Going on vacation shouldn't be a job. As mentioned before, Disney is confusing. We worked with Pam from Destination Wonderland Travel (you can email here HERE) and she did all of the behind the scenes planning for us. You guys, she even got up early for us each day we were there and booked our Genie Lighting Lane passes for us because if you are not on the app by 7am ON THE DOT they will book up. And who wants to get up at 7am on vacation? Once we checked into our rides, she grabbed the next Lightening Lane available. She also booked our restaurants, character meals, made sure we had a stroller delivered to the hotel and a million other things….
Bottom line, if you follow those two simple pieces of advice, Disney can certainly be….. MAGICAL.
Did I just turn into that first type of person? I think I'm close…..
Below is a look inside our trip with some easy tips and, obviously,… what we wore!
Magic Kingdom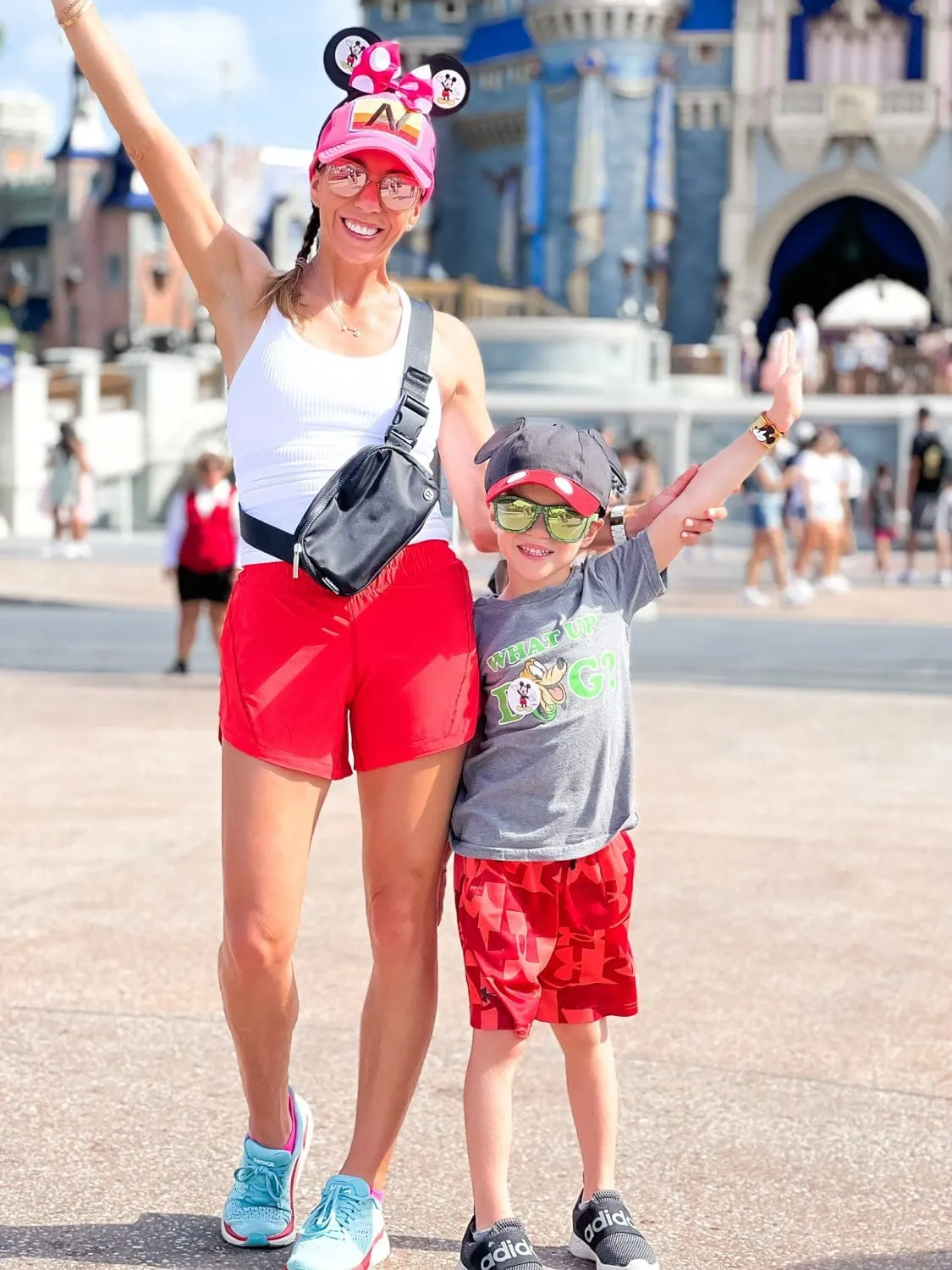 Magic Kingdom Outfit
My Outfit // Lululemon Tank | Lululemon Shorts | Sneakers | Hat | Sunglasses | Lululemon Belt Bag
His Outfit // Pluto Tee | Sneakers | Mickey Hat
Abby's Outfit // Minnie Tee | Shorts
Disney Tip // Hands free is the way to be! This belt bag and this phone case were great for carrying small items.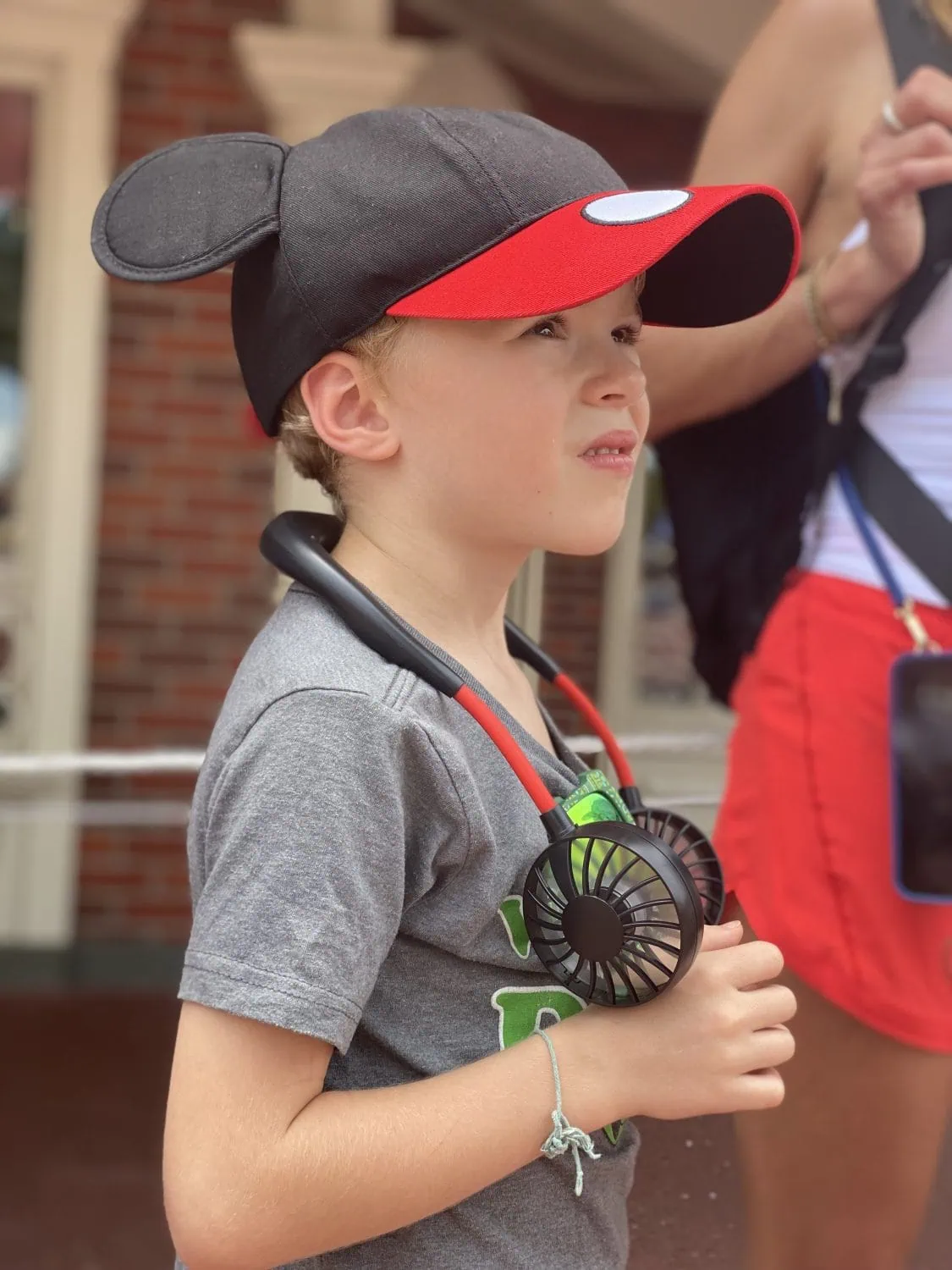 Disney Tip // Beat the heat with a neck fan or spray fan and make sure to bring a reusable water bottle.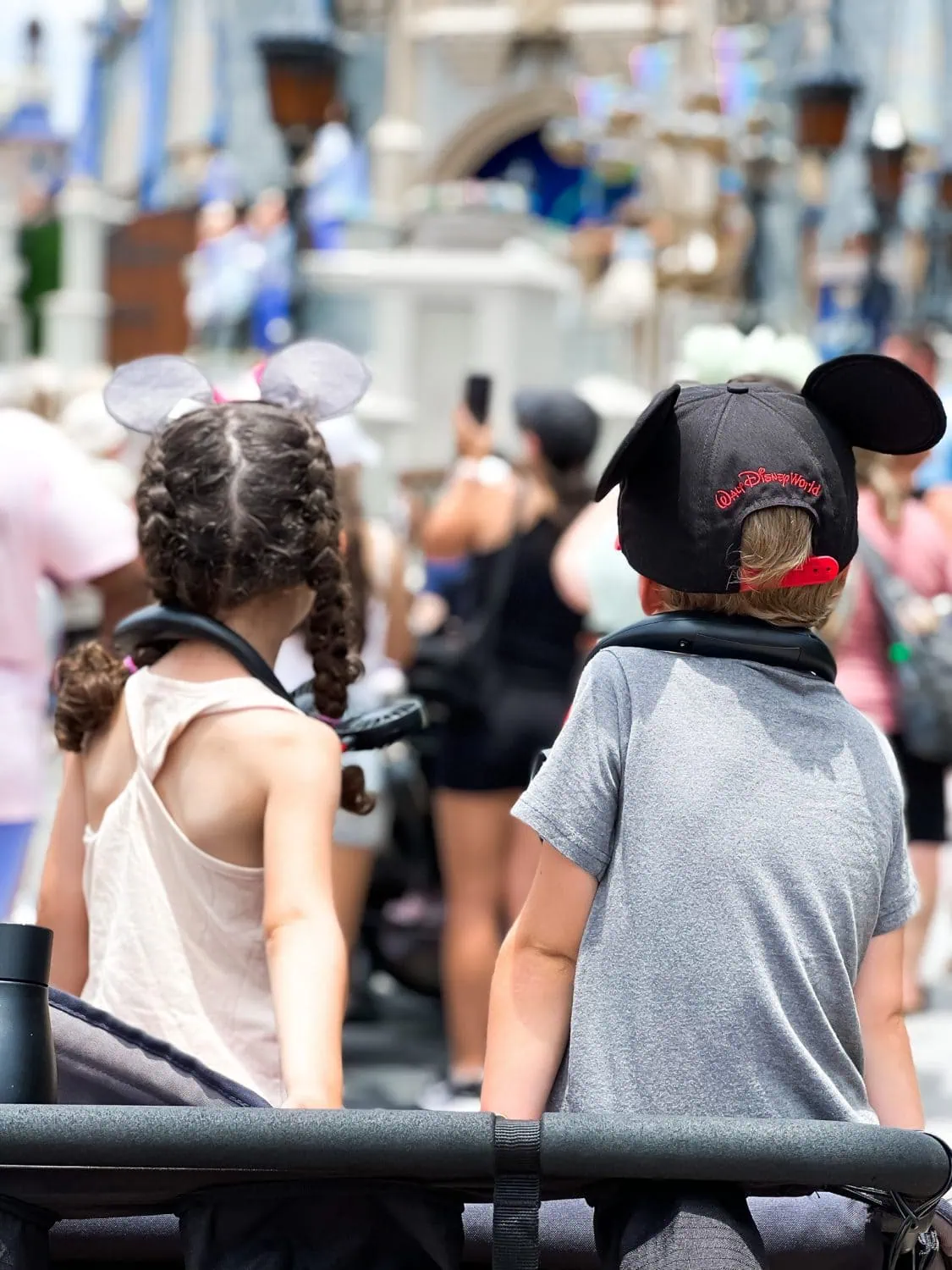 Disney Tip // Renting a stroller was the best for our crew – with three kids under 5 it was the best way to get around. There is plenty of stroller parking in each park. Even if you think your kid is too big for a stroller, I would say if they are under 7, bring or rent one!
Epcot
Epcot Outfit
Mickey Tank | Skirt | Backpack | Phone Case | Sunglasses | Sneakers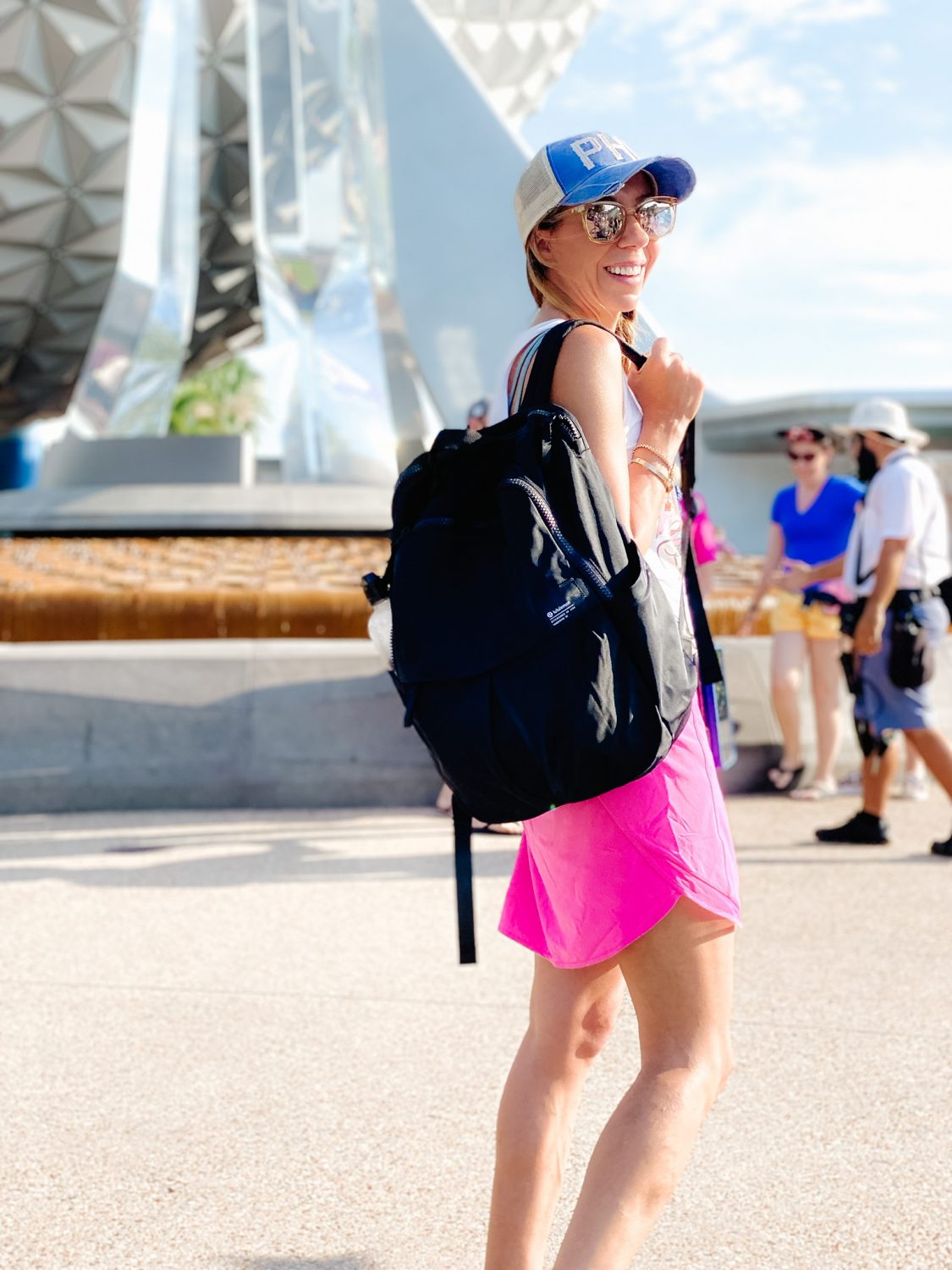 Disney Tip // Comfort is key! I highly recommend a comfortable backpack with room for water bottles, sunscreen, snacks etc… I am in LOVE with this lululemon backpack. It has pockets in all of the right places AND a laptop sleeve so I could bring my laptop on the airplane. Even though it's hot in Disney, sneakers, sneakers, sneakers is the way to go. Both my sister and I swore by Hokas paired with these socks.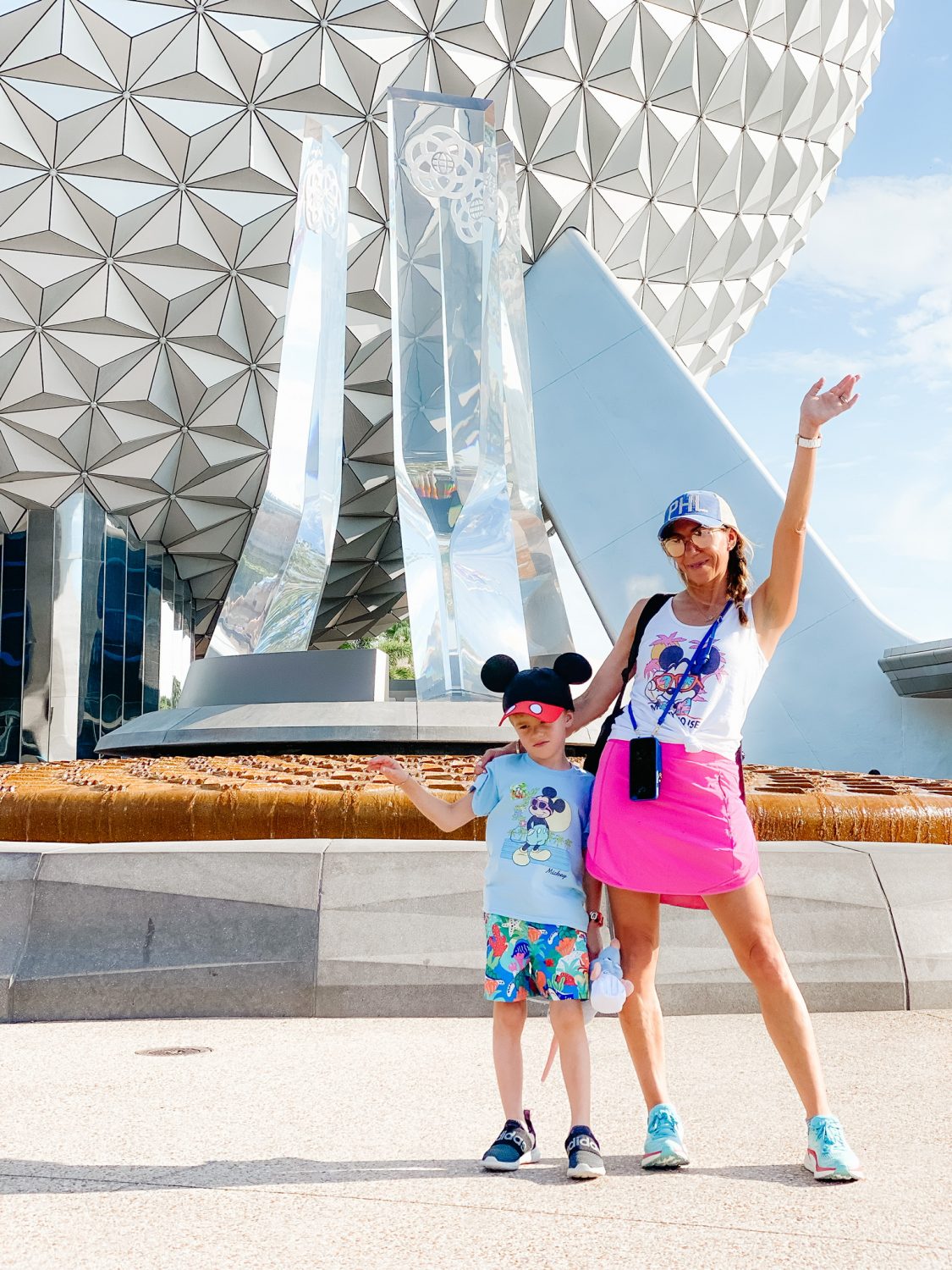 His Outfit // Mickey Tee | Swim Trunks (sold out, more by same brand here) | Sneakers | Mickey Hat
Abby's Outfit // Tank | Shorts (she regretted denim shorts that day!) | Sneakers
Animal Kingdom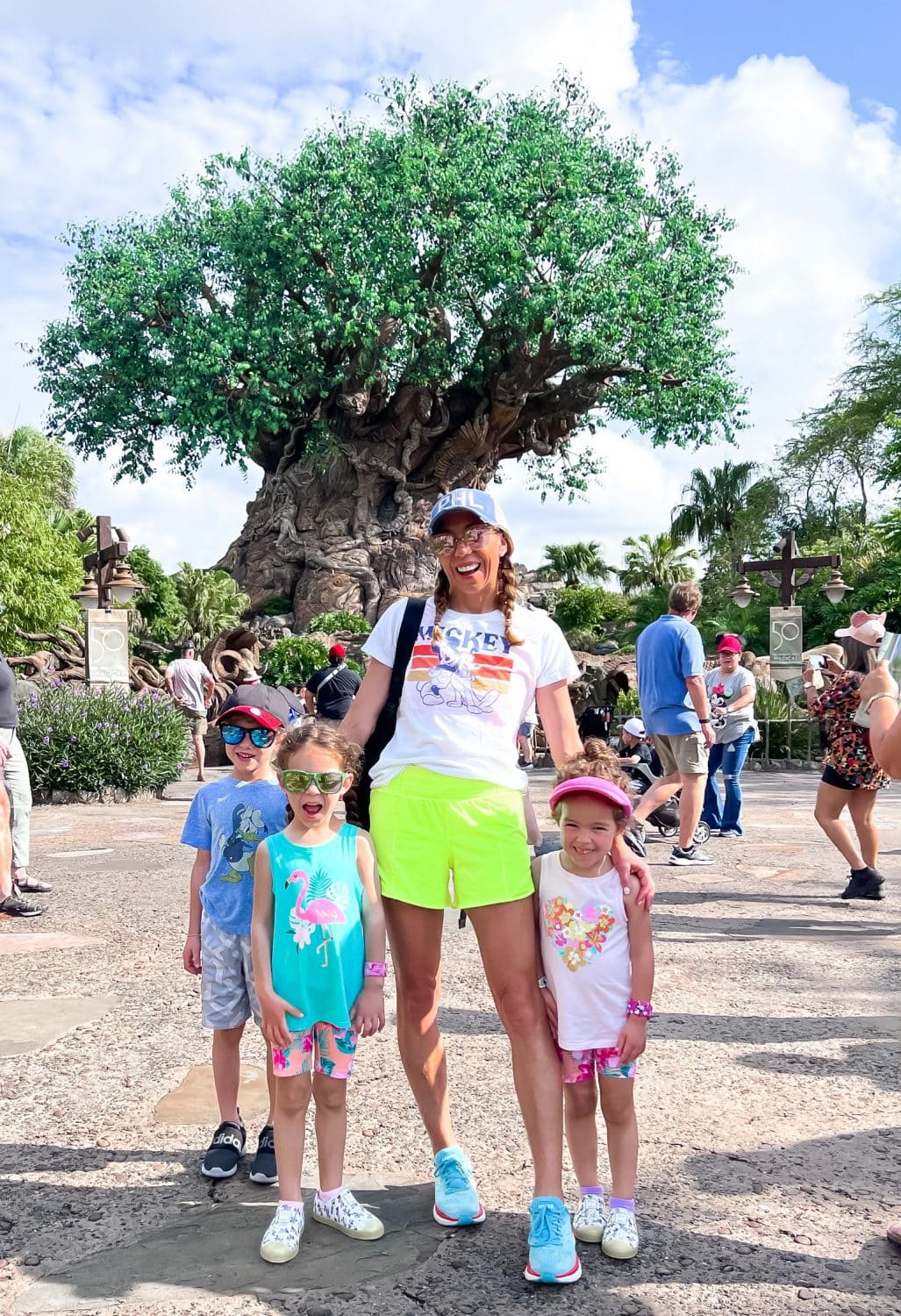 Animal Kingdom Outfit
My Outfit // Mickey Tee | Lululemon Shorts | Sneakers | Sunnies | Hat (purchased locally, linking similar)
His Outfit // Donald Tee | Sneakers | Mickey Hat
Girls Outfits // Tanks | Biker Shorts | Shoes | Visor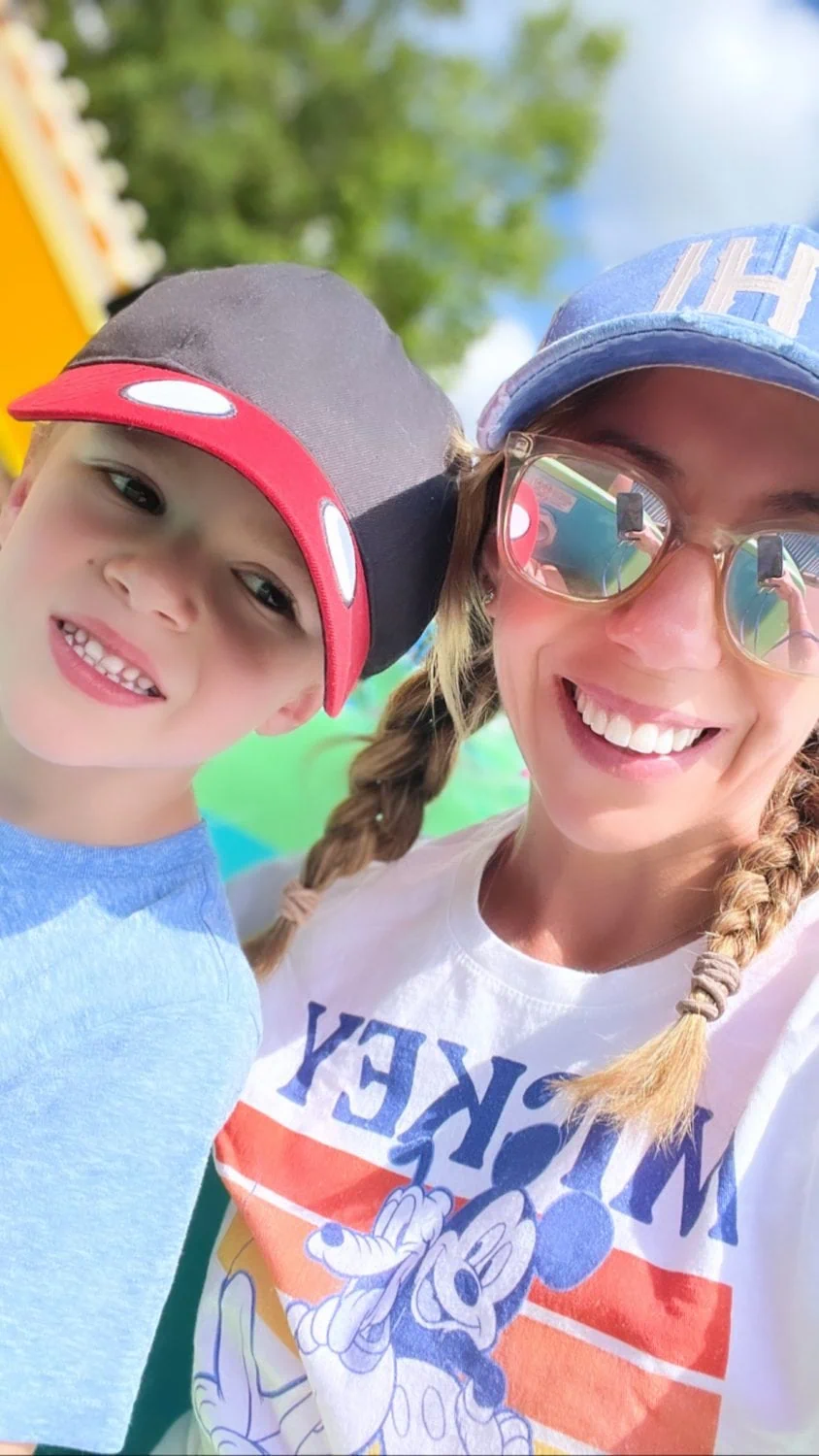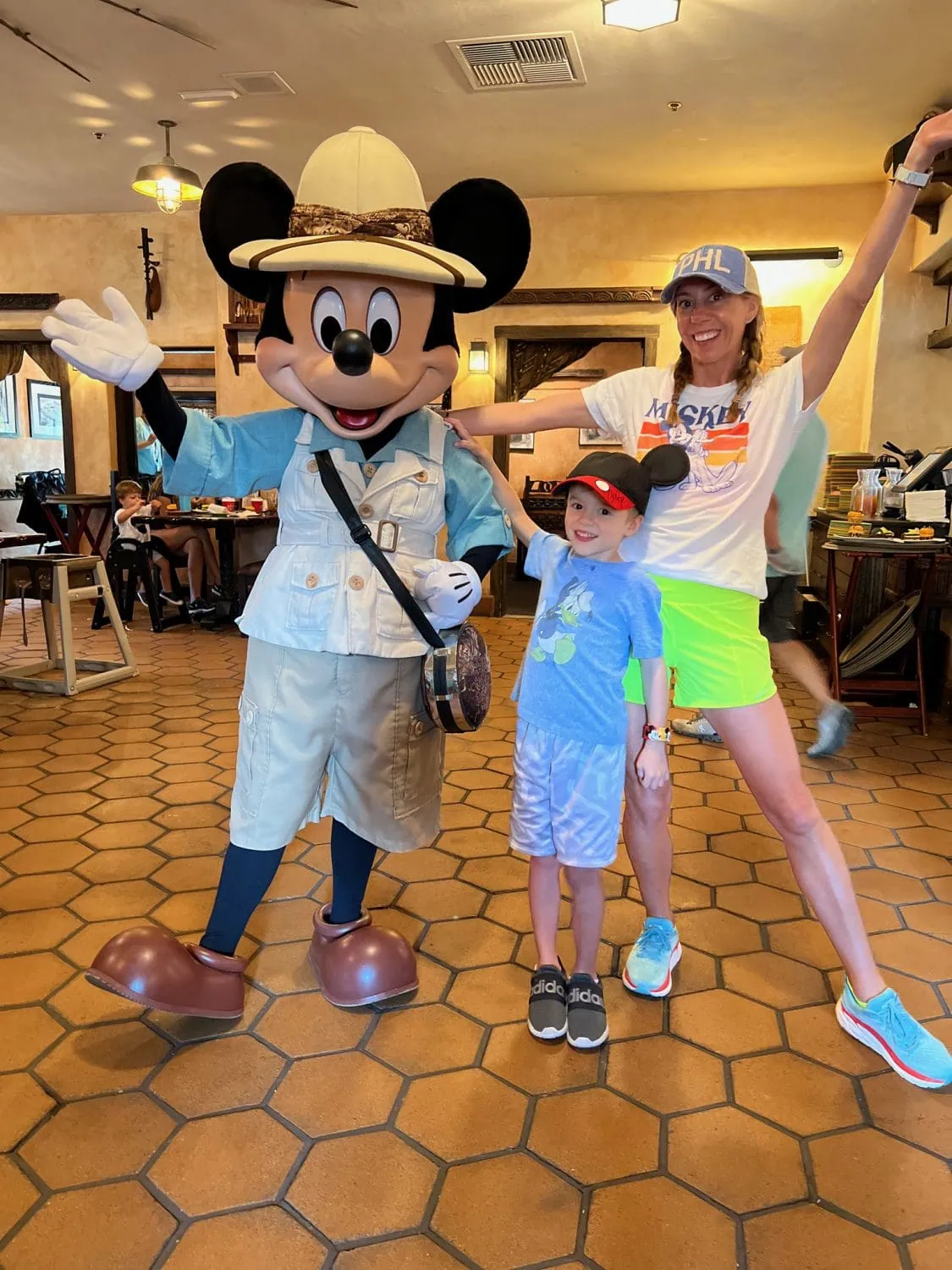 Disney Tip // For our kids the character meals were a hit. It was a great way to enjoy some down time out of the heat. My son got his hat signed by a few characters and it will definitely be a keepsake for him to enjoy.
Where We Stayed + After (Park) Hours Looks
We stayed at the Four Seasons and absolutely loved it! Not only is it a beautiful hotel with epic pools and amazing restaurants, it was so quiet which was a welcomed treat after a day at the parks. Although this hotel is not on the monorail, they do have an hourly shuttle to the parks. We ended up taking Ubers most of the time and the parks are just a quick 5-10 minute drive. A few things to note… they have an amazing character breakfast (book ahead), kids under 5 eat free at dinner (woo), and they have water slides, a lazy river, insane kid pool and I heard the spa is amazing too.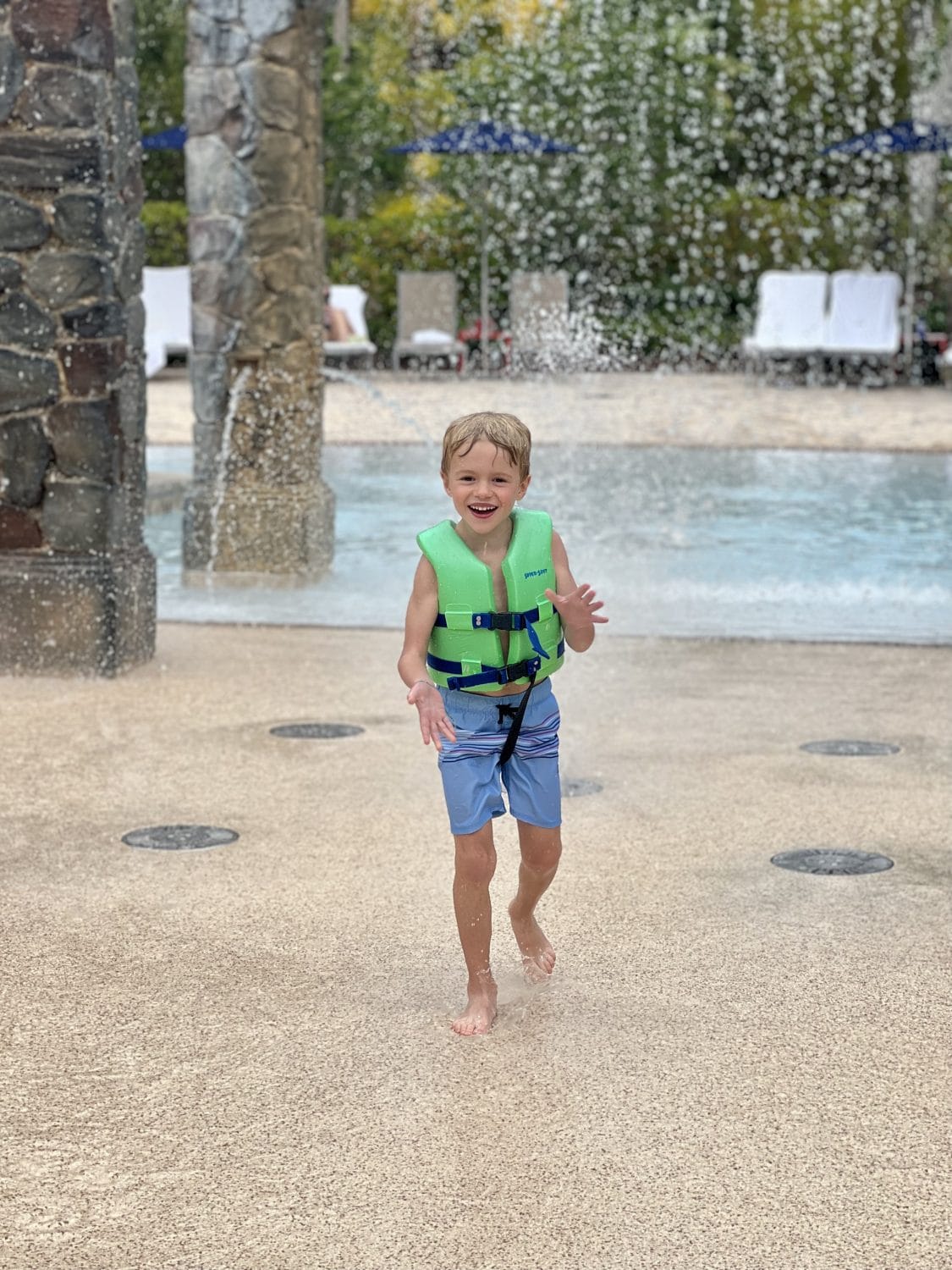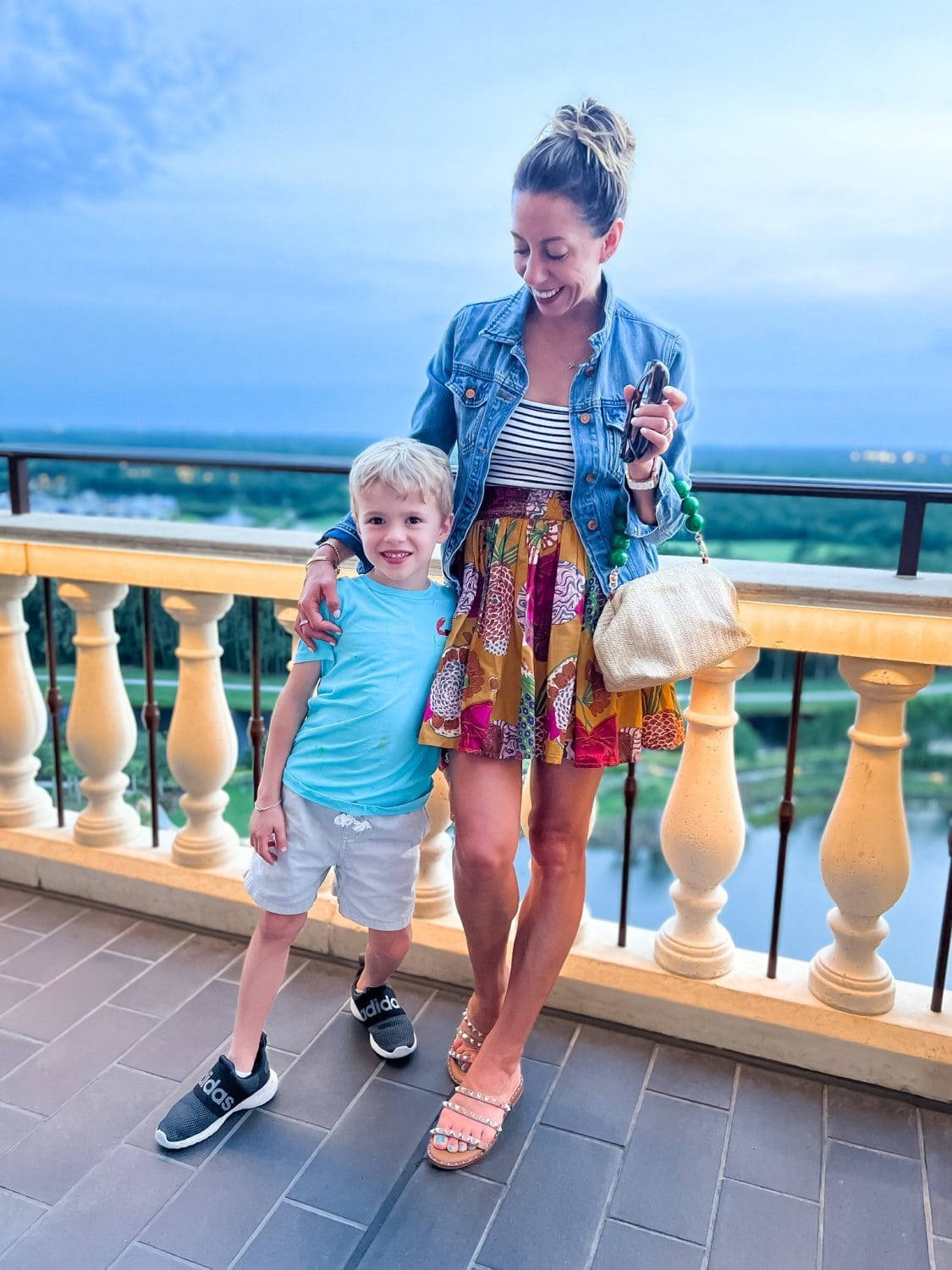 My Outfit // Denim Jacket | Tank | Skirt | Clutch (strap) | Sandals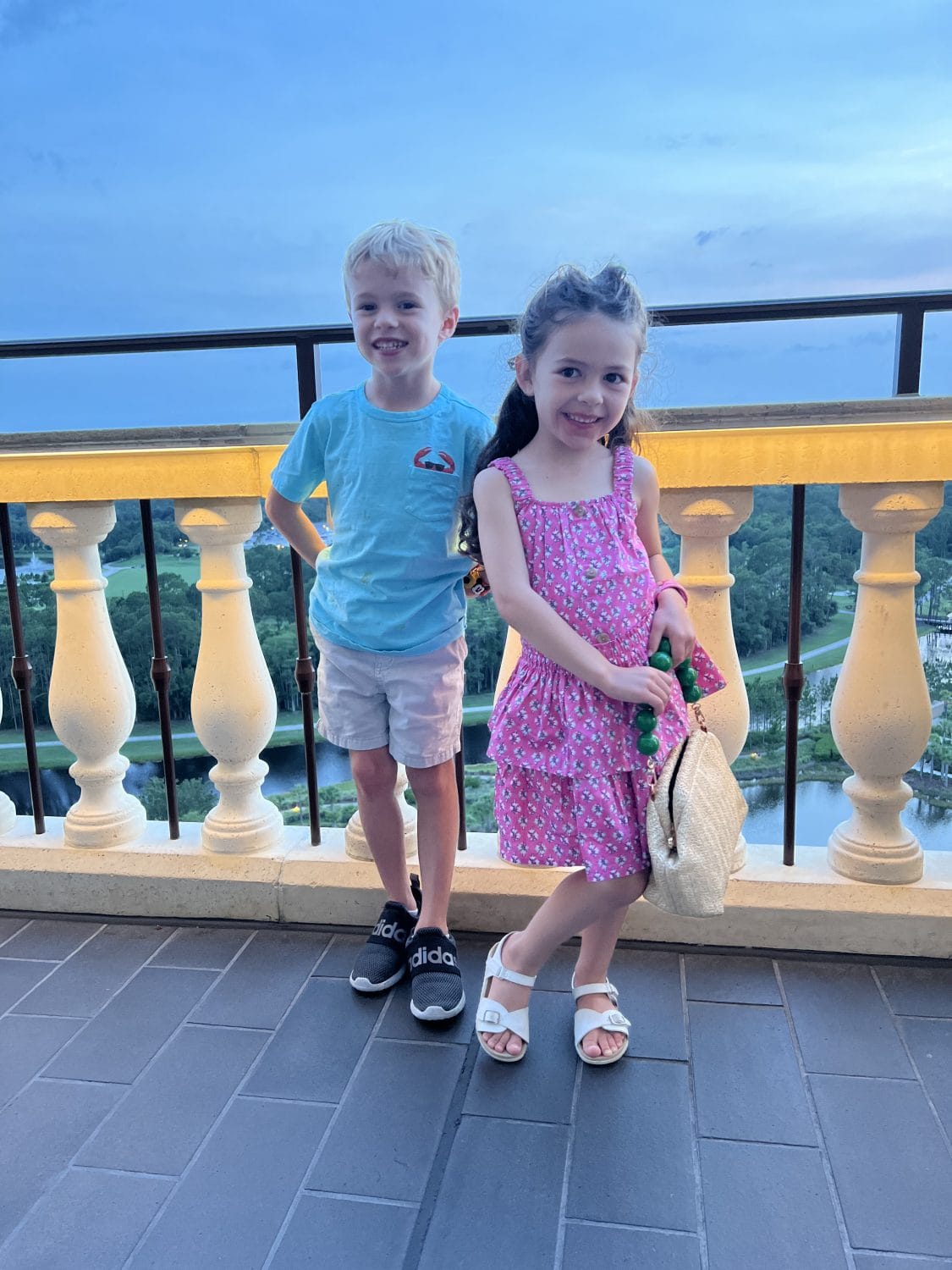 His Outfit // J.Crew Factory Tee | Sneakers
Her Outfit // Tank | Skirt | Sandals
My Outfit // Dress | Clutch (strap) | Sandals
Travel Looks
Tank | Joggers | Zip Up | Sneakers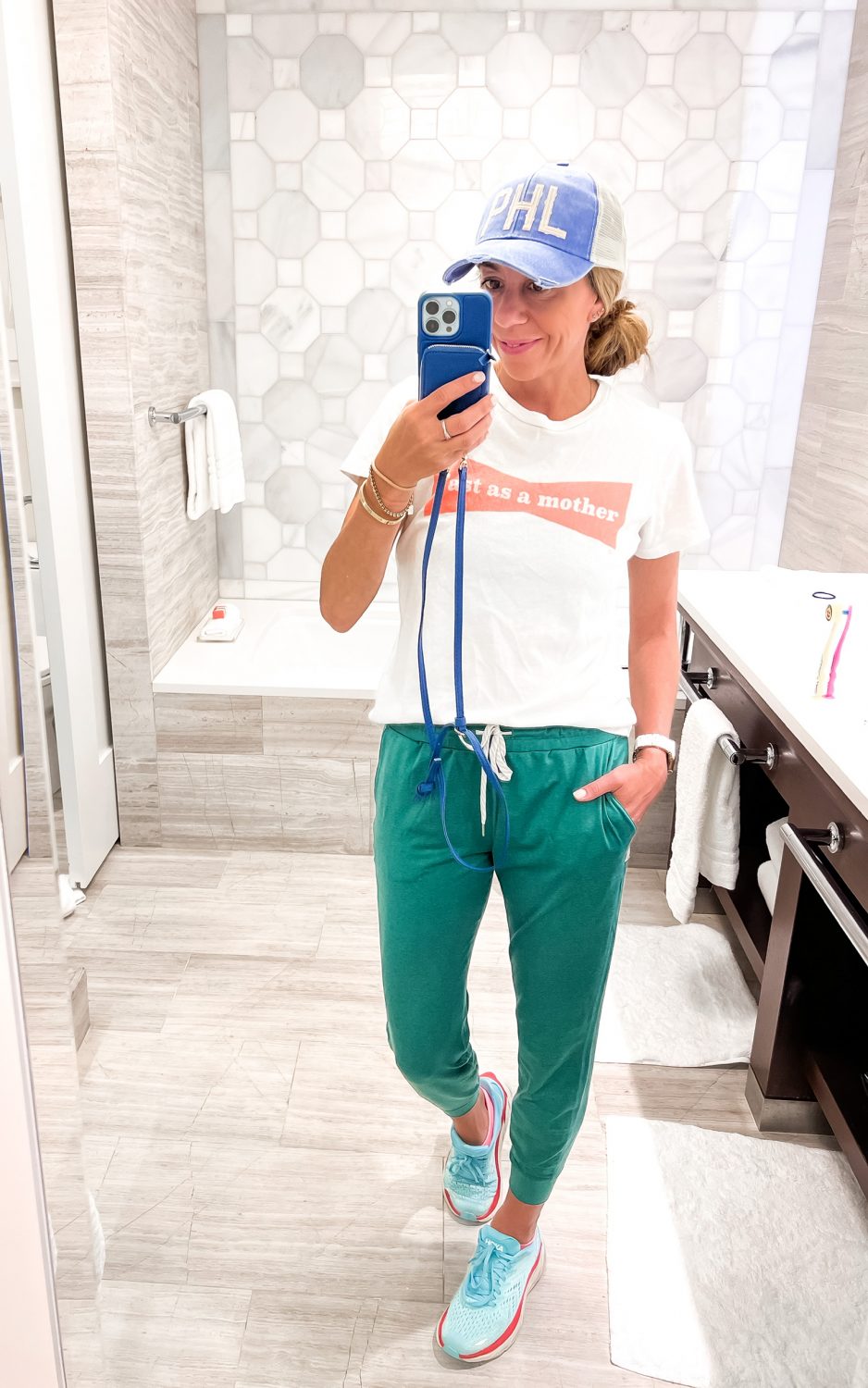 Ok Disney, until next time…..