For as long as I can remember, I have been a runner. My mom told me I was fast and I believed her. She also told me I was graceful and that I would also make a great teacher. Whether she was right or wrong, I internalized her words and running has always been a part of my life whether I was playing soccer, running track, trying to get in a good workout or just trying to clear my head. In the winter I mostly run on the tread because Pennsylvania can be freezing, but in the spring/summer I like to take most of my runs outdoors. And yes, it's hot, but over the years I've wear-tested TONS of activewear shorts and curated a list of my all time favorites below. Some days the run itself can be hard enough so I like to make sure I have a great fitting, no fuss, moisture-wicking pair of shorts. Personally, there are a few things my activewear shorts must have in order to make the cut. 1) A comfortable waistband, 2) breathable fabric and 3) cute….come on, you know they have to always be cute! Check out some of my favorite activewear shorts for summer….
#1 Favorite Pair
Hottie Hot High Rise Line 4 inch Shorts (wearing size 4) | Swiftly Tech Short Sleeve 2.0 (wearing size 4) | Fast and Free Running Belt | Sneakers
I have tried countless pairs of running shorts and always go back to the lululemon Hottie Hot High Rise Lined 4″ shorts . They feel like air, wick sweat and have a built in liner for comfort and coverage. The Swiftly Tech Tee is also my go to because I prefer running short sleeve tops. It's completely seamless and ventilates air on super hot days. Lastly, I just got the Fast and Free Running Belt and not sure what I did the past 40 years without  it. I put my phone in there and it doesn't bounce is an amazing alternative to holding it (can't believe I ever did that) or wearing it on an arm band which can throw off your equilibrium.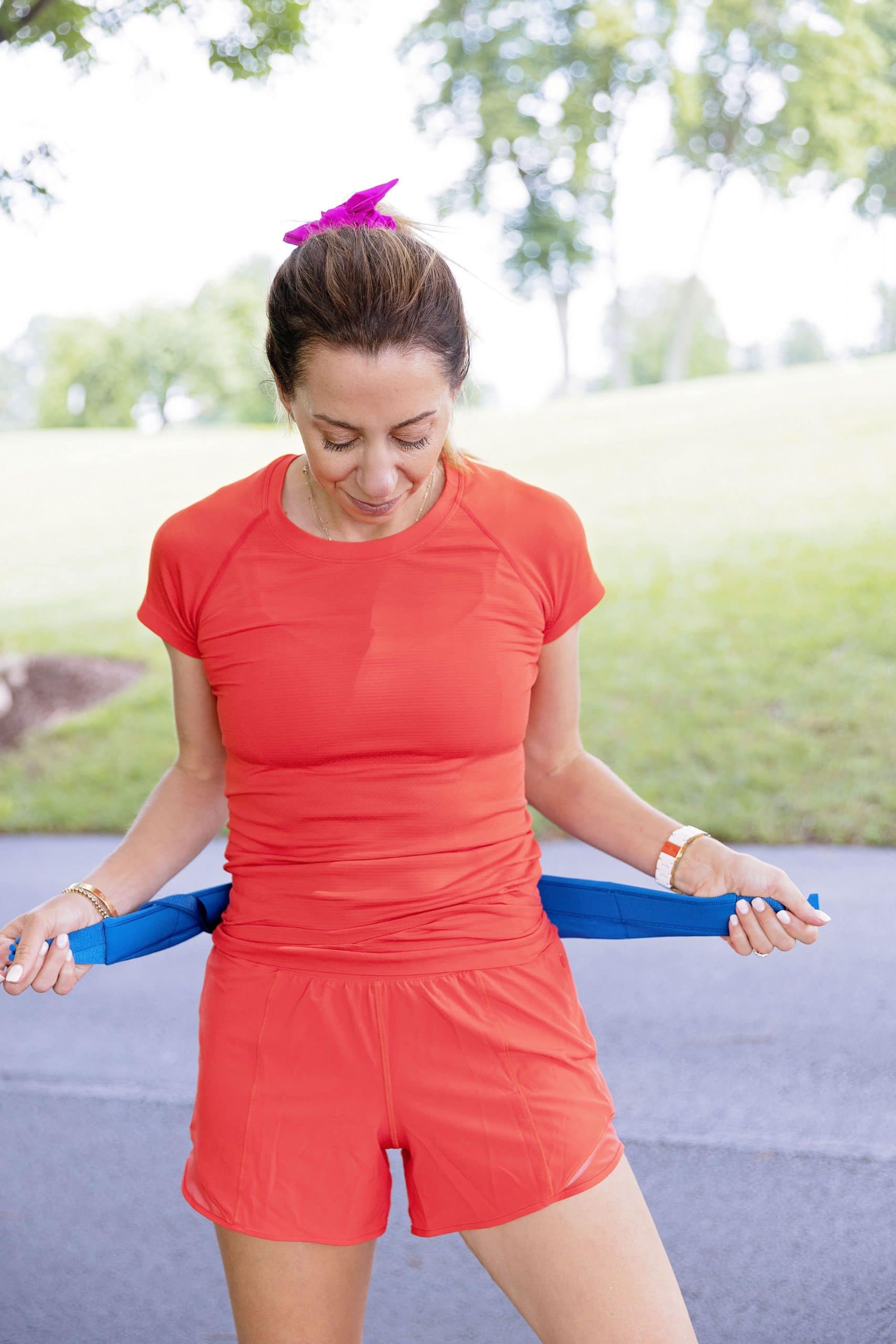 And yes, I have them in a few colors…..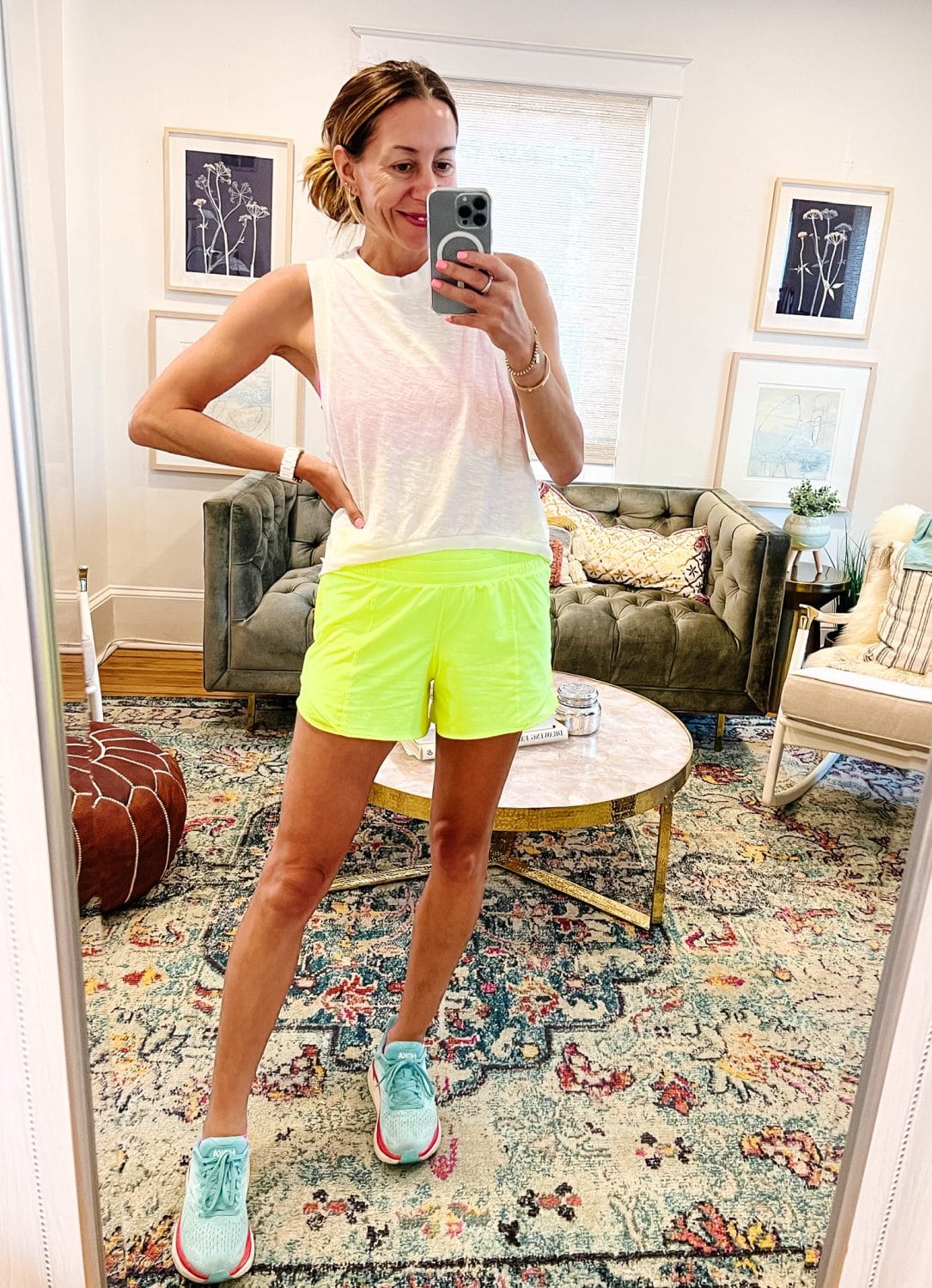 Lululemon Hotty Hot Shorts | Tank | Sneakers
Runner Up
Lululemon Speed Up Shorts | Tank | Sneakers
The Speed Up Shorts come in a close second. My husband likes how these look better, and of course I prefer a little more wiggle room in the Hottie Hot style. They both feel the same on when I'm running which is … like you don't even know they are there!
Favorite Save Pair
Ok I couldn't pick just one because I like both of these for different reasons. This pair has a relaxed fit, but they really stay in place when I'm running. They have a high rise waist, are lined and they have a side pocket for a phone. I wouldn't run with my phone in the pocket, but it's nice to have if walking around.
Blooming Jelly Shorts | Vuori Zip Up
I do love this Amazon option for running, but the fabric is not as high tech as either lululemon pair. They feel great on and I love the built in biker shorts with a stasher pocket.
Favorite Fashion Girl Activewear Shorts
Ok these aren't great for running. The fabric isn't as techy as the lululemon options, but if I'm feeling like dressing sporty or just running errands etc… I love how these look on. They are super high rise so you can wear a cropped tank without baring the mid-drift.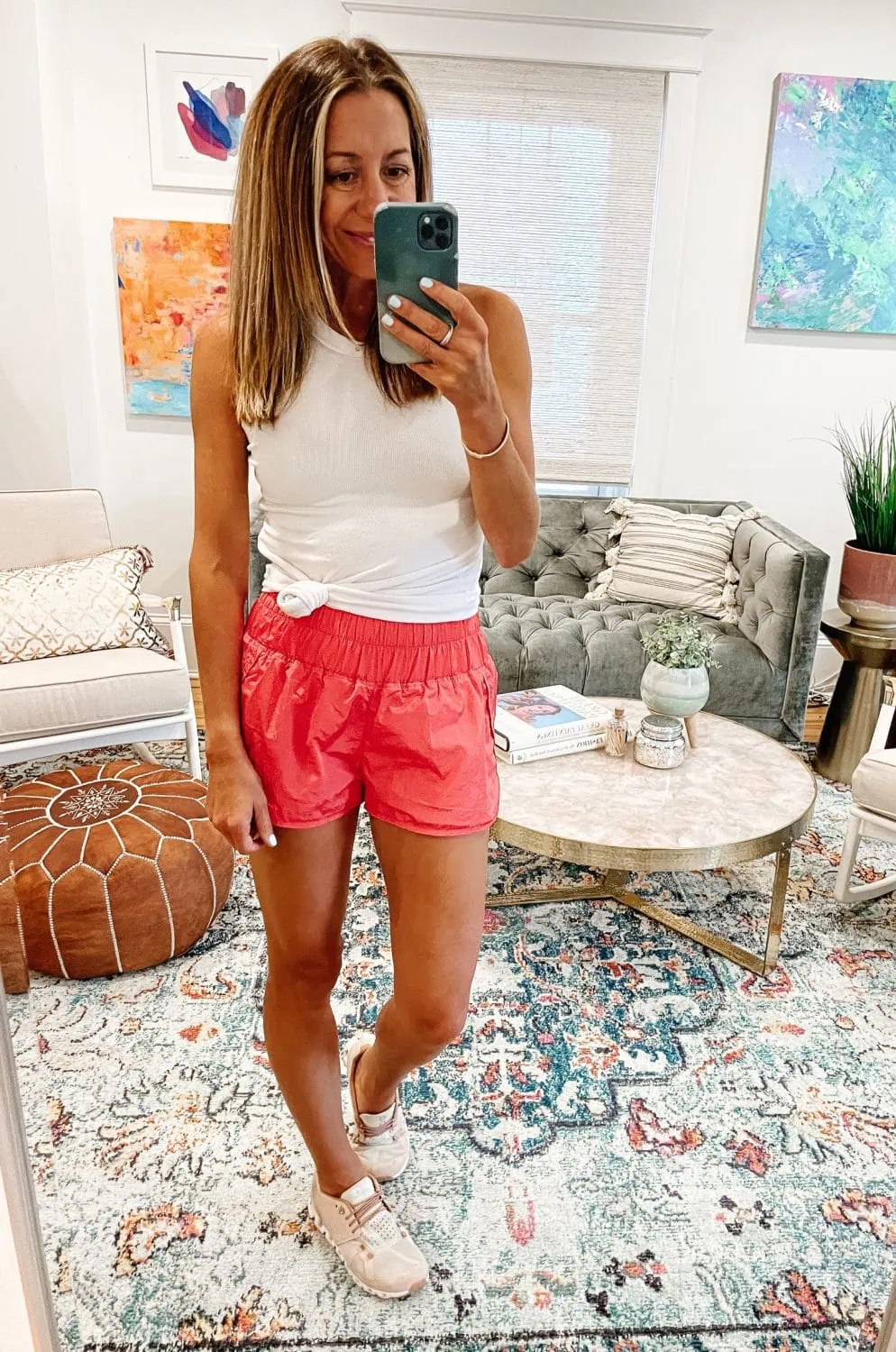 Free People Shorts | Tank | Sneakers
This pair is also by Free People and my thoughts are the same as above – not great for running, but love how they look and feel for a casual athleisure moment.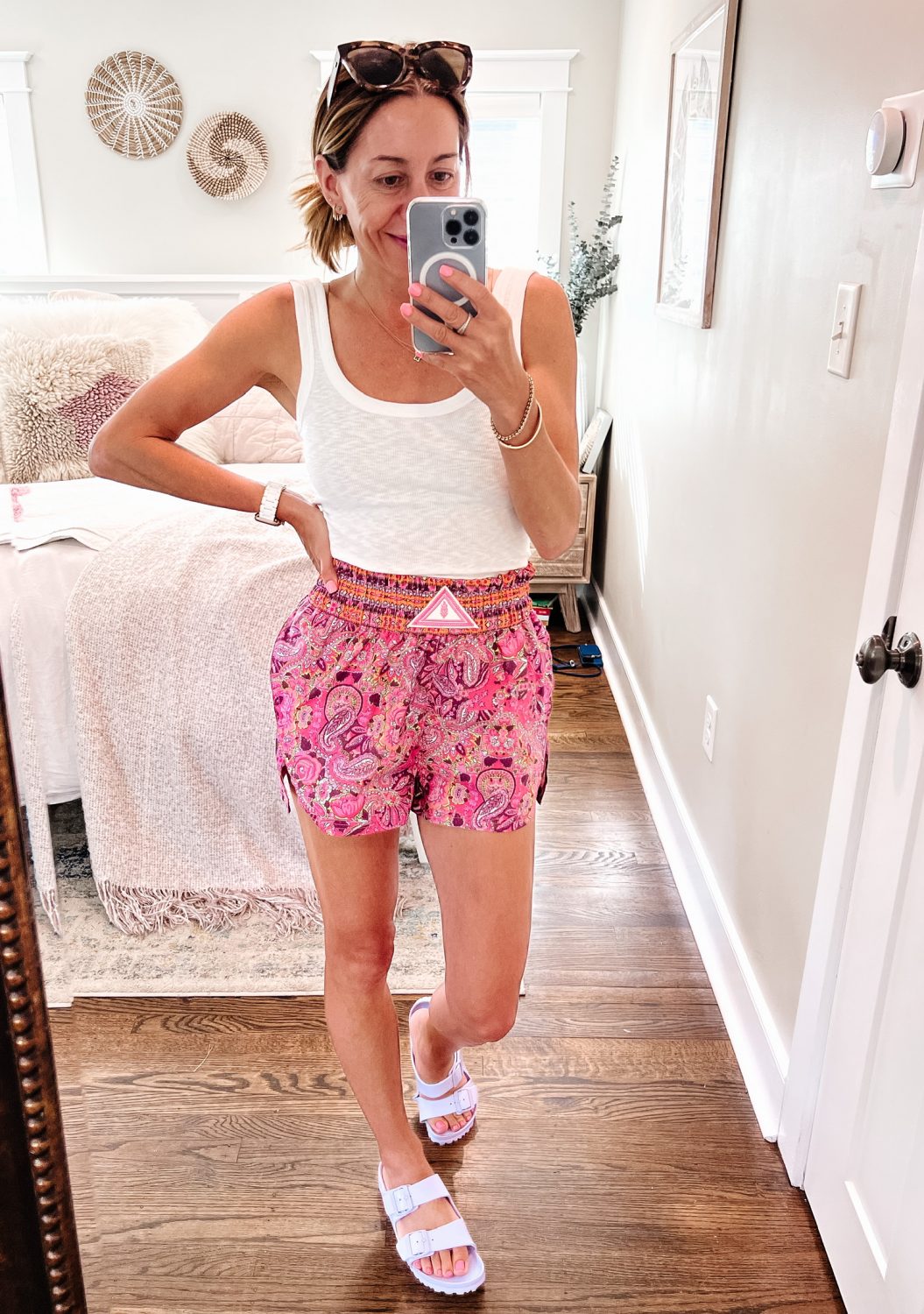 Free People Shorts | Tank | Slides
Favorite Lounge Shorts
Oh my goodness these shorts are COMFORTABLE! A reader told me I needed to try them and she was certainly correct. If you love the Vuori Joggers, consider these the warmer weather equivalent. Same dreamy fabric, baggy fit, 3.5 inch inseam – can be worn rolled or not (ok remember we used to do that?!)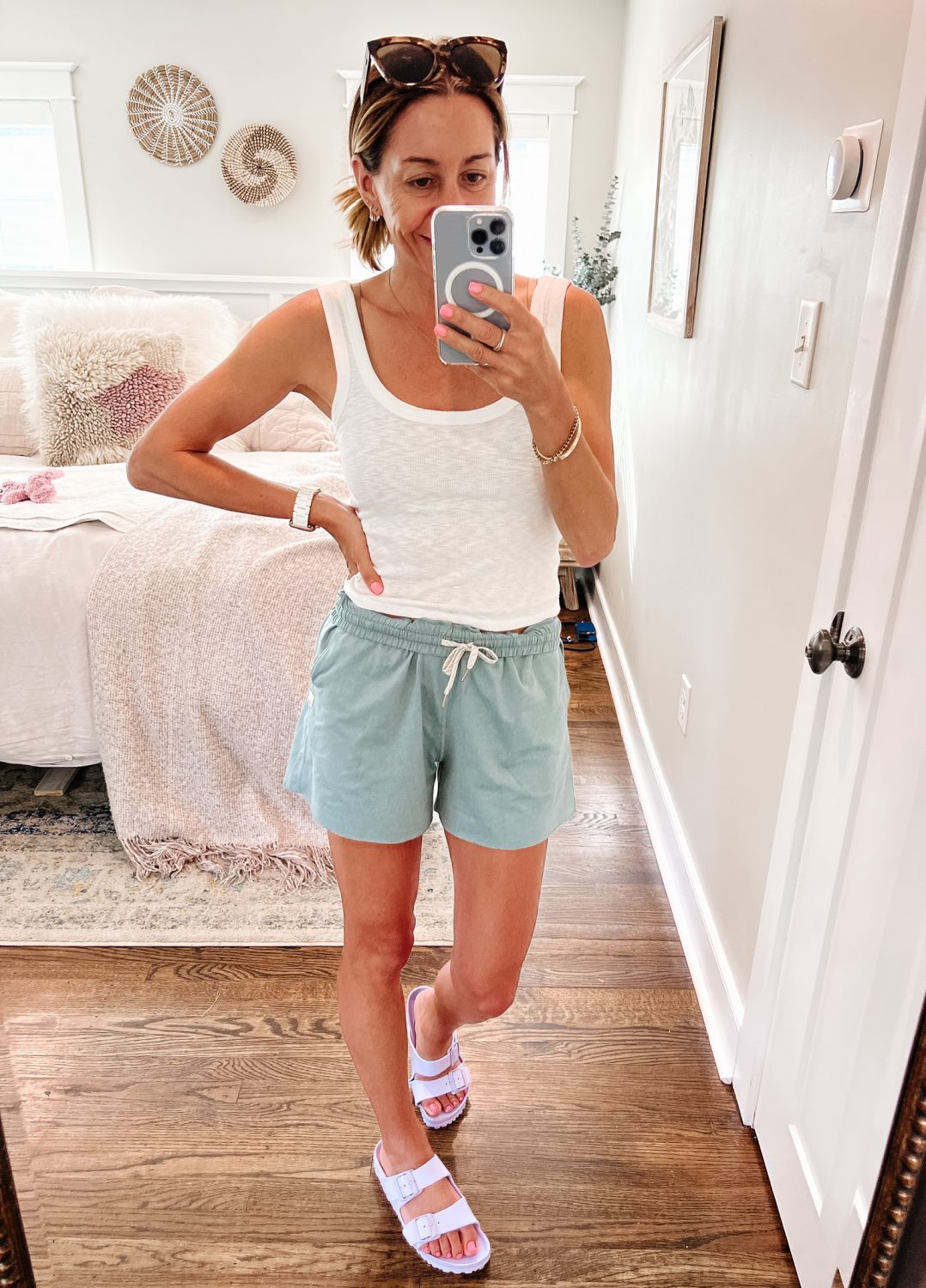 Vuori Boyfriend Shorts | Tank | Slides
Favorite Booty Shorts
These shorts are a biker/shorts hybrid. They aren't as compressive as bike shorts, but they are definitely body skimming. The fabric is crazy soft and they have a drawstring waist. The high rise fit makes them a perfect match for a cropped sweatshirt