The Nordstrom Anniversary sale is equal parts amazing and daunting. With hundreds of pages of sale items, it is hard to know where to start which is why I had this idea. Why not create the ultimate NSALE shopping checklist with recommendations for each item? After almost a decade of shopping this sale (and helping you all shop it too), I have learned the key items that you will never regret adding to cart. But here is the thing. You don't need it all, so it's best to use this checklist to fill the holes you have in your personal wardrobe and to get a head start on some holiday shopping. Yes, you heard me correctly. Ok let's get to it….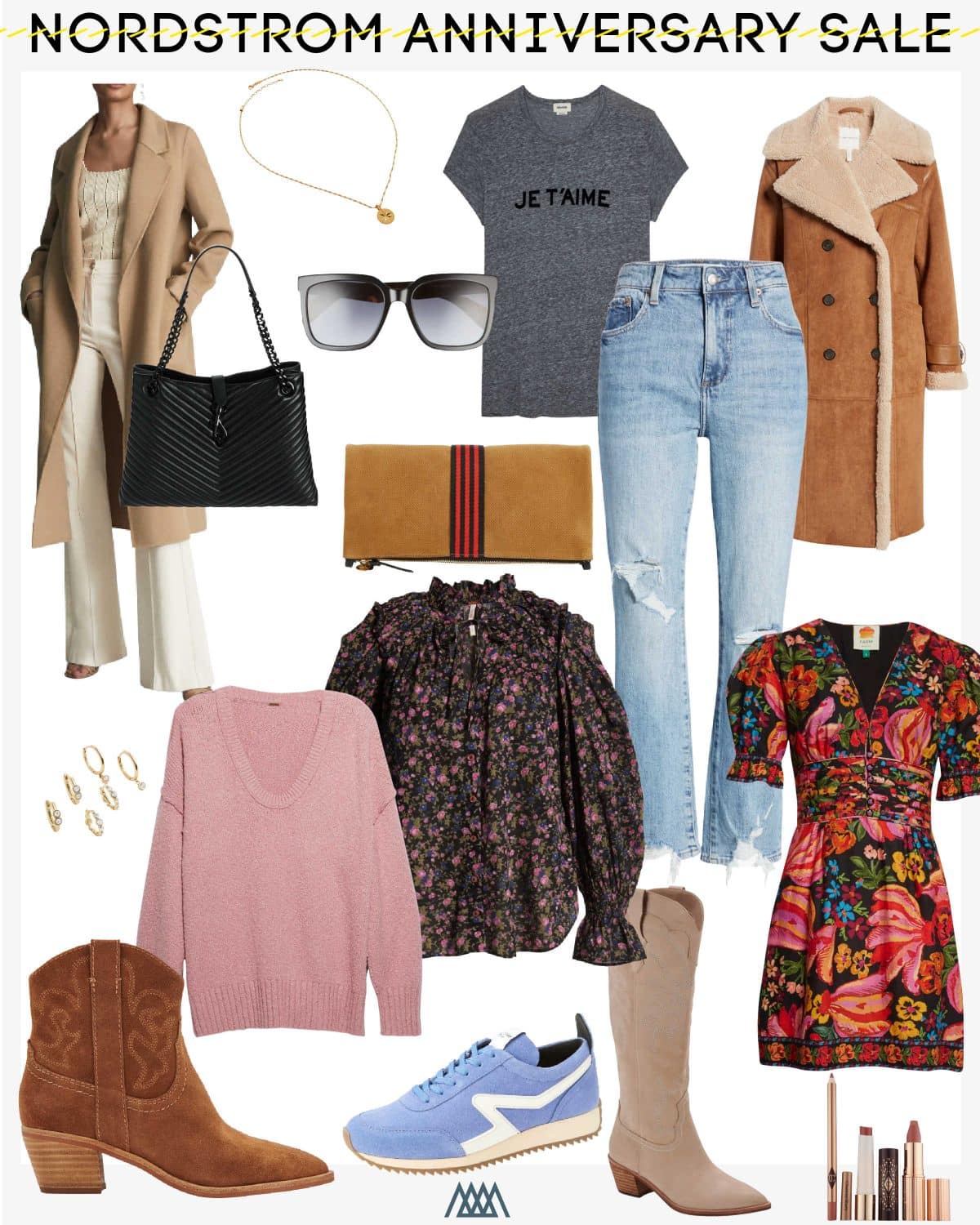 July 6th // Icon Cardholders can SHOP!!
July 7th // Ambassador Cardholders can SHOP!!
July 9th // Influencer Cardholders can SHOP!!
July 15th // PUBLIC ACESSS – Everyone can shop!
July 31 // Last day of sale!
NSALE Shopping Checklist
Tops
Everyday basic // Stock up on these
Everyday basic with fun details // Have and love this one
Chic work blouse // This one is on trend and sophisticated
Fun date night top // Check out the back of this one!
Graphic something // Wear this with everything.
Something Unexpected // Just WOW.
Bottoms
Splurge-worthy good jeans // In my cart!
Amazing pair of jeans at a great price point // Highly recommend these (size down if between)
Cool non-denim pants // Splurge-worthy good.
Fab work pants // So chic.
A holiday party skirt // How GOOD is this?!
It-Girl Leggings // These, obviously.
Sweaters
Something cashmere // Have it love it (also makes a great mom/mother in-law gift)
Something you will live in // Have it in 3 colors.
Fashion Sweater // How COOL is this?!
Long Cardigan // In love with this one…
Perfect Summer Sweater // This one is so California cool…..
The cardigan people go nuts for during this sale // Two words: barefoot dreams
Dresses
Something BOLD // Double take worthy.
Fall fashion moment // Hello, lover.
Buy now // Wear now.
Shoes
Classic booties // Done and done!
Wear NOW // Literally wearing these out of the store.
Tall boots // Betting these will sell out first!
Athletic Sneakers // Slip these on…
Still a splurge but really cool fashion sneakers // Yes, I need these.
Undergarments
New undies // These have been my go to for years.
New bras // A pretty one, and the comfiest one you will ever wear (buy at least 2)
New socks // If you know about these socks, then you know!
New shapewear // Smooth it all out with these.
Accessories
Earrings // Everything is better in a three pack!
Classic Necklace // Everyone needs a guiding light.
Treat yourself to something timeless // Oops how did these get in there?!
Cool girl status // Pop these on….
Activewear
A little flare // The IT pants this year.
Spanx // The skort I can't wait to try on.
Cool Kicks // Oh my WOW.
Outerwear
The most timeless coat // The entire TMC team is swooning over this.
Something cozy // I never wished for cold weather until I saw this.
Top rated goodness // You will get years out of this coat.
Fashion layer // So many blazers, so little time.
Handbags
Chic tote // Leave it to Rebecca.
Crossbody cutie // Isn't she lovely <3
Travel Bag // Going somewhere? Going to need some luggage.
So Clutch // Leave it to Clare.
Beauty
The best set // There is a reason why it's a cult classic
All about the lips // I buy this every single year.
Good Hair Day // One word: Olaplex
Big try-on post coming your way tomorrow!
Yours in shopping,
Lindsey