I know I say this almost every time we launch a new piece, but these two dresses might just be my favorite Gibsonlook x The Motherchic drop yet! Maybe it's the experience I gain with each collaboration or maybe I am just feeling more confident in my personal style, but the two dresses launching today have been a hard secret to keep because I am beyond happy with how they turned out. The prints, the vibe, the feel, the endless styling options…. the fact that you can wear them RIGHT NOW and through the fall season. Layer them and accessorizes if you want, but really these are "one and done" pieces that don't need much else. We honed in on fabric and print selection to bring you dresses with a boho vibe that's just a *little* bit polished, but still feels casual. These are just a lot of words to say that when you put these dresses on, you will look in the mirror, smile and say, "Well, that outfit was easy." You'll swipe on some lipstick, maybe grab a cute bag and be on your way feeling cool, confident and undoubtedly pretty.
And yes, my friend Rebecca is launching a dress today as well you will get to see both of us wearing all the new pieces.
Size info: We are both 5'4 and recommend sizing down if between. I am wearing XS and Rebecca is wearing size M. I typically wear XS in Gibsonlook and love the fit, but if you are wavering you could size down.
*** Special Discount: Use code MOTHERCHIC10 ***
There is so much to love about this little number – the red/denim color combo feels cool for summer, but warm enough for fall. Fun fact, no two dresses will look exactly the same with the unique patterns on the fabric. There are working buttons which makes this dress nursing friendly (we got you, mama). My favorite part about doing design collaborations is zeroing in on the details – a tiered ruffle in the skirt, a drawstring waist, and border accents are just a few personal touches we added to this piece.
Dress | Bag | Shoes | Sunglasses
Layer it up for fall…
Dress | Denim Jacket | Tall Boots | Belt | Booties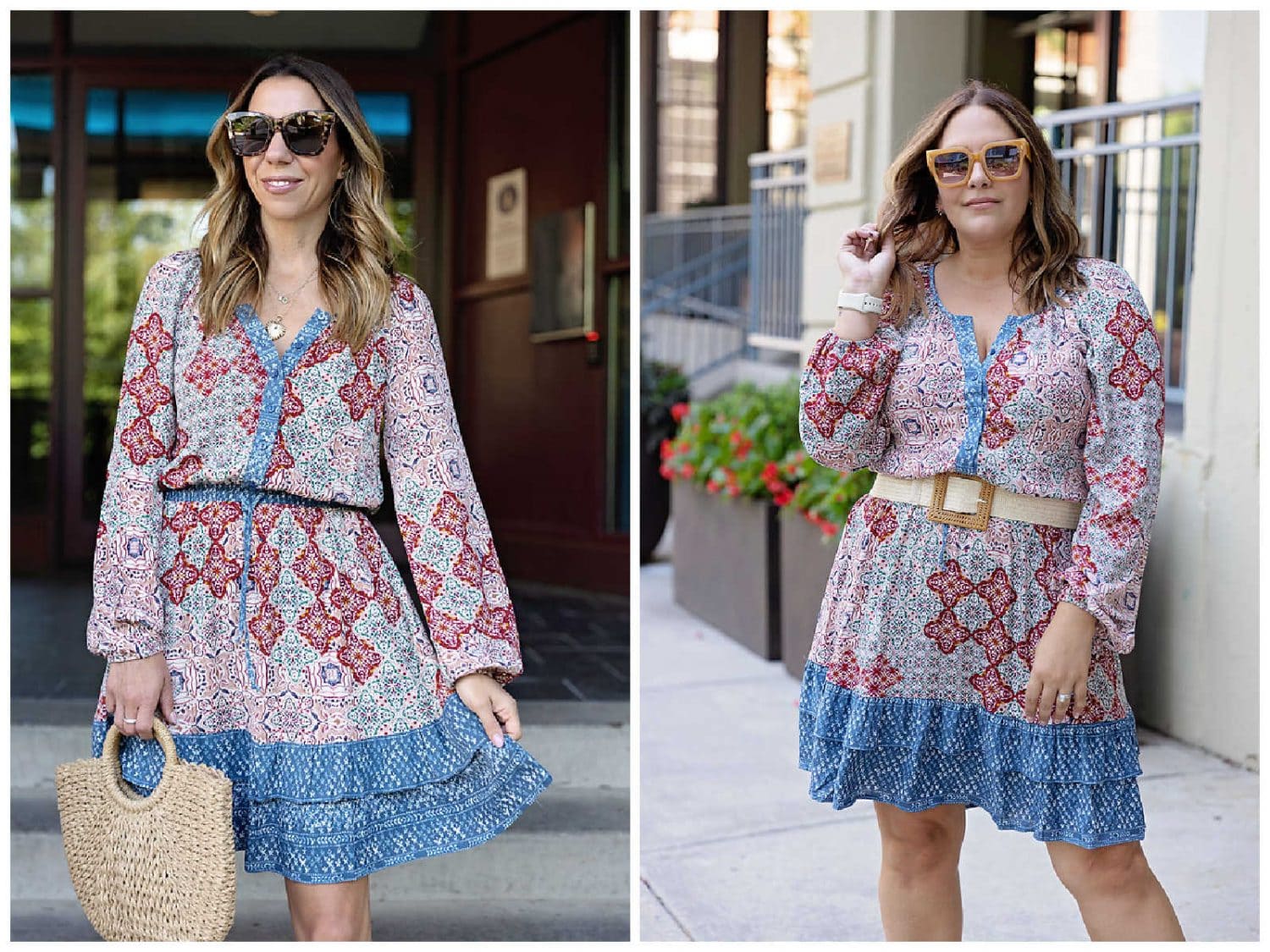 She's pretty, she's flirty, she's soft, she's twirly, she's feminine… if you didn't love her you might hate her (but that's only because she only comes in one color and you want her in at LEAST 2 more). We made the choice easy (for now) with this beautiful ivory grounded floral. The smocked waist and banded print hem draw your eyes to all the right places. This dress truly gives me butterflies and when I saw Rebecca wearing it (and the smile on her face), I knew this dress was a special one.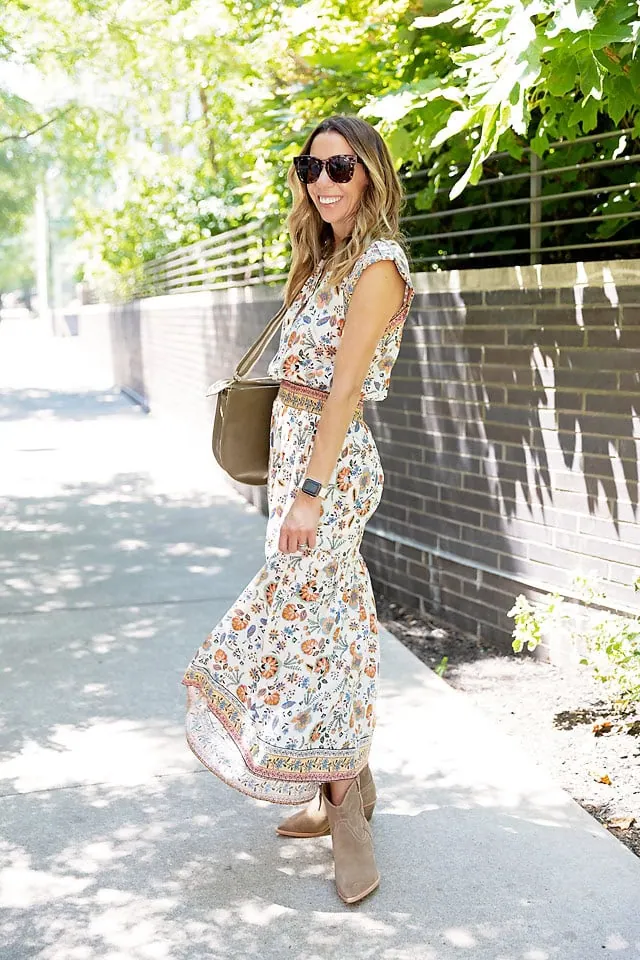 ---
If you have an end of summer/fall wedding – look no further. This dress is a stunner. It has as surplice silhouette and a pretty tie in the back. The substantial fabric drapes beautifully and it has enough weight that it barely needed to be steamed when it arrived in the mail. Translation: great for traveling! This dress comes in two colors – a pretty mauve and classic black. Add a few minimal accessories for a chic, elegant look.
And because we can't NOT style things more than one way, make it casual with booties or sneakers and a jacket…..
Dress | Sneakers | Booties | Denim Jackets
We can't wait to hear what you all think! Huge shout out to Gibsonlook and their design team for turning our ideas into these beautiful pieces. We are honored to work with this women-owned company year after year and create pieces inspired by all of you.