Thank you to Shopstyle Collective and Bed, Bath & Beyond for sponsoring this post.
I have a pretty unconventional career which I started because I was in the thick of motherhood and needed a creative escape. One day after I folded my 800th item of clothing and wiped the counter for the 400th time, I decided I needed a little "me time". I accidentally posted my thoughts to Facebook (some candid thoughts about motherhood) and found that other people were going through the same thing I was going through. Flash forward a few years later and here I am giving outfitting advice, styling tips and home organization tricks. Yes, I still fold the laundry and wipe the counters more times than I can count, but now I can offer a few words of advice along the way. First piece of advice, when it comes to getting organized the place to go is Bed, Bath & Beyond.
Tip 1 // If you can't see it, you won't wear it
I love using an open wardrobe to see all my options. With seasonal capsule wardrobes becoming more and more popular these free standing racks make the perfect organization option. This Honey-Can-Do® Freestanding Closet has four shelves a shoe rack and is tall enough for the longest of maxi dresses. I love that I can see everything clearly and functionally.
Tip 2 // Take care of your clothes
Laundry can be a tedious task, but if I invest in a piece of clothing, I need to make sure I am not just throwing it in a mixed load. A few extra minutes reading labels and separating my crinkle gauze button downs from baseball pants gives my clothes a chance at longevity. The Ridge and Road Laundry Guide is not only adorable but very useful! I find myself looking at the tags in my clothes to be sure I am keeping consistent with the care provided.
Tip 3 // Steamers over Irons
I really am not sure what I did before I got a steamer, because I definitely didn't iron! This Conair Garment Steamer is a little savior. It is so easy to use and is incredible at getting those harsh wrinkles out of clothes. Don't be afraid to really get close to your garment and for those extra tough wrinkles hold the garment tought.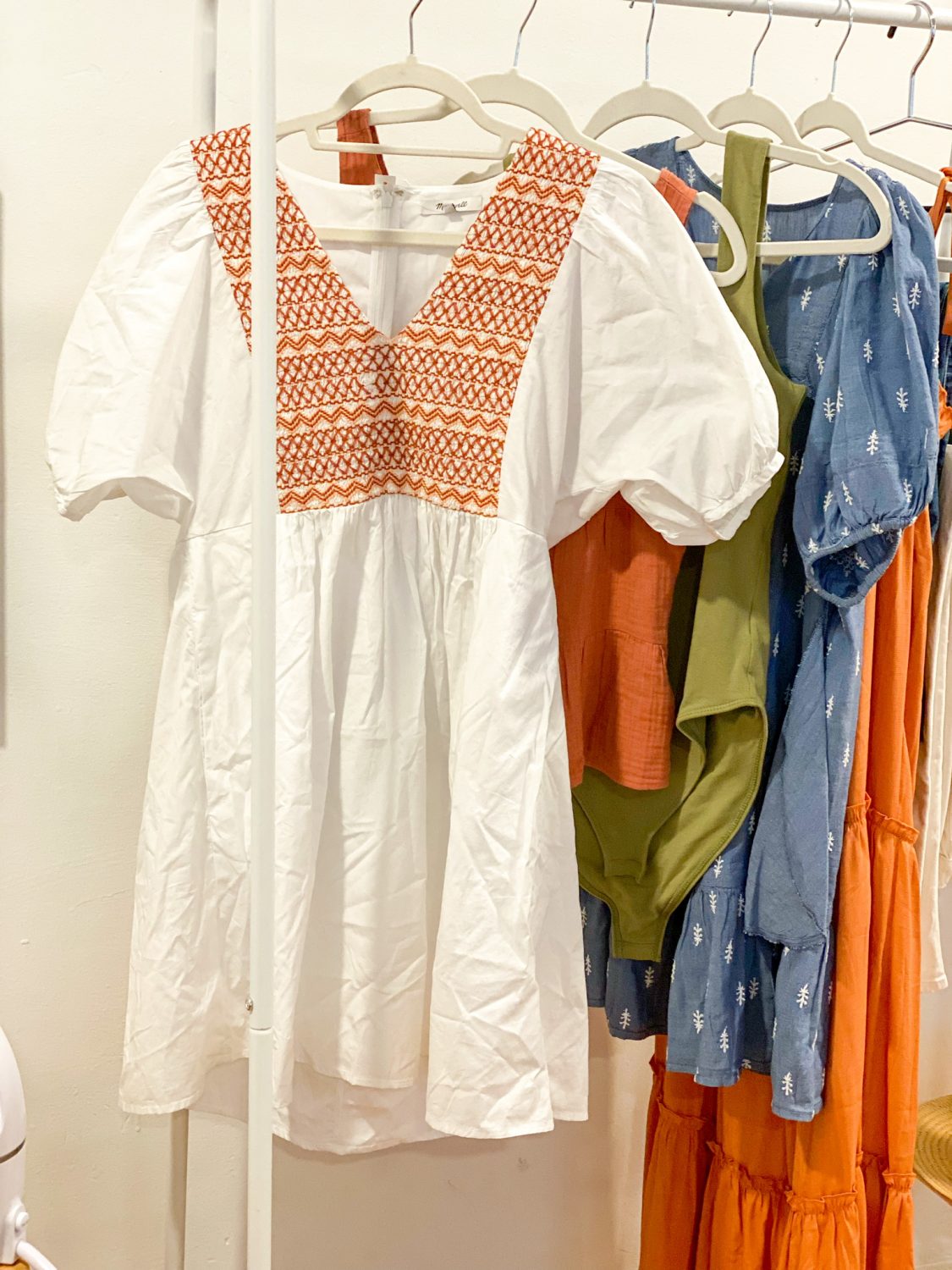 before / after
Tip 4 // Invest in Hangers
It may sound silly, but good hangers go a long way. I love the non-slip velvet hangers because they are functional and look chic. For a space saver, I use a multi-tiered pant hanger for jeans or pants.
Tip 5 // Don't wash your jeans
If you wan't to save some space in your laundry bag, try to wash your jeans less frequently. You will save the color and elasticity or stretch by washing them every few wears. If they need a little refresh just pop them in the dryer for a few minutes.
Tip 6 // Pick a Color
When creating a capsule wardrobe or when you are looking to invest in a clothing item or accessory make sure it fits in your color palette. A strong color palette creates an ideal space for mixing and matching. While I am no stranger to color and bold prints I tend to invest in neutrals to ground my wardrobe.
Shop the Post and More Organizational Favorites