Thank you to Shopstyle Collective and Vuori for sponsoring this post.
You know that feeling when one of your favorite brands comes out with new arrivals? Sometimes I wonder how they do it. When their existing products are so good, it's hard to imagine what they will think of next. Then they go and release the *cutest* pieces for fall/winter with a stripe here and deliciously soft fabric there. Well, done, Vuori, well done. As if I wasn't already excited to break out fall layers and cozy outerwear these simple designs + great fabrics = the perfect fall outfit.
Fit Tip: Wearing XS in everything pictured. Pieces run TTS, but I do size up in their sports bras.
Cozy Layers
Early morning dog walk? This is the Cozy Sherpa Jacket you need. If you want to feel put together but still super cozy, this jacket has it all. Plush (and made from recycled materials) fabric, keeps the warmth in, zip front and zip pockets, I could keep going with the features, but it's so good it makes me not despise the cold.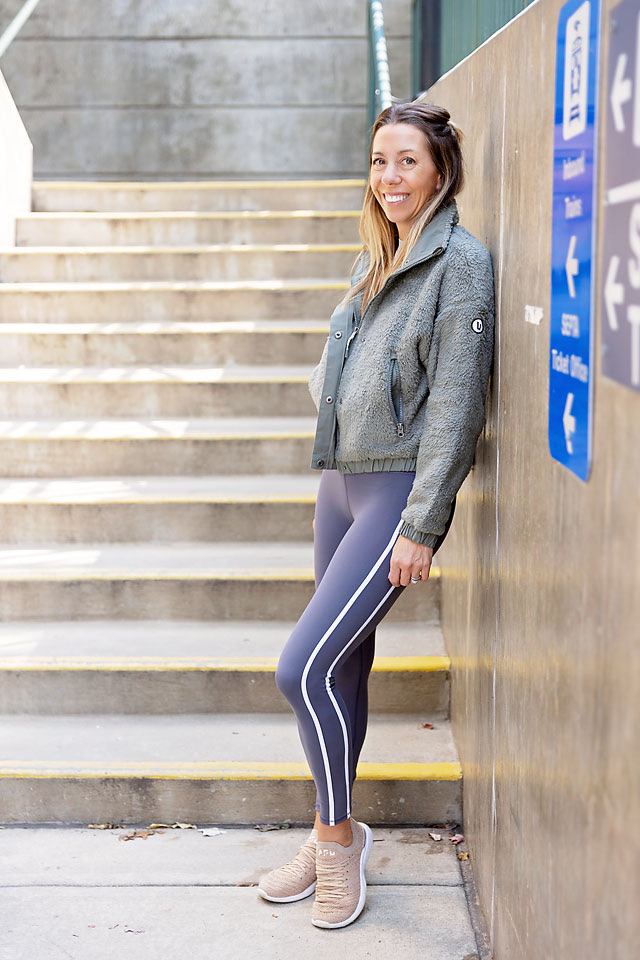 Naturally, the Cozy Sherpa Jacket pairs perfectly with the Track Legging. These leggings bring a fun, retro vibe, but with all the bells and whistles of modern day performance fabric. Two words: like buttah. I love that they come in a few colors and feature the BreatheInterlock™ performance stretch fabric. They make me feel like anything is possible ;)…
When the afternoon sun comes out it may be time to de-layer, which is why I have the Daydream Crew underneath. This top fits like a light sweatshirt, but is made of tech fabric. It is light, breathable, and impossible not to be obsessed with.
Outfit Details
Cozy Sherpa Jacket (wearing XS in Dusty Pine)
Daydream Crew (wearing XS in Light Heather Grey)
Track Legging (wearing XS in Azure)
More favorites from Vuori