Do you feel it? The slightest chill to the air and it's time to grab a jacket….and maybe even put the seat heater on! I realize it's not necessarily parka weather, but it's the perfect time for a great fall jacket. Fall outerwear not only cuts the chill, but they play a huge roll in your fall fashion wardrobe. Many times the perfect fall jacket effortlessly completes your look and can even make it so you don't even have to worry about what you are wearing underneath. From school drop off, to standing on the sidelines to those last minute errands, no matter where you are off to, you're going to need a jacket. Check out the fall jackets we are loving this season…..
Puffer Vest
You will instantly feel the warmth of this vest with it's fluffy high-pile fleece lining. Bonus it's water-repellent, has antistatic properties and ……bum coverage, the most important of them all!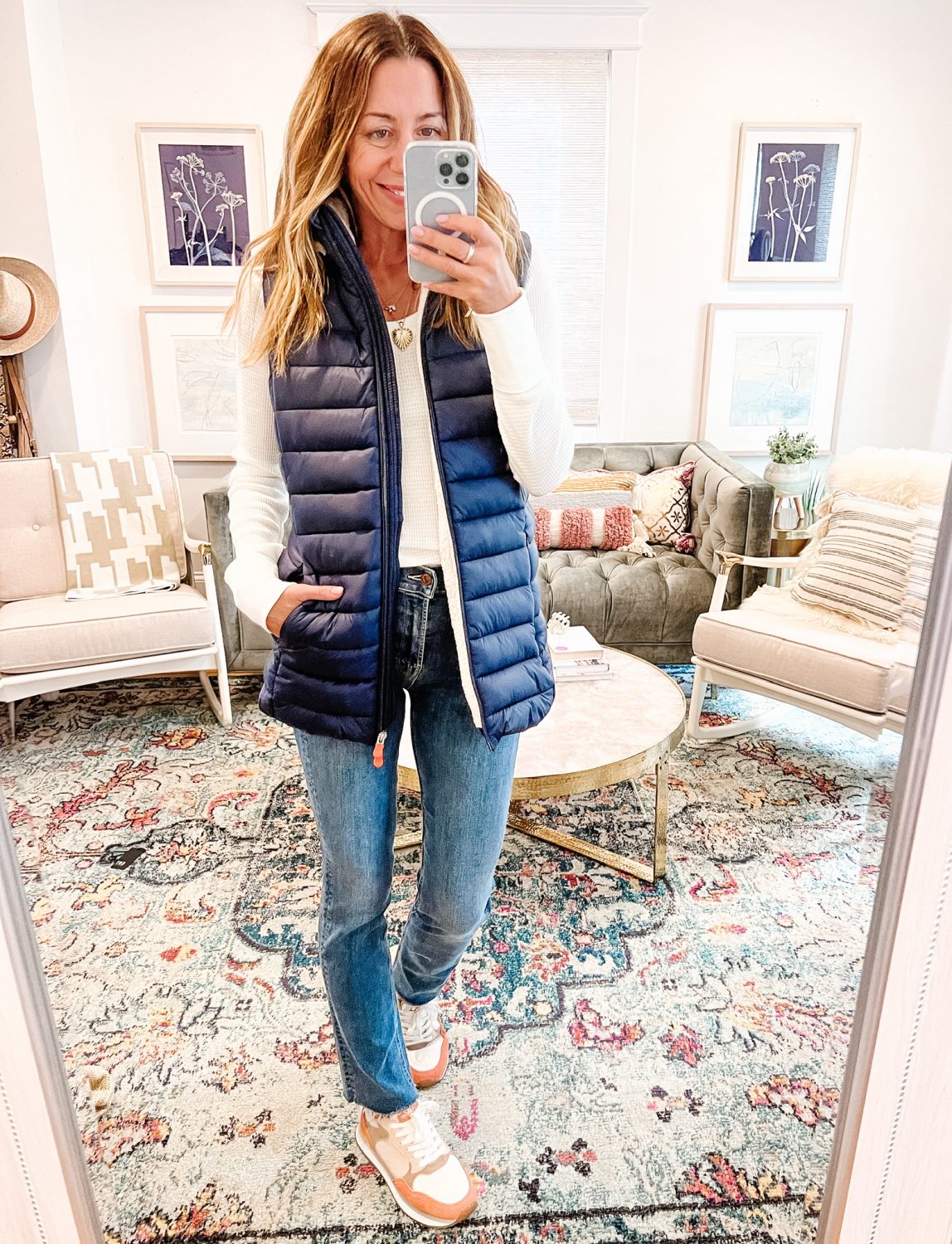 Save The Duck Vest | Tee | Jeans | Sneakers
Quilted Jacket
Who doesn't love a quilted jacket? It's where comfort and style come together. They are lightweight and the perfect transitional layering piece. You will see most in washed out fall hues, soft materials and a relaxed fit. The quilted jacket will be your live-in all fall, kinda jacket!
Z Supply Quilted Jacket | Plaid Top | Jeans (size down) | Booties
Denim Jacket
The denim jacket may be known as the "all year round jacket". Most likely you already have one in your closet, but now is the perfect time to update! The oversized, trucker fit is a big trend right now. You can easily layer sweaters and hoodies for a casual laid back vibe. Keep your slimmer fit denim jacket around, too. They work best over dresses or paired with trouser type pants. It's all about balance!
Levis Denim Jacket | Maxi Dress (use code MOTHERCHIC10) | Mules
Transitional Padded Jacket
The padded jacket is that throw on and go kinda jacket. It's the jacket I leave in my car incase I need it. It will cut the chill but also works well with so many styles. It looks really cute layered over a sweater with an oversized neckline or a hoodie.
Amazon Essentials Padded Jacket | Sweater | Jeans | Sneakers
Sherpa Jacket
What's cozy and fluffy and something you will want to live in? This jacket!! It's an ultra-plush jacket that holds in the heat and adds softness. Perfect for those cool mornings at the bus stop or your next tailgate!
| Vuori Sherpa Jacket | Jeans | Hat | Sneakers |
Shop more jackets we love for fall here