Guys….dads, husband, bothers, uncles, oh my! No matter who he is to you, chances are he is on your holiday gift list. Would you be surprised to hear that this is one of our most requested gift guides? Probably not! Men can be REALLY hard to shop for and I've figured out why. They either A) don't want you to spend money or B) are really, really particular. Gifting the guys is a high pressure situation for us. But, deep breath. I feel very confident that you will not only find a gift or two that he will appreciate, but he will also use and love (and not just because it's from you). Check it out here…….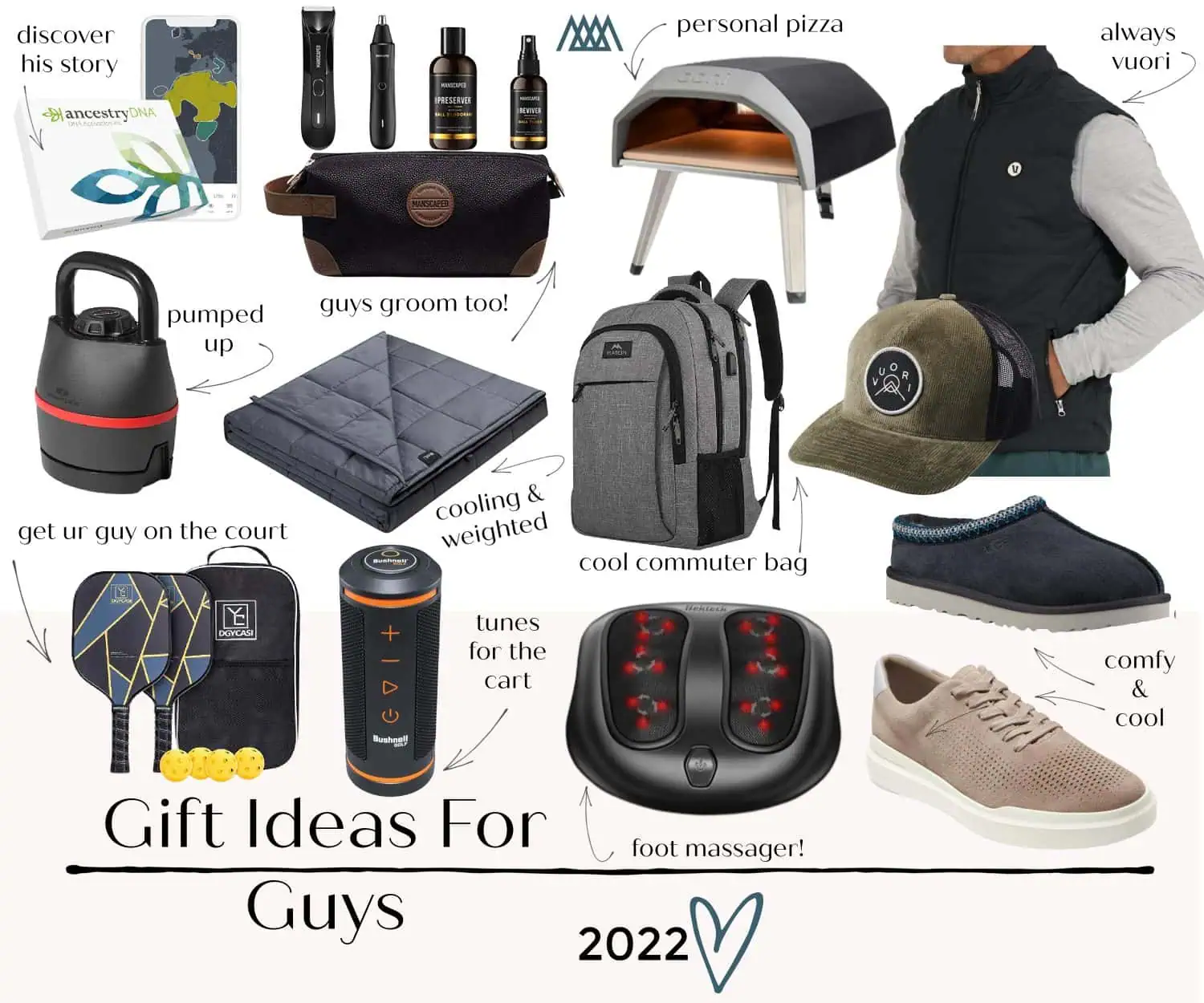 Ancestry DNA- The one thing he probably wouldn't get for himself. But imagine all of the amazing stories and information that will come with this gift! It's like gifting history!
Bowflex Adjustable Kettlebell – For the fitness lover. This one kettlebell takes the place of 6 and adjusts from 8-40 lbs and is a space saver.
Pickleball Paddle Set – Get your guy into the sport of the year! It's fun, social and all the rage. Set him up in style with this set.
Manscaped Grooming Essentials Kit – It's true guys groom and primp too. This set has all he needs to get business done.
Cooling Weighted Blanket – My whole crew loves a weighted blanket. They hit all the right pressure points and help calm and relax. My husband used mine one night and was hooked.
Bushnell Wingman GPS Speaker – For the golf lover…. This speaker can mount to the bar of the golf cart via magnet and offers high quality audio with the ability to receive audible GPS Distances. You will be on par with this gift!
Ooni Koda Gas Pizza Oven – It's an award winning, outdoor pizza oven. Sold yet? Your guy can be the hit of any outdoor get together with his pizza oven.
Travel Laptop Bag– Your guy can commute in style with this function laptop bag. With multiple storage options, water resistant material and USB charger outside and built in charging cable inside you might just want a bag for yourself.
Heated Electric Foot Massager – no one will blame you if you add two to your cart. One for you and one for your guy!
Vuori Vest– If your guy isn't already a fan of Vuori's best selling joggers then you might need to get them too! But the holidays are a great time to add to his collection from the stylish vest, shorts and tees to cool hats.
UGG Slippers – The comfiest and coziest indoor/outdoor slippers that your guy will live in. And maybe if you're lucky, he will walk the dog in, take the kids to school in, do the laundry in, all the things. A girl can dream!
Cole Hann Sneakers – Are they a dress shoe or are they a sneaker? Either way they are stylish and the perfect combination of both and your guy will look good wearing them/
Shop More Gifts For Guys Here……
Clothes & Shoes
Sporty Gifts
Games & Gadgets
Electronics
Gifts For The Foodie
Self Care Gifts
Outdoor Gifts