Thank you to Nordstrom + ShopStyle Collective for sponsoring this post.
There is no denying that work looks different these days. For me, anything goes. I am writing this post in my house in an oversized sweatsuit with the Today's show playing in the background. A cup of coffee (with extra frothy oat milk and sugar) sits next to my laptop. A kid, who is slightly under the weather, is laying on the couch watching slightly-too-loud YouTube videos. When you are slightly under the weather these days, you stay home…. t-minus three hours until I regret that decision when he is bouncing off the walls, but I digress. I'm here to talk about workwear wardrobes and if you are in the camp where you GO to work, well I can't say I'm not a little envious. There is something so sophisticated about putting on a chic outfit, driving to an office listening to a savvy podcast, pulling into your spot, swiping a little red lip in the rearview mirror before waltzing inside to crush it. Shoes clankity-clanking through the lobby, obviously.
If you WFH, don't tell me you don't have a little "going-to-work" fantasy. I won't tell.
If you actually go to work, you are laughing and shaking your head and telling me it's really not that sexy. You never know what to wear, you listen to Kidz Bop on the way to work while making three stops to drop off your kids on the way, you pull into your spot and the only thing you are doing in the rear view mirror is making sure there is no everything bagel stuck in your tooth before you sprint into the office in a semi-sweat. Thirteen minutes late. Always.
But let's meet in the middle shall we? Who says you can't have lipstick and bagels and Kidz Bop and shoes that clank? It starts with some effortless pieces in your workwear wardrobe that require less thought. Let me explain…
A Long-Line Sleeveless Cardigan
How easy is this look? It's essentially an all black outfit with a layer that pulls it all together. It's polished and practical and also offers that extra layer of warmth.
Sleeveless Cardigan | Button-Down Shirt | Pants
Long Vests & Cardigans
A Boss Babe Bag
The work tote. The laptop bag. The catchall. Whatever you want to call it, make it a good one. Rebecca Minkoff is the ultimate working mom (did you hear she is pregnant with her 4th?!) so I think she knows a thing or two about making bags that can do it all.
More Work Bags
Double-Take Worthy Shoes You Can Wear All Day
If you don't believe me, check the ratings. These loafer are SO good, they come in lots of colors, and if you listen really closely……they clank. Need I say more?
Sam Edelman Loafers (runs TTS)
More Work Shoes
An Interesting Knit
Who says work is all about blouses and blazers? Shake things up with an of-the-moment sweater silhouette. Wear it alone or layer it over a thin turtleneck for a super chic look.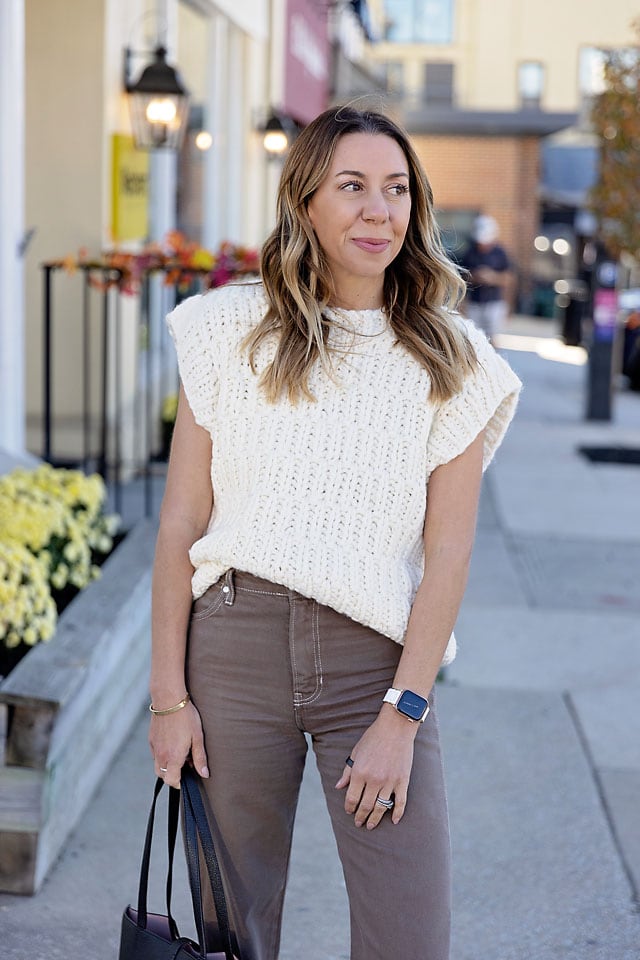 More Interesting Knits
Not Your Average Work Pants
Take your pick… and yes, it's ok to pick both! Wide leg that reads a slightly more casual or seamed bootcut that sculpts and give a booty lift (I can't make this stuff up).
Left Pants (not stretchy, but form to your body) | Right Sculpt-Her Pull-On Pants (have stretch, size down)
More Work Ready Pants
Now, who is ready for a coffee break?!