Buying gifts for college-aged girls can be tough, but nobody knows what a college-aged girl wants for the holidays more than a college-aged girl. Let's be honest, we all know the girls have their finger on the pulse of all things trending, so you have to act fast. Just thinking about shopping for them this holiday season may seem like a daunting task. But no need to worry! The Motherchic team always does their research. We rounded up the must have, most thoughtful, and highly useful gifts for the college-aged girl in your life…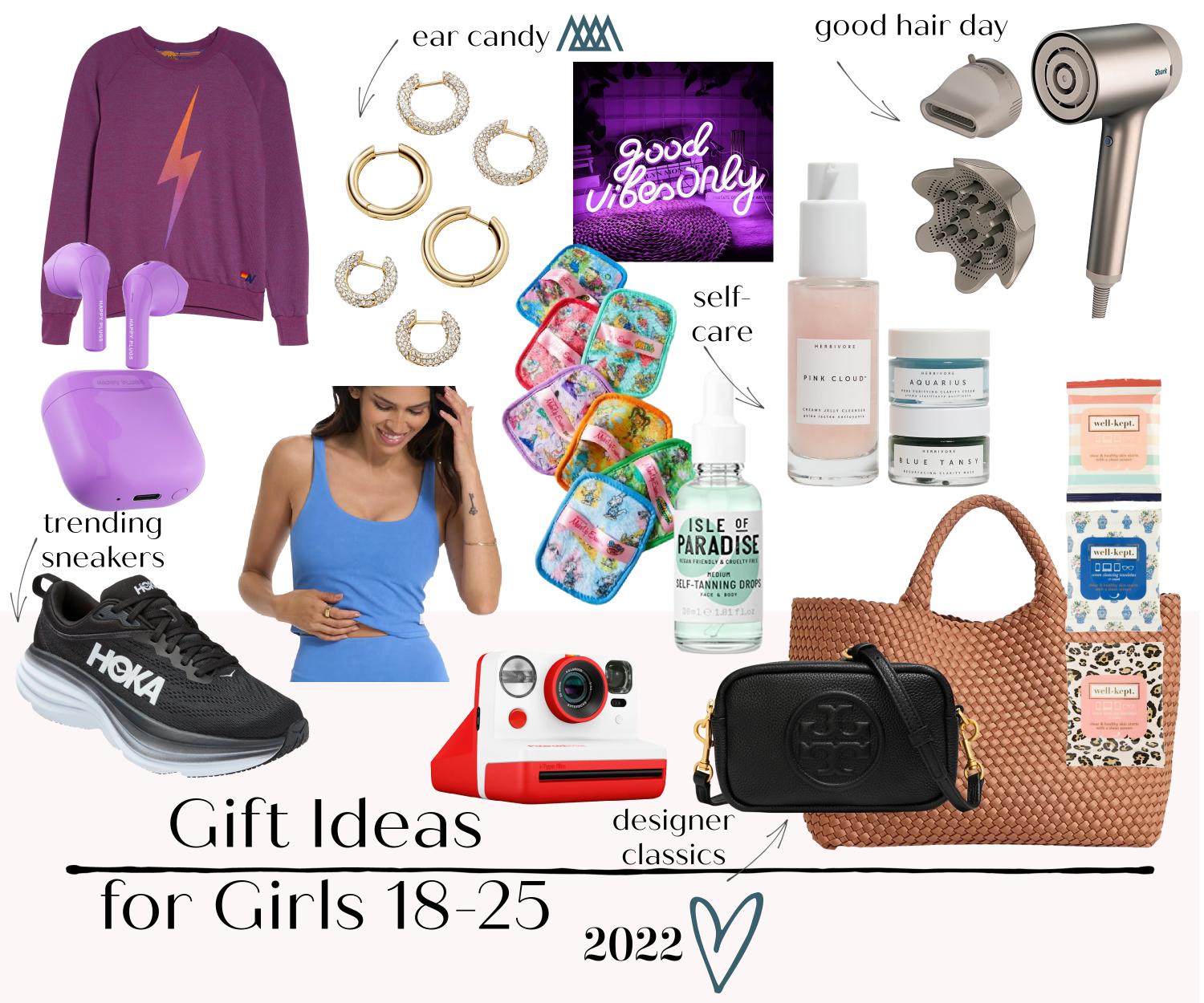 Aviator Nation Sweatshirt// This highly covetable brand is a favorite of mine too! This is a splurge gift that will be sure to have jaws dropping.
Happy Plugs Ear Buds// These cute earbuds are great for on the go and are just plain happy!
Baublebar Huggie Hoop Set// This huggie set is fun to mix and match. I love the pave look to help elevate a look.
Good Vibes Only Sign// A fun sign for a college dorm or even a first apartment, because why have bad vibes!
Shark Hair Dryer// If the Dyson is too much of a splurge this hair dryer gets rave reviews!
HOKA Sneakers// Another personal favorite but only because I saw all the college girls wearing them first!
Vuori Tank// I live near a college and always see the girls in cropped tanks and oversized sweatpants so I am sure this tank would be a hit!
Make-Up Eraser Set// I love that this product only uses water to help remove make-up. The innovative fibers help to suction dirt and oil trapped in pores.
Isle of Paradise Tanning Drops// These easy to use drops can be added to your body lotion and give you an effortless sun- kissed glow.
Herbivore Skincare Set// This fun trio includes a face cleanser, mask and cream. The Blue Tansy mask is a must try!
Polaroid Camera// This new updated version has an auto focus lense to capture better picture quality.
Tory Burch Bag// I remember my first designer hand bag, so this would be a super special gift to give and receive!
Naghedi Tote// I love this as an alternative to a brief case – can easily fit a laptop and lots more.
Well Kept Screen Wipes// This is a cute stocking stuffer to help keep those screens clean!
Clothing Gifts
Accessories & Shoes
Tech Gifts
Beauty Gifts
Home Gifts