Thank you to Vuori + ShopStyle Collective for sponsoring this post.
I consider myself a pretty good gift giver, but it's only because I have tested out a bajillion brands thanks to my career. One of the brands that is consistently top of mind for gift giving is Vuori. I would say according to my rough math, 99% of the people I've gifted Vuori have loved it so much they have gone back to buy more. The 1% is my son who has no money, but begs me for everything and anything Vuori. Not really sure if causing someone to spend money is a gift, but I'll chalk it up to a self-care purchase and that makes me feel good 😉 I wear Vuori consistently throughout my life – from lounging, to errands, to working out… ok fine, yes, I sleep in it too. While their famous joggers can take me through all of those activities, Vuori recently dropped some new items that will make the most amazing gifts.
The Sedona Set
2022 was the year of the set and this trend is not going anywhere. If it does, fine, just wear them separately. There is something about a matching set that makes me feel like I have my life together. The fabric is crazy luxe and perfect for lounging, but would be so cute with sneakers, a hat and a belt bag for errands.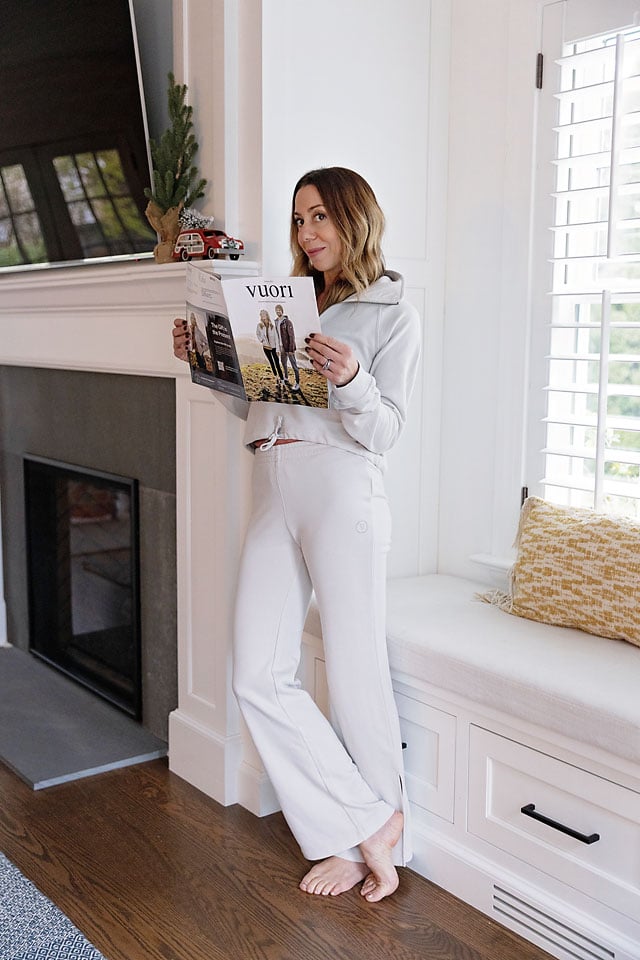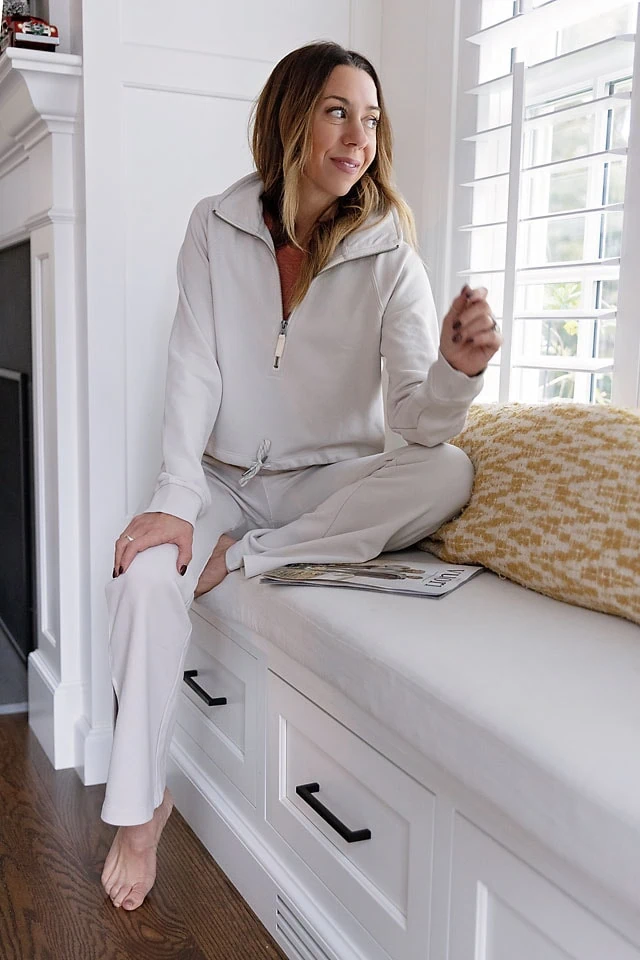 Sedona Half Zip in Salt wearing XS – This piece hits at the top of my hip bones for a slightly cropped fit. You can adjust the drawstring cord to your liking – it looks really cute tied tighter and bloused out when wearing with leggings.
Sedona Wide Leg Sweatpant in Salt wearing XS – These high-rise leggings are the elevated sweats you never knew you needed. Because of the higher rise they work perfectly with the half zip (translation: not tummy-bearing). The side slit makes them fashion forward and also way easier to wear with your favorite sneakers.
Restore Hoodie
I'm not kidding when I say I've worn this hoodie every single day since it arrived. Is there anything better than an oversized hoodie? It's the first thing I put on in the morning, and when I get home from work, I put it right back on. You need this in your life more than you know – it's like a hug from a really good hugger. You know who they are.
Restore Hoodie in Grey Heather wearing XS
Also wearing: Sunrise Tank | Daily Legging in Cactus wearing XS
Holiday Favorite Gifts for Her
Holiday Favorite Gifts for Him