🎶Who's that girl? la la la la la la la la🎶. Yep, that's what everyone is singing to themselves when you show up with a Think Royln Bag. The girl? She is a bag and she is HERE for the party. I am such a huge fan of this brand because they equal parts wow factor and practical. They are crazy chic, yet durable and SO well designed – pockets in all the right places, interchangeable straps for versatility and they make amazing gifts. Yes, gifting to yourself counts. I don't think I know a girl who doesn't wrap a present for herself and put it under the tree 😉 The women behind the brand, Think Royln, love Motherchic readers so much they gave me an exclusive sitewide code so you can save 25% off your purchase.
DISCOUNT CODE: MCHOLIDAY25
Where do I begin with The Jagger? She is the ultimate fashion-forward "going out bag" The outer fabric is swoon-worthy – almost like velvet, almost like liquid. It has just enough shine to elevate your look. The bag is double sided for easy access and can be worn with and of the two straps it comes with, or you can remove the straps and wear as a clutch.
Shop the Jagger HERE (use code MCHOLIDAY25)
Also Wearing:
The Starlet
The Starlet is your answer to a hands-free night (concert, dinner, city-escape) where you just need room for the essentials. The inside has credit card slots and enough room for your phone, lip gloss and small keys. I'm convinced every girl needs a Starlet in her closet, but would be a great gift for college girls who, well, don't have as much stuff as a 40 year old mom!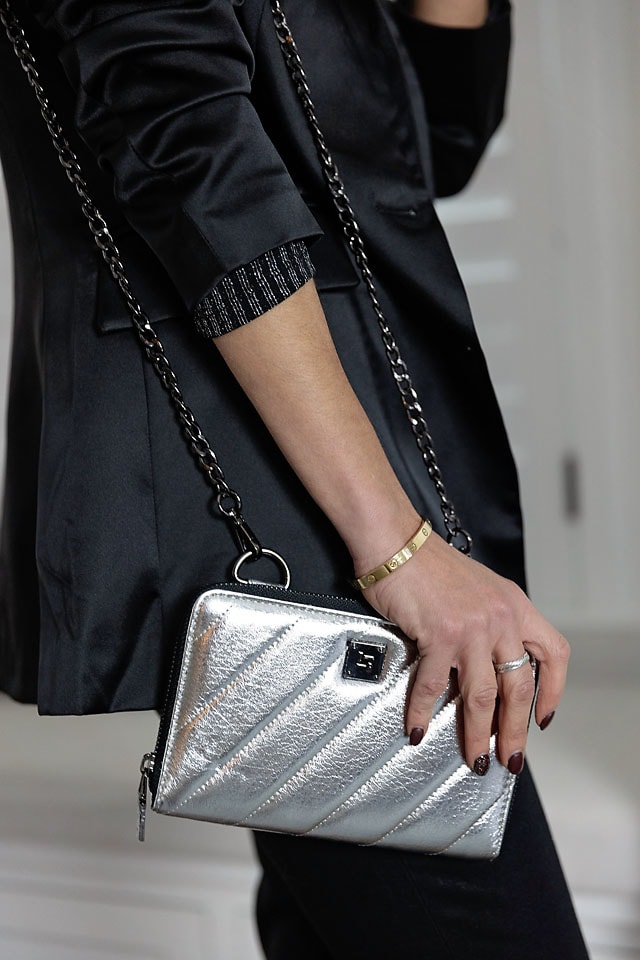 Shop the Starlet HERE
Also Wearing:
Blazer (use code MOTHERCHIC50)
While The Ginger is a great going out bag, it's also the perfect hybrid bag – translation: ready for anything. She's small, but mighty. She holds a LOT – hello, THREE compartments! Take her out for dinner, remove the straps and wear as a clutch for an event, or just use her as a cute smaller bag inside your big bag for all those extra essentials.
Shop the Ginger HERE
Also Wearing:
Blazer (use code MOTHERCHIC50) | Striped Top | Jeans | Boots
Pretty sure this was designed specifically for that aprés ski life. She comes with three straps so you can wear her as a shoulder bag or a crossbody. The nylon body is chic and sporty and the oversized white piping makes the bag pop. I love the tri-tone mix of colors which makes this bag go with… pretty much anything.
Shop The Alpine HERE – use code MCHOLIDAY25
Also Wearing:
---
Make sure to take advantage of the exclusive discount code the brand created for you! I've included a few more Think Rolyn bags I love below….