Rule number one in making this infamous soup is you have to make it at an incredibly inconvenient hour. There is no way to add "love" to this soup if you make it during an acceptable hour of the day. If I am ever sick somehow my mom (a.k.a. Dutchy) arrives at my house at 7:30am with a hot (and usually spilling over the top of the container) bowl of Matzoh Ball Soup. But how did she get it there *hot* at 7:30am? Because she was up at the crack of dawn making it. It took all day, the chopping and the simmering, but somehow she will get it to you right when you need it most. But honestly, this soup does take a long time to make if you want to make it right…
Now if you want to skip ahead to see the recipe, feel free to scroll down. But, like every recipe blog post, this recipe comes with a story.
My mom is an incredible cook. She has terrible knife skills and is known to teeter her knife and cutting board on the edge of the counter at all times.
Exhibit A:
She has burned herself so many times that I am pretty sure she has given up oven mitts. She rarely actually follows a recipe, but her meals always come out better than expected. She's an instinctual person and does what feels right…. lucky for her it works out in the kitchen. I did not inherit those skills. Food is her love language and if you've had her Matzoh Ball Soup, you definitely hold a special place in her heart.
I can't remember the first time I had her Matzoh Ball Soup, but I can remember the healing properties that it boasts. Sore throat? Matzoh Ball Soup. Zit on your nose before picture day? Matzoh Ball Soup. Terrible, horrible, no good very bad day? Matzoh Ball Soup. Had a baby? Matzoh Ball Soup. It's like Windex in My Big Fat Greek Wedding…. except it tastes…. delicious.
Manischewitz matzo ball & soup mix | Gluten Free Version Here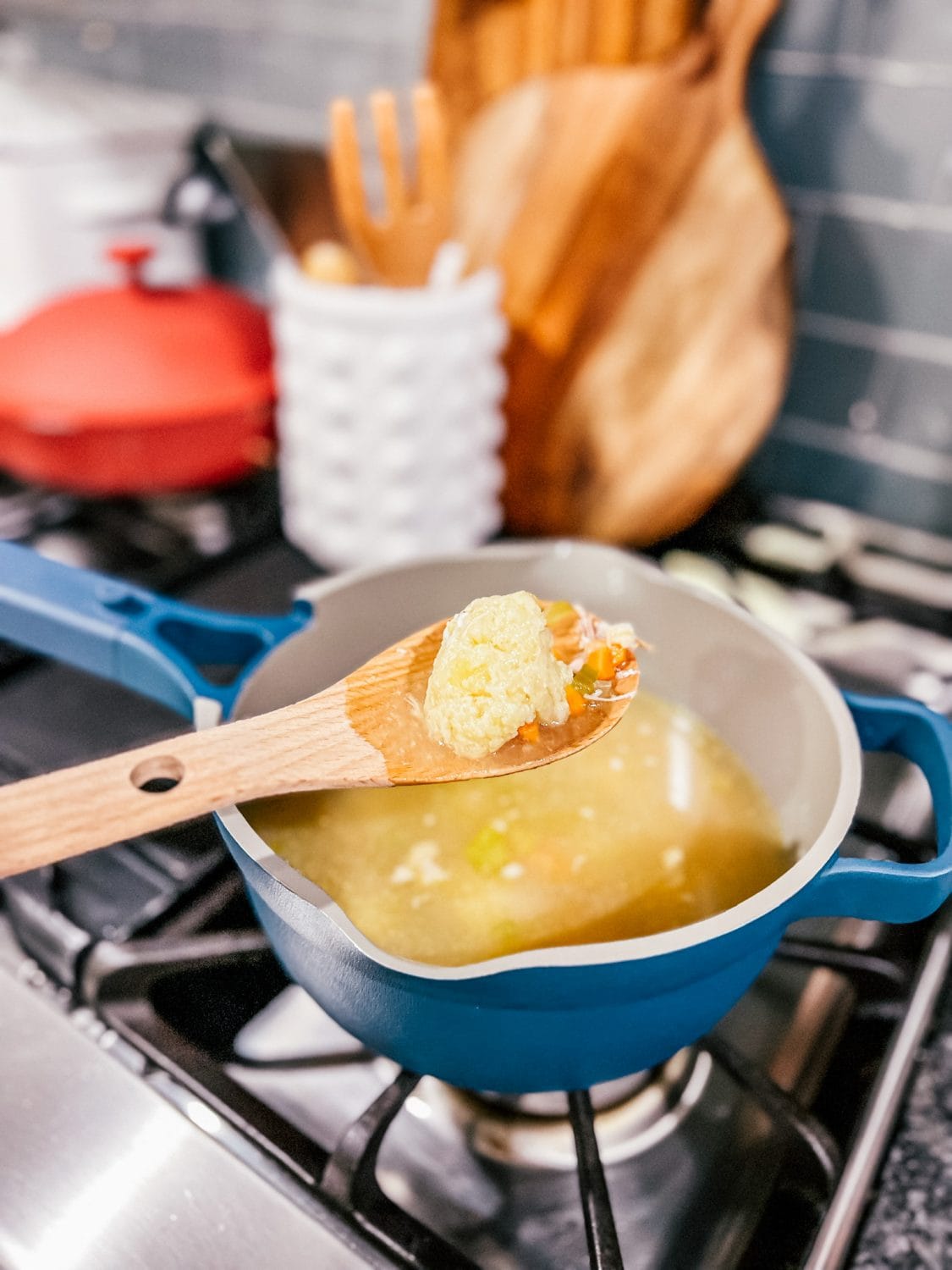 Always Pan Mini Pot (just for reheating) – you are definitely going to want to make it in this one.
The No Recipe, Recipe….
Go to your local farmer's market and buy a whole stewing chicken and if you can also ask for a bag of chicken bones (the more bones the better). Put the stewing chicken and bones into a crock pot with one onion cut in half, a few bay leaves, 2-ish tablespoons of peppercorns and then fill with water. Cook on low for 8 hours (told you this took long). Let the broth cool in the fridge and scrap the fat that comes to the top. Remove the chicken and strain the broth. Remove the meat and shred it from the chicken. If you were not able to get a stewing chicken, buy an already roasted chicken and shred the meat from it. Put the shredded chicken in the broth. Dice 8 or 9 carrots and a whole bunch of celery. Place on a baking sheet with olive oil, salt and pepper. Roast for 30 minutes. Add to the pot. Get a box of Manischewitz matzo ball & soup mix and make according the directions. Be sure to chill so that you can form the balls easier. Smaller is better. Add to pot and boil for 5 minutes. If the soup isn't broth-y enough you can add extra store bought chicken broth.
Make it, and feel the love. Then tag me @themotherchic and use #DutchysMatzohBallSoup so we can…. heal the world (maybe?!) one cup at a time.