Thank you to The Home Depot & ShopStyle Collective for sponsoring this post.
In case you haven't heard me talk about this over the past 3 years, we are renovating a 100+ year old home. We are SO close to being finished with all of the construction and my mind is in a constant scramble between two things. These two things have swirled in my mind over the past 36 months and now that the time is here, I am feverishly trying to do both at the same time. What are these two things, you ask? Why organizing and decorating of course. These are my daydreams, friends. No joke, today I missed a turn to my son's school because I was thinking about where I wanted to place a specific decorative basket. You know you are a 40-something year old when these are the thoughts that occupy your mind.
If organizing and decorating are two words that make your heart flutter, read on.
While all of our old "stuff" hasn't arrived at the house yet, I am taking advantage of this time to decorate a few spaces with all things NEW. When I was shopping for lights at The Home Depot, I got very side-tracked by their home decor selection and organization helpers. Right now through 1/18, you can also take advantage of their New Year Savings with up to 30% off select Bedding & Bath Linens, Furniture, Mattresses & Décor!
Here's a little home tour of some of my latest projects. I have NEVER had a tv in my room before (yes that is a tv) and while I'm on the fence about it, I wanted to be able to disguise the fact that it's really just a place to binge-watch Housewives.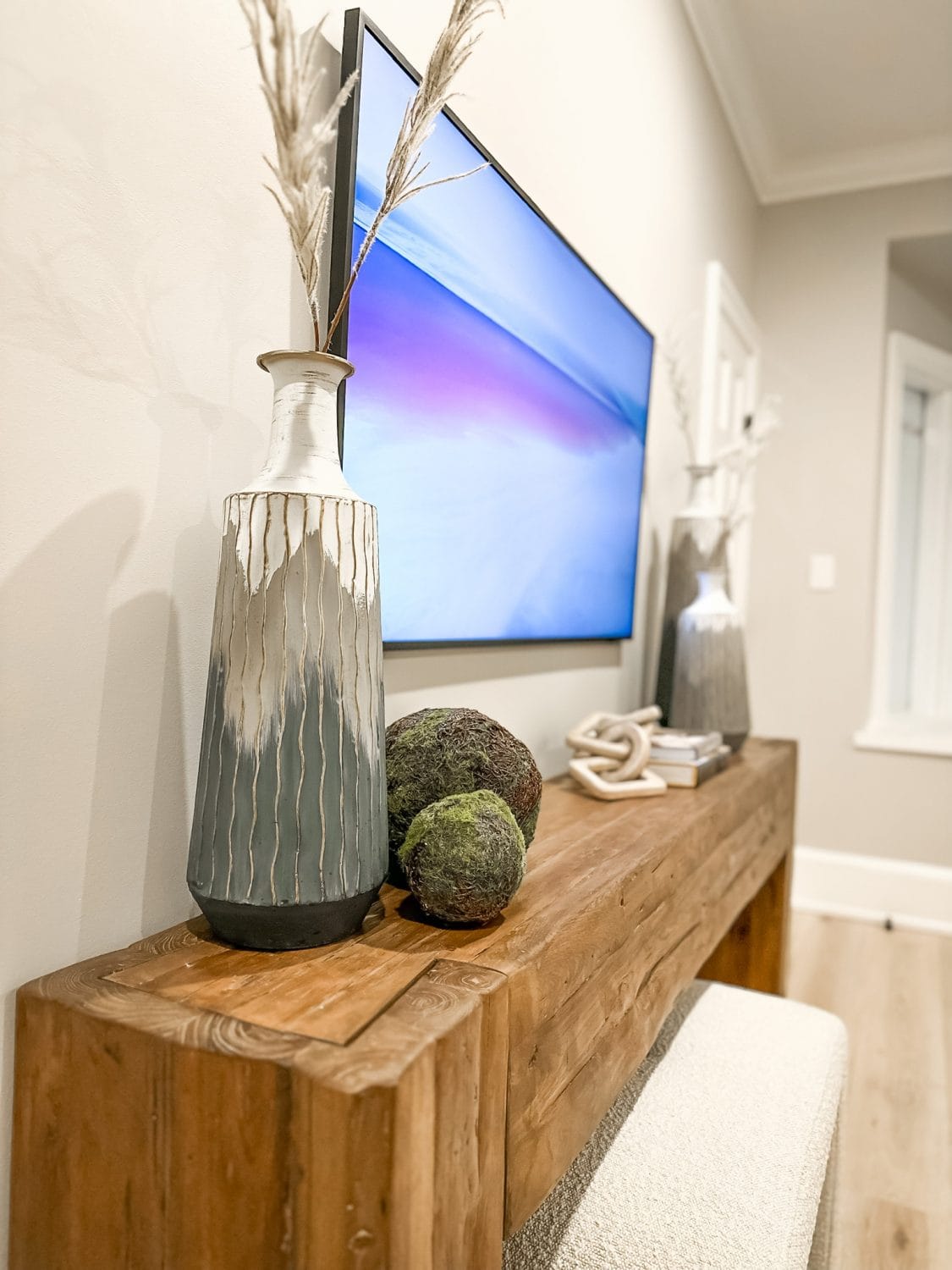 I love incorporating colors from nature in my bedroom to create a serene vibe. I was drawn to the blue and white wave light pattern in this set of textured vases. I added a few pampas branches for a touch of whimsy and grounded it all with some oversized moss balls.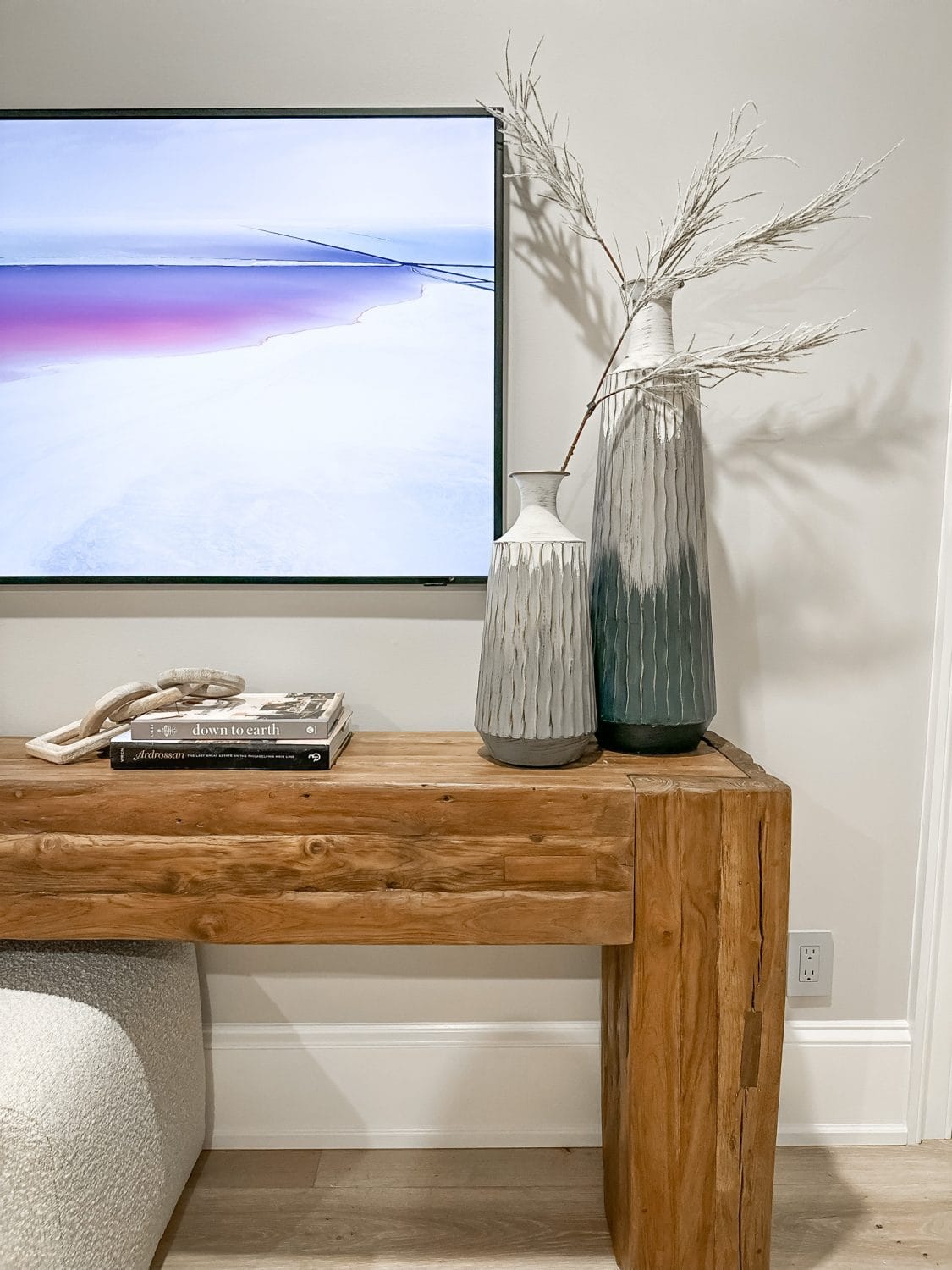 Green Moss Covered Orb – Set of 2 | 3-Piece Metal Multi-Tone Vase Set | 35″ Artificial Light Brown Pampas Spray
Besides throw pillows, I also have a weird obsession with the aforementioned decorative baskets that clearly I think about way too much. I think I am drawn to the fact that they are double duty – they serve as home decor, but they also store "things". Also, when you have a son who goes by the name "Bear", you can't NOT buy this for his bathroom…..
Is this not the cutest little hamper/towel storage vessel you ever did see?
Brown Teddy Bear Water Hyacinth Woven Decorative Basket | Turkish Cotton White and Lake Blue Stripe 6-Piece Fringe Bath Towel Set
My basket purchasing didn't stop there. I got a set of nesting baskets for our den (a.k.a. the boy's room). I spaced the baskets throughout the room using two in a cluster to store records and throw blankets.
I used the smallest basket to store some toys for my youngest son under the coffee table.
Multi-Color Natural Woven Decorative Baskets (Set of 3)
And just like that, my mind switches gears to organization. Hands down, the most popular spot in my house is the pantry. If I'm being honest, the groceries are usually half gone before I even put them away, but storing them in an organized manner in bins allows everyone to see all of the options and for me to keep inventory when items get low. Where are the cookies you ask?
Clearly hidden.
Clear Plastic Storage Bins for Fridge and Pantry Stackable Organizer Set ( 10 Pack )
Finally comes the dreaded under the sink situation. While every under-the-sink set up varies, these roller bins are pretty universal. I love that I can use them stacked or side by side and that they roll out for easy access.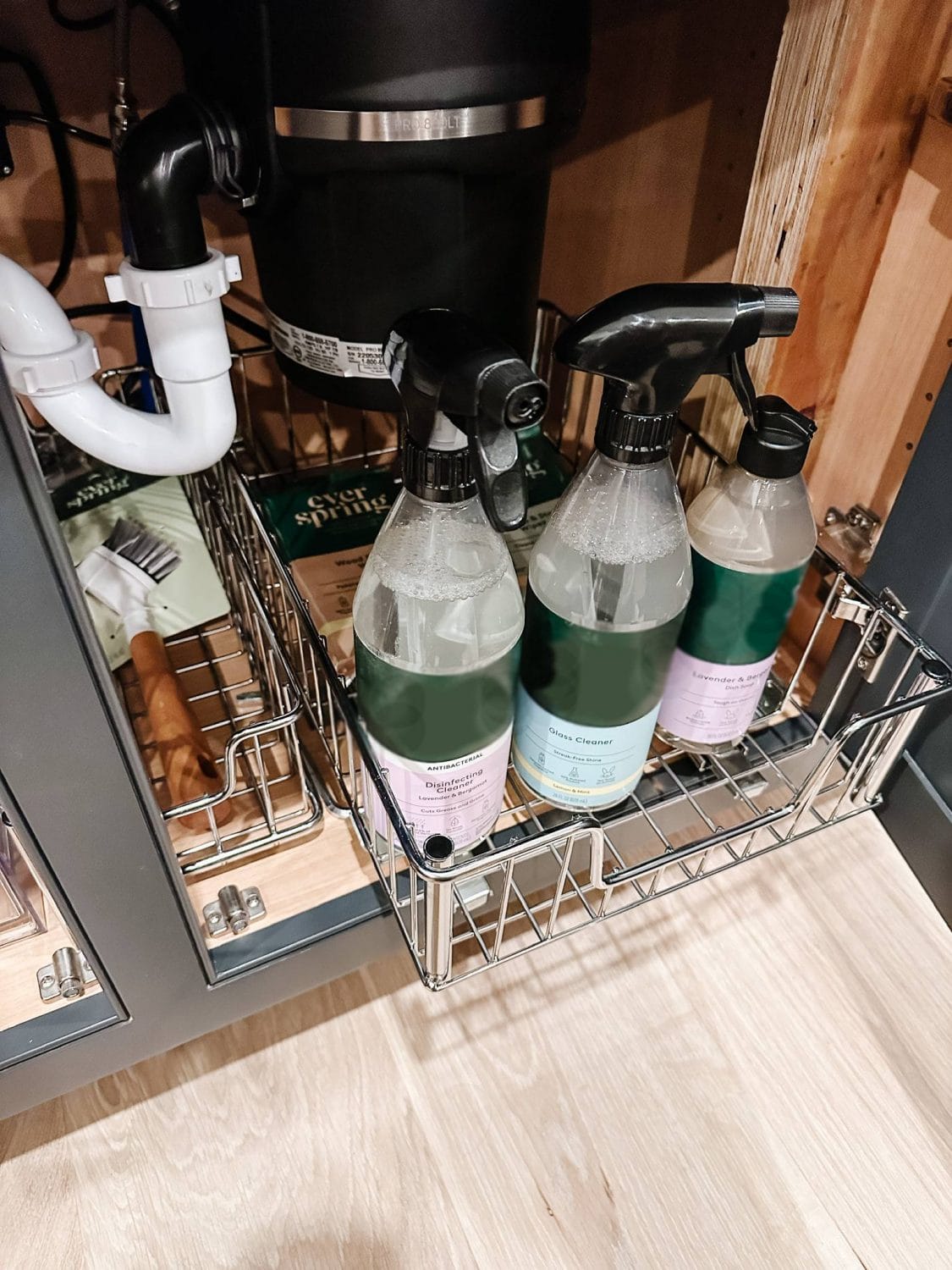 2-Compartment Sliding Wire Undersink Organizer (2-Pack)
We still have a ways to go, but it has been so exciting for me to share these little home updates. Thank you to The Home Depot for making this process of our move so fun (and easy) for me. If you are looking to refresh your space I included some more inspiration below….
Home Decor Accents:
Organization Helpers: