Thank you to Nordstrom + ShopStyle Collective for sponsoring this post.
I love a good heart tee, don't get me wrong. I just think it's a funny thing – buying something meant to be worn on a single day, then burying it in your drawer until next February 14th. Yes, there is the "pre" and "post" window where it may be appropriate to wear Valentines's Day inspired pieces. Are there hard and fast rules? Do I still have my Christmas lights up? These are all things we don't need really need to answer. I believe love is always "in". However, if you are looking for a Valentine's Day look that is a bit more….. shall we say, seasonless, then we have some ideas for you.
But Lindsey, no red? Call me a risk-taker if you will. Now that I'm looking at these photos, a red lip might be what I'm missing. There is just something so chic about black and white that I want to wear no matter what day it is. The tote bag is my nod to the day of love. It's a soft terry material on the outside, but has a structured body. It's perfect for toting around all of the things you "heart" all season long…. like your laptop, your kids snacks, your secret stash of chocolate (also appropriate all season) to name a few.
The sweater is also something I would wear into spring with white denim or cut off shorts. In the winter, you may want to wear a camisole underneath because while the pointelle stitching is pretty, cold air will find it's way right through.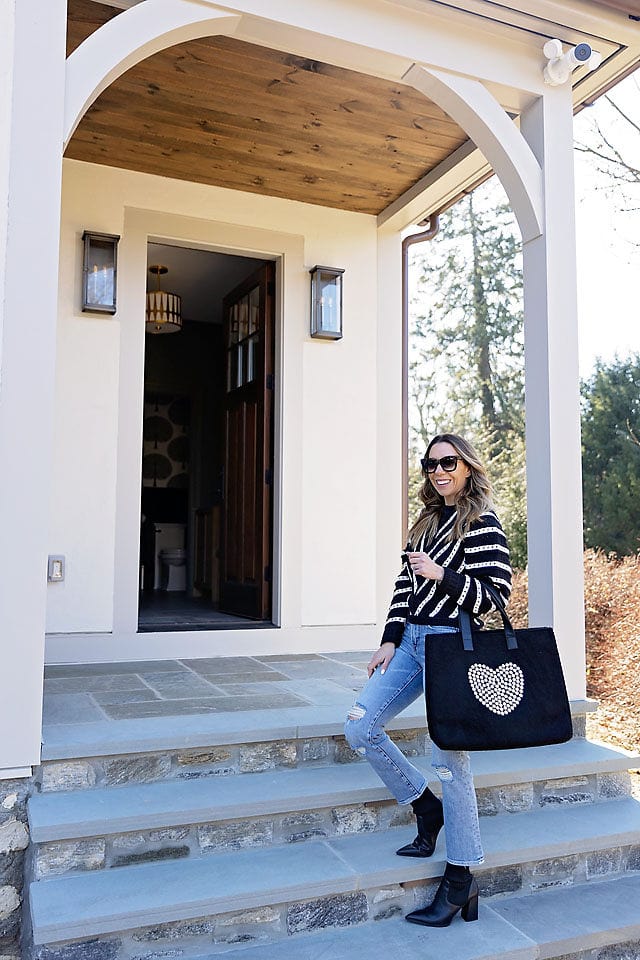 These Good American jeans are flying off the shelves. If you haven't worn this brand before, I highly recommend. Size down for best fit.
Shop the Look
More Valentine's Day Inspired Looks Below:
---
---
---
---
And a few of our favorite Valentine's Day Gift Ideas from Nordstrom