Thank you to Vuori and ShopStyle Collective for sponsoring this post.
Finding the motivation to work out in the winter is tough, especially when the weather says things like: "feels like 7 degrees". I try to channel that post-workout feeling as my main source of motivation because the power of endorphins is real. I've never felt that I should have stayed in bed longer after crushing a workout. Instead, I am energized and ready to take on the day. Here are a few workout "secrets" I swear by that get me motivated and keep the good vibes flowing.
Put your workout clothes on as soon as you wake up. Don't think about it, just do it. I personally feel that working out first thing means you are more likely to workout out. If you wait, it's easier to make excuses as things pop up in the day. However, if you can't workout right away, schedule a specific time for it.
If you don't feel like working out, commit to doing something for 15 minutes. Chances are high that you will want to stack another class or activity once you get started.
Change is good. Vary your workout to keep it fresh and to work different parts of your body.
Dedicate one day to restorative exercise. It doesn't ALL have to be sweat-inducing and grueling. A walk outside or a gentle stretching class totally counts.
Incorporate weights. Not only is this important as you age, but "feeling the burn" not only changes your body and makes you stronger, it's also a feeling you might start to crave.
Find the gear that is technical, functional, comfortable and crazy cute. Yes, this unicorn does exist and it's Vuori. And to be honest I wear most of their items long past my workout.
Show your Stripes
Let's focus on tip #6 shall we? Start off the year with a clean slate and a fresh set – trust me, a matching set really makes you feel like you have your life together. I love the new stripe color way of the Daily Legging and the Yosemite Bra. The Daily Legging has a tie waist to ensure there is no slippage and comes in a 7/8 length. The Yosemite Bra has the most gorgeous back detail and offers light support for low impact activities. When I am doing a sculpting class or cardio bootcamp this is my go to uniform.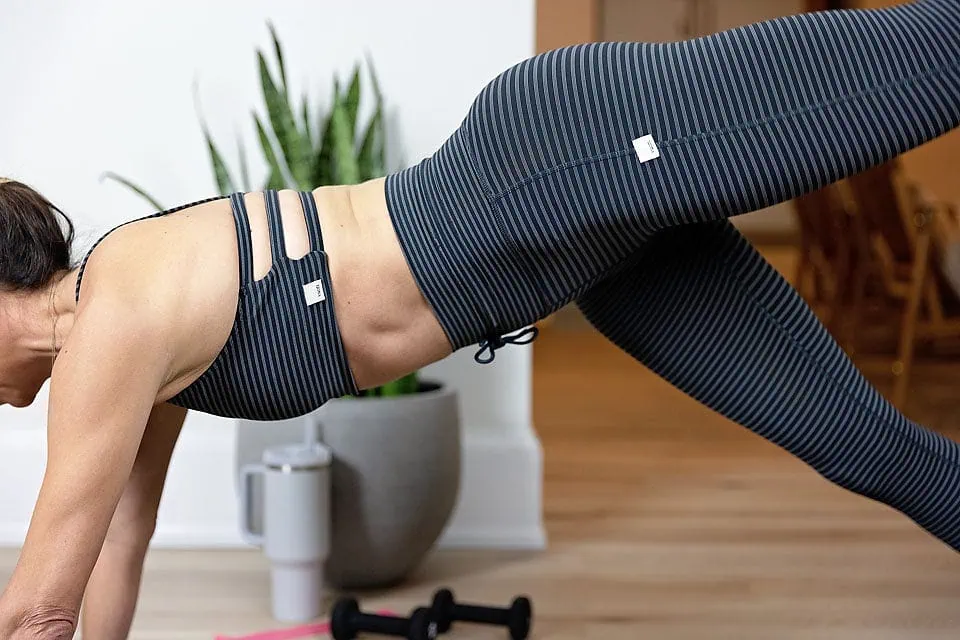 Daily Legging (Wearing XS in Stripe) | Yosemite Bra (Wearing XS in Stripe)
Currently Trending
On days when I am trying to do something more restorative (like walking, stretching or yoga), I wear something that I can potentially wear all day and still feel pulled together. Leave it to Vuori to combine fashion and function. The Elevation Square Neck Tank was made to move and look good while doing it. The built-in bra and wide straps offer medium support. Then there is my new favorite, Lux Rib Split Bootcut pant with a soft flare and subtle slit at the hem. The small rib fabric and seaming detail make these super flattering and on trend.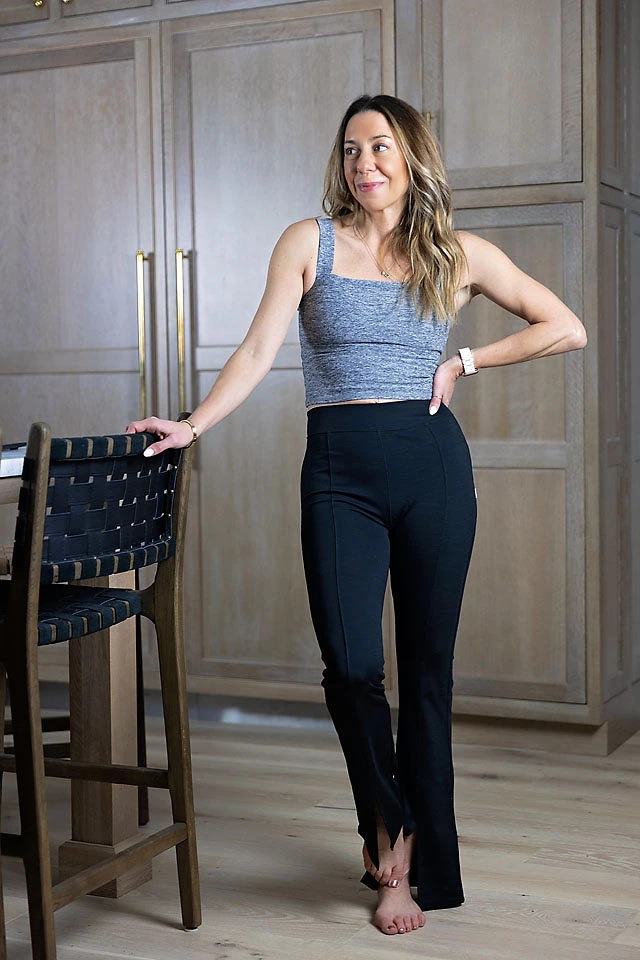 Elevation Square Neck Tank (Wearing XS in Heather Grey) | Lux Rib Split Bootcut (Wearing XS in Black)
More Vuori Favorites to Inspire Your Next Workout