Thank you to GAP and ShopStyle Collective for sponsoring this post.
"Have kids," they say, "It will be fun!"… and honestly it is! It's fun, and overwhelming and never-ending and yet so fulfilling. Never did I imagine that I would have four boys and four boys that are so different. Yes, they all love football, but their personalities couldn't be more different. My youngest son is definitely influenced by his older brothers, but as the baby he has learned how to stand out. I love that he feels free to express himself with his dance moves, his silly sense of humor and his fashion choices. He is VERY into layering. Sometimes it's a jersey over a hoodie, sometimes it's shorts over sweatpants (still working on that one), and sometimes he takes note of what all the teenage boys are wearing as they float in and out of my house. When he isn't trying to show them his coolest new football card, I can tell he is analyzing. When he comes down with flannel over a hoodie, there is my proof.
Shop The Biggest Little Sale for 40% off select items (and grown-ups, too!) + Extra 50% Off Markdowns with Code: GOSHOP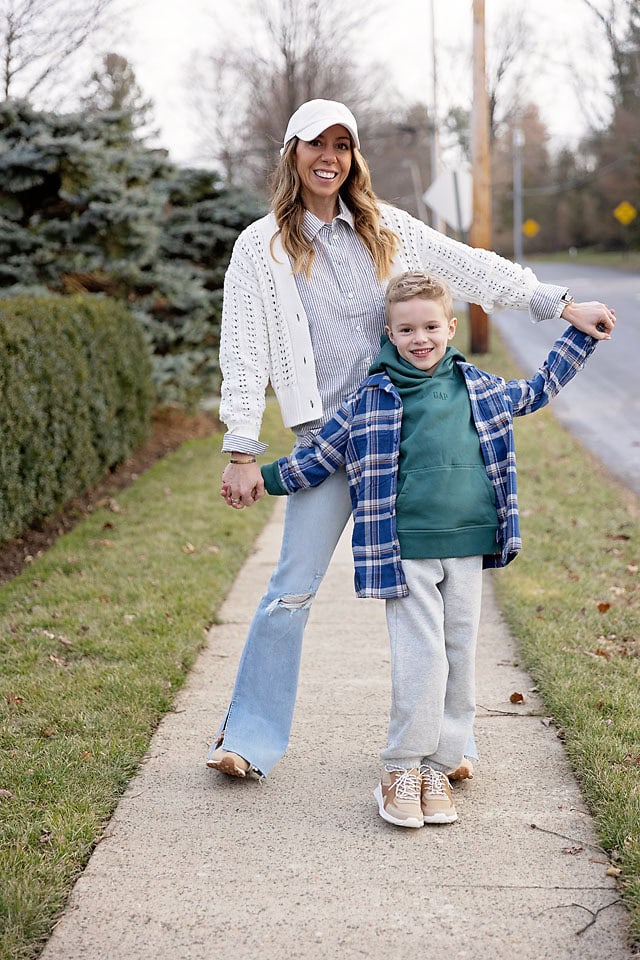 This outfit is kid and mom approved! I love the layered look and he loves the comfort. The flannel shirt is just how his brother's wear it, but can also easily transition to a pulled together look with denim. Also, can we talk about these sneakers – the neutral color and the leather accents make these perfect to wear for those dressier moments.
Shop His Look
Flannel | Sweatshirt | Sweat Pants | Socks | Sneakers
---
And because Gap always has something for me, I wanted to try out some of the latest trending denim. This season is all about flare denim and Gap has all the silhouettes. This high rise split hem flare has all the details and fit true to size. I love a monochromatic look for spring as a palette cleanser for the modern bloom of florals to come.
Shop My Look
Hat | Cardigan | Stripe Button Down | Split Hem Flare Jeans
Shop More Gap Favorites from the Biggest Little Sale
Shop the Post