Thank you to Saks OFF 5TH and Collective Voice for sponsoring this post.
Your excuse of it being "too cold" and "too dark" to go out on any given Saturday night is about to expire. The days are officially longer and the temps are slowing creeping up which means the gravitational pull to your comfiest threads and your couch are just not AS strong. Don't blame me, it's science. Spring is a time for celebration and a time to pull yourself out of hibernation. It's hard, I know, but you can do it. Whether you have a wedding, a big birthday party or a dress-worthy event, I'm sharing a few really fun ones from Saks OFF 5TH that have nothing on your sacred 9pm bedtime.
She's flirty, she's green, she is begging to be spun around the dance floor. This high neck dress can be worn button or open (as pictured). The smocked waist is as flattering as it is comfortable. The fabric is extremely luxe and feels like silk to the touch. It drapes to perfection.
---
This floor-length dress is just the end. I walked downstairs and I think my teenager even looked up from TikTok. I kid, I kid (he was on SnapChat), but this eye catching dress is just SO good. From the tasteful cut-outs to the printed eyelet fabric, this dress is perfect for anything from a destination or summer wedding to a fancy vacation dinner. Although this dress is all out glam, it can be dressed down with a white denim jacket. In terms of length, I am 5'4 and it skims the ground with a small heel – it is meant to be full length.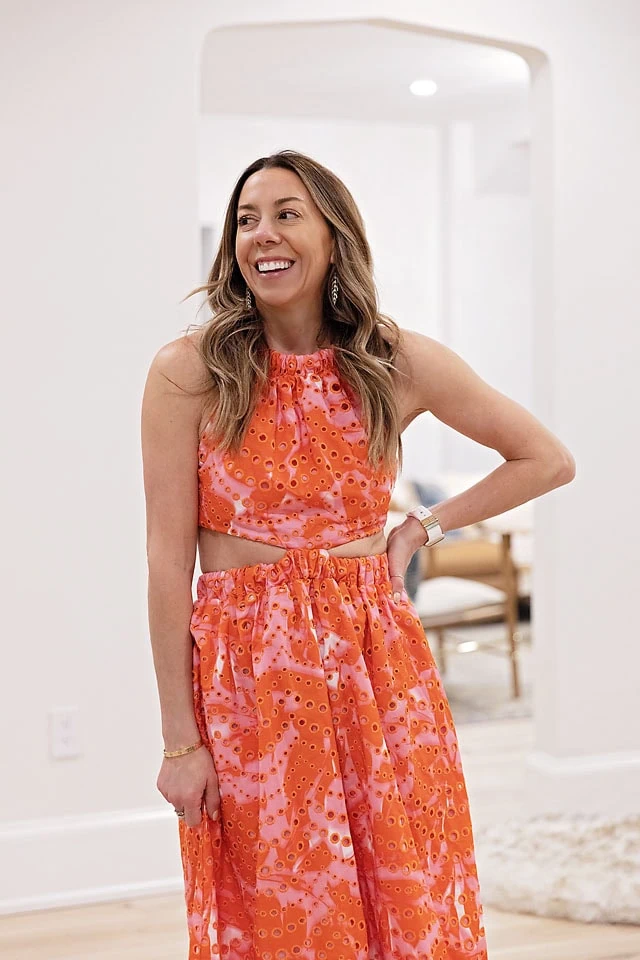 ---
This dress is the epitome of happy. The bright, poppy hues paired with five shake-it-worthy tiers – this dress is begging for some serious time on the dance floor. Depending on how you style this dress, she could also be fun to wear for Easter or to a country club event. It's the perfect combo of preppy and playful.
Spring is Here! Shop your favorite designers for your special occasions at Saks OFF 5TH!