Confession, I placed 27 orders on Amazon in the past 30 days. This is me slacking! I kid, I kid, but it does seem like I am hitting "add to cart" on a daily basis. I rounded up my favorite purchases over the last month by category.
Fashion
Casual Maxi Skirt
This has been a spring staple for years. We shared it on our Facebook page last week and so many of you agreed it's a wardrobe must. Wear it with a simple tank or a graphic tee and a denim jacket! The styling options are truly endless.
Maxi Skirt (wearing caramel, small)
The Easy Jumpsuit
One and done never felt or looked so good! If you run errands in this little number all day, then sleep in it, we won't tell. I do the same.
Jumpsuit (wearing black, small) | Bag (color apricot)
Crochet Cover Up
If I had to pick a favorite purchase this month, this one is up there! I am here for the crochet trend – the texture, the coverage with a cute little peak of your swimsuit. More on this trend HERE.
Cover-Up Dress | Beach Bag | Sunnies | Sandals | Stripe Bikini
Comfy Wide Leg Pants
Comfort is always trending and these wide leg lounge pants were one of the top sellers so far this year! They are great for running around town because they look pulled together and not sloppy. I think they would also be great for travel.
Sweatshirt | Wide Leg Pants | Sneakers | Bag | Sunnies
Slouchy Pocket Tee
I'm always looking for basics that aren't boring. This tee has an amazing drape and slightly oversized silhouette. Most of the readers who bought it told us they went back for another color!
Pocket Tee (color blue) | Bag | Shorts | Necklace
Beauty
Braun IPL Hair Remover
Two Motherchic team members (Abby and myself) have been using the Braun IPL Hair Remover and are LOVING the results. Abby is 4 weeks in and has noticed she can go much longer between shaving. I am on week 2 and am seeing similar results. It takes about 6-8 weeks for optimal results. While this is pricy, it's way less expensive than going for laser treatments. It's painless, easy to use, and takes just a few minutes once per week!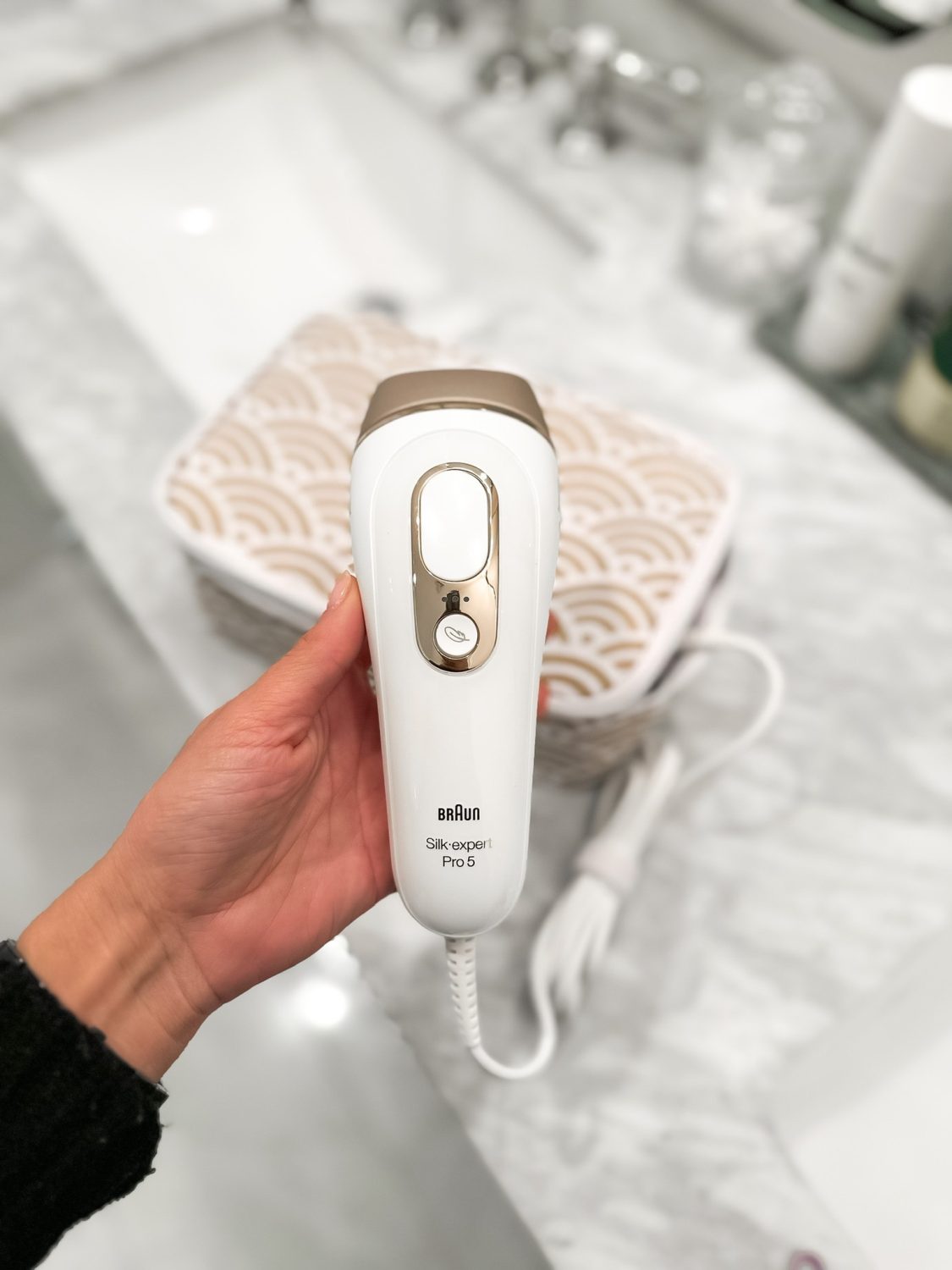 St. Tropez Facial Tanning Mist
I get complimented on my tan a lot… I love telling people it's fake and singing the praises of this product! Whenever I am feeling pale, I spritz this on as last step before bed (you can even use it over make up during the day), and I wake up looking like I went to Florida in my dreams. Smells lovely and works like a charm.
St. Tropez Facial Bronzing Mist
Julep Beauty Eye Shadow Stick
This is the type of beauty I will need multiples of! Not only are there are ton of colors to choose from, but I would love keep one of these in my bag for quick touch ups. You can use the lighter shimmer colors as a quick highlighter and the darker matte colors for an easy smokey eye.
Julep Eye Shadow Stick (26 Copper Shimmer)
Silicone Body Scrubber
Move over loofah, there is a new one in town! I love this silicone scrubber because it is soft yet exfoliating. You can also clean in boiling water and continue to use!
dr. brandt 24/7 Retinal Eye Cream
This eye cream hydrates, brightens and diminishes the appearance of fine lines. Use AM & PM for eyes that glow!
dr. brandt 24/7 Retinal Eye Cream
Living Proof Dry Shampoo
For that just washed my hair and got blow out look! This dry shampoo is great for days when washing my hair isn't in the cards but I need a quick fix! So good!!!
Home
Drawer Knife Block
Why? Because counter space is precious! If you have a spare drawer, we highly recommend storing your knifes in this handy organizer.
Wine Glasses
While this may seem basic, hear me out. In the summer months we entertain more often and I go through wine glasses fast! I wanted a set that was durable, dishwasher safe, thinner rimmed and NOT expensive. These come in set of 4 and are under $30! Hard to beat that.
Acrylic Drawer Organizer
Yes, this is me trying to be organized. If this sight sparks joy for you, then I know we are probably all watching the same videos on Instagram and seeing if they are worth the hype. So far, so good.
Coffee Corner
What can I say, this little nook is a great way to start the day. That is all.
Mugs | Mug Stand | Quote Calendar
More Amazon finds on my radar below…