I know what you are thinking… why would I read this post if I have no plans to go on a safari in South Africa in the near future? If you like hiking, outdoor activities, swimming pools and really cute dresses, then there is something in this post for you, I promise.
I found out a week before our trip that due to the small planes we were taking within South Africa between reserves, I could only pack one bag. I'm not talking about an oversized hard-shell spinner suitcase, I'm referring to a small, waxed canvas duffle.
Hmm. Ok. I can do this. (starts quivering)
As I contemplated taking some real estate in my kids bags, which I definitely did, I came up with a game plan. No pun intended. Packing for safari is very casual. Sporty clothes for game drives, lots of layers, some swimsuits, workout clothes, and a few nicer outfits for dinner…but even those weren't really necessary. You can take the fashion content creator away from her computer for 10 days, but you can't take the fashion mentality out of her. Did I pack dresses? Four of them to be precise. I will do a full post on our safari experience in South Africa, but let's start with what I wore.
Game Drive Outfits (a.k.a sporty casual looks)
Would you believe me if I told you I didn't pack a single pair of my beloved jeans for our trip to South Africa!? I wore these cute pants several times and LOVE.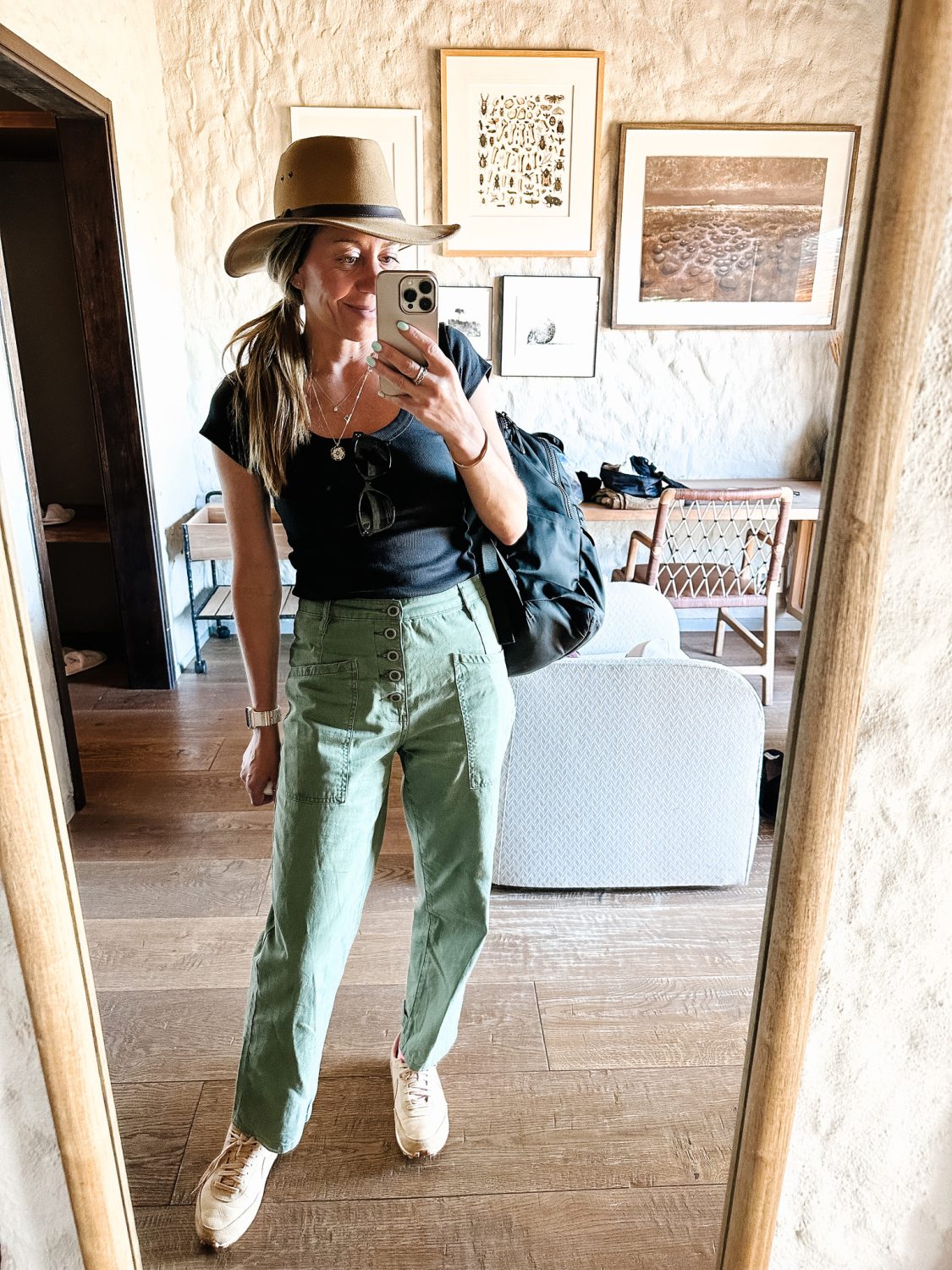 Pants – run TTS – go down if btwn | Tee | Sneakers | Backpack | Hat (purchased in South Africa)
Coffee with amarula in the middl of the bush? Yes please. This photo was taken on one of our morning game drives. About 2 hours in, we would stop, pop up a table with snacks and drinks and turn in circles to make sure no animals were coming ;). This look was all about the pants….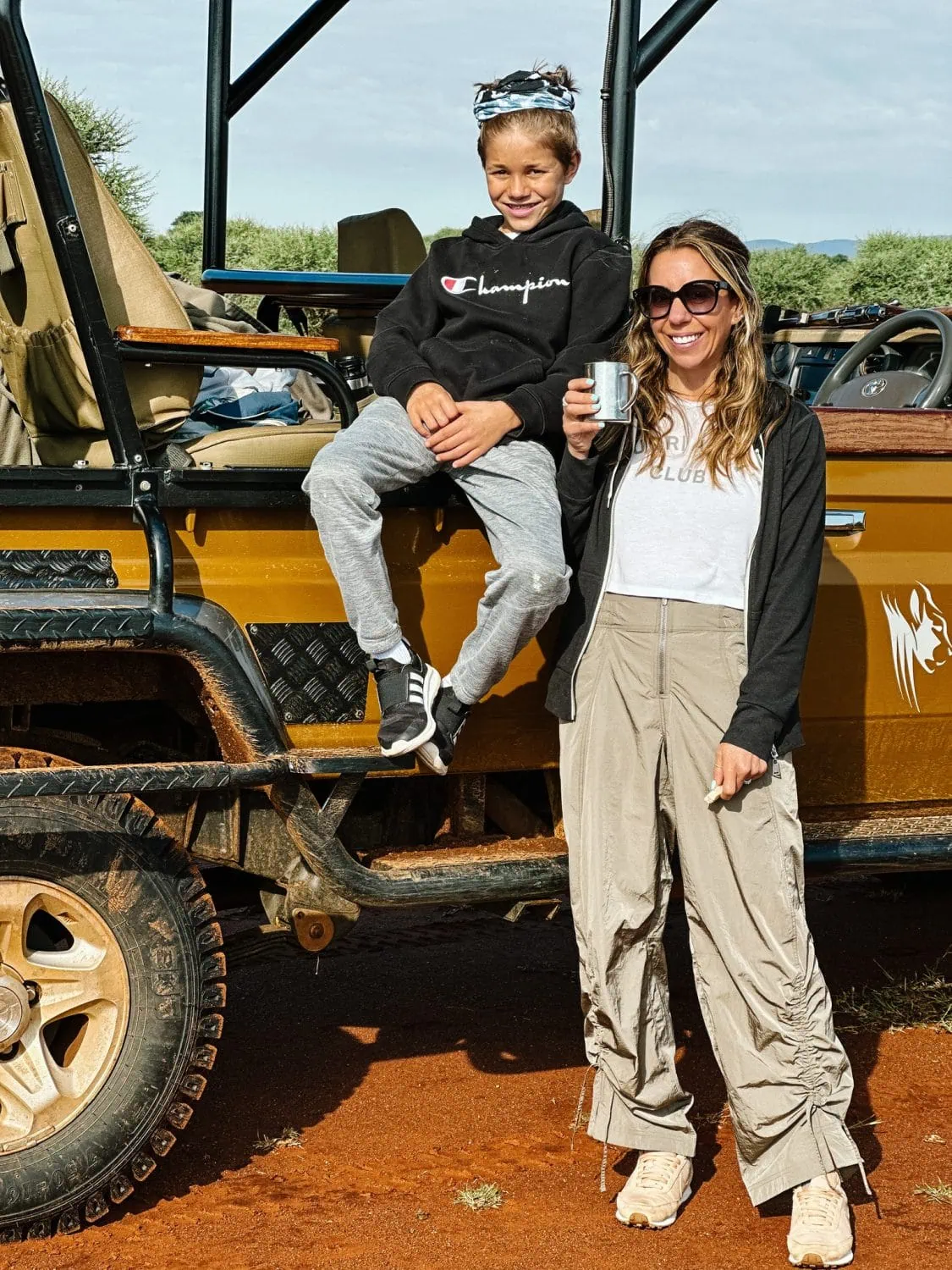 Safari, but make it sporty chic. I was tempted to zip off the bottom half of these pants to embarrass my kids, but I refrained. Long pants on game drives are always a good idea. We didn't come across many bugs, but long pants are recommended. These blocked the wind and were super light – would be great for hiking.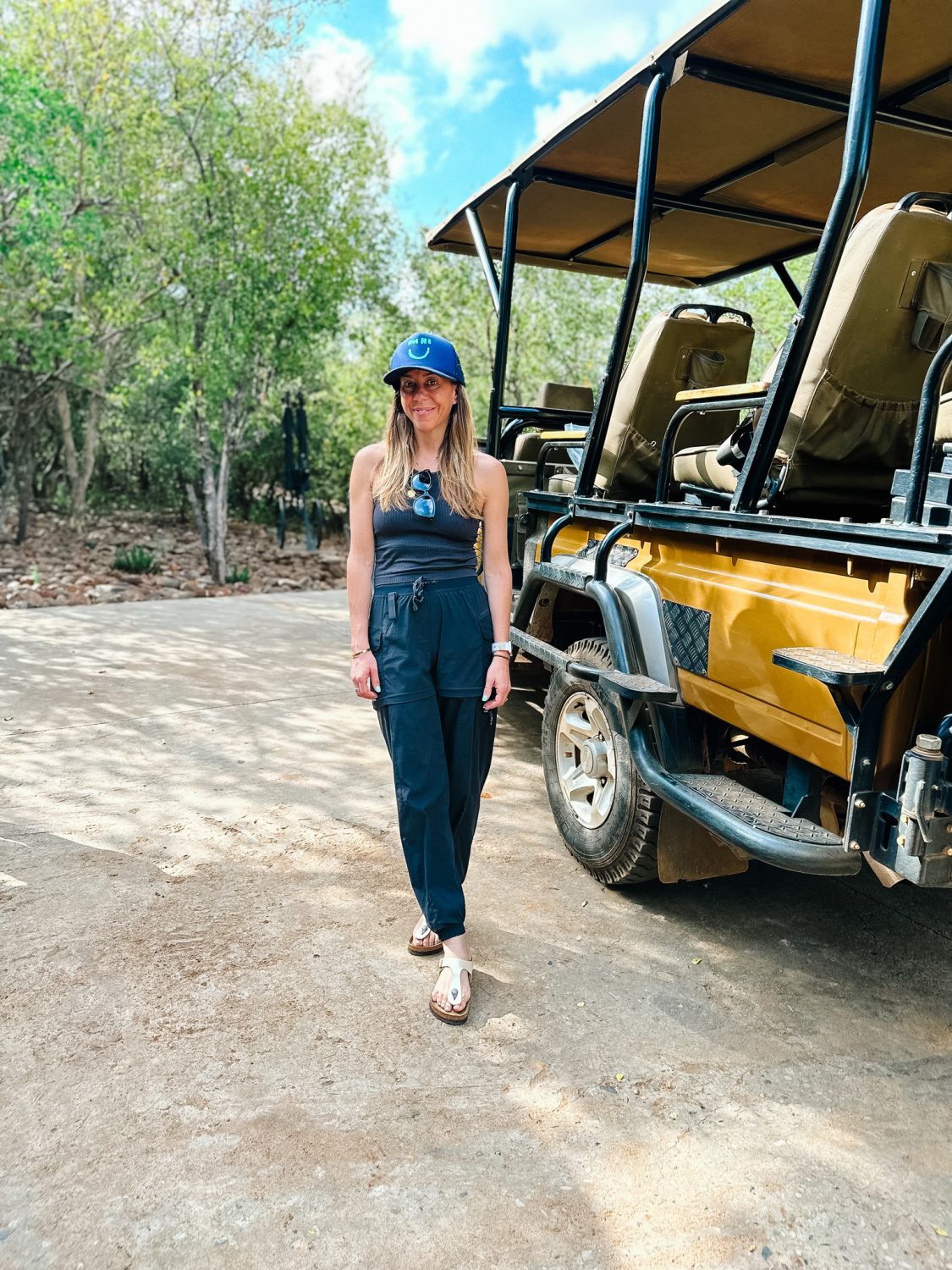 When the cargo trend and your safari trip coincide. Talk about timing!! I am here for this trend and I can't wait to show you how I will dress these up for date night. Yes, you read that right. Stay tuned.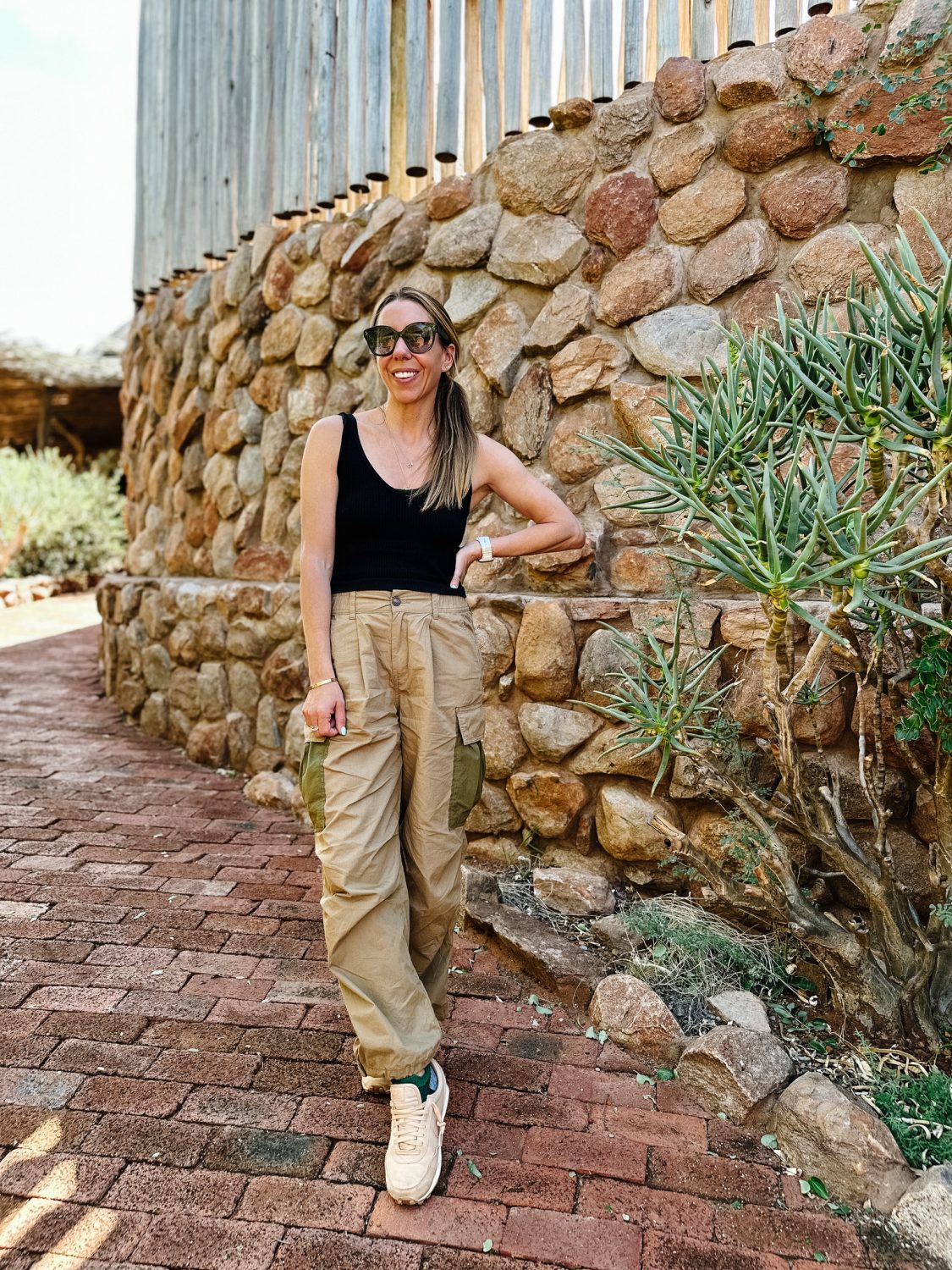 I can't tell you how many times I thanked myself for buying this jacket before we left. I wore it on pretty much every game drive. The mornings were just plain cold and this jacket was warm, yet packable. The evenings started out warm, but being in an open air vehicle makes everything a little chillier. This jacket was definitely a wardrobe hero for this trip.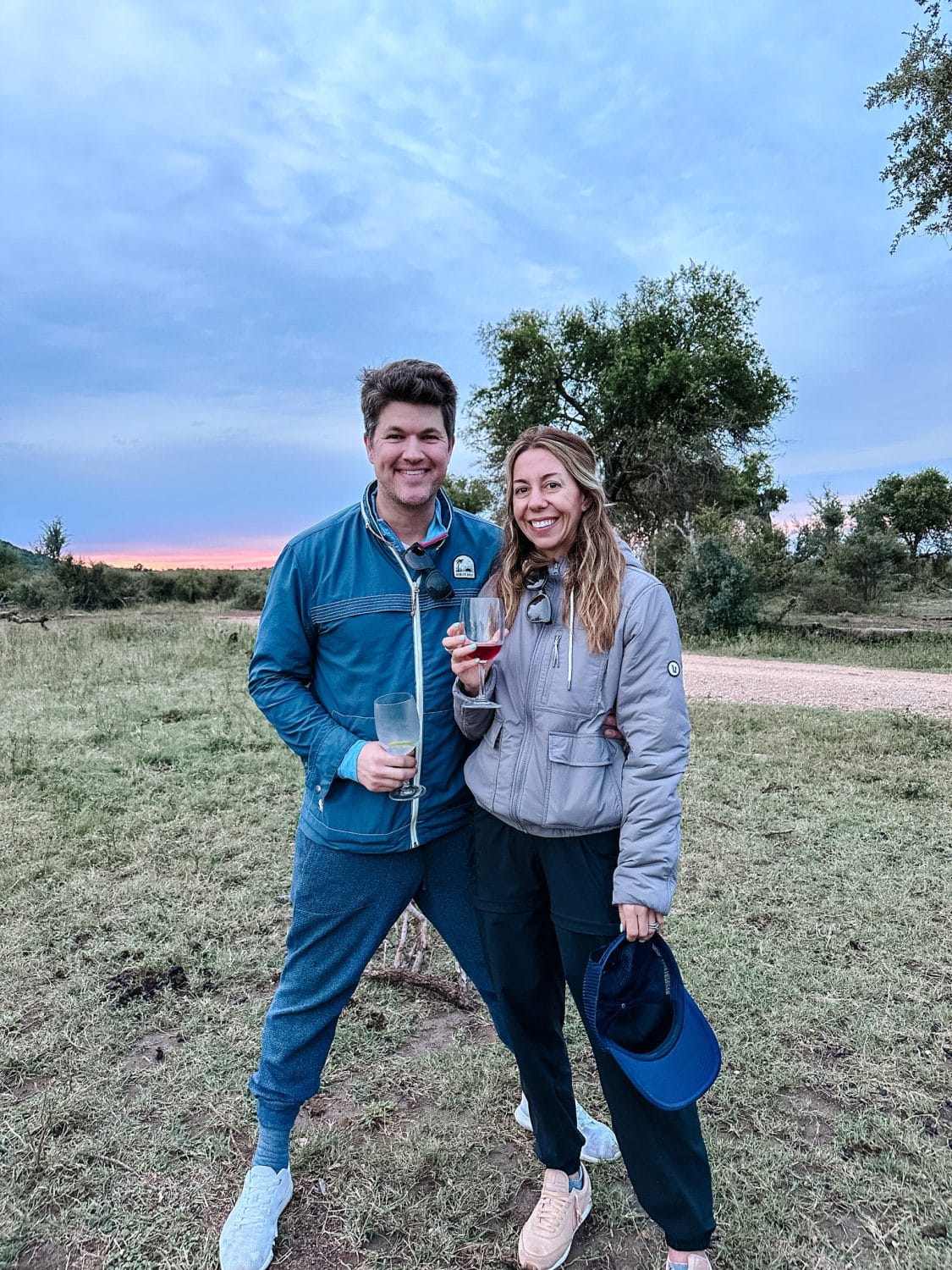 One Piece Wonders
Here's the thing about safaris, they are absolutely exhausting due to the sensory overload. Cold air blasting your face, rocky terrain jostling your body up down/all around as your eyes steady on the most beautiful, serene landscape. Top that with an enticing blend of excitement and fear at every turn. We came back from every game drive on the highest of highs, and then quickly crashed. I'm talking "I just ran a marathon" exhaustion. BUT, if you looked at your rings on your watch… nada. Mentally drained, but physically not much happened. I packed a few workout clothes to walk on the treadmill between drives…. also helped to work off our 3 part breakfasts. More on that later.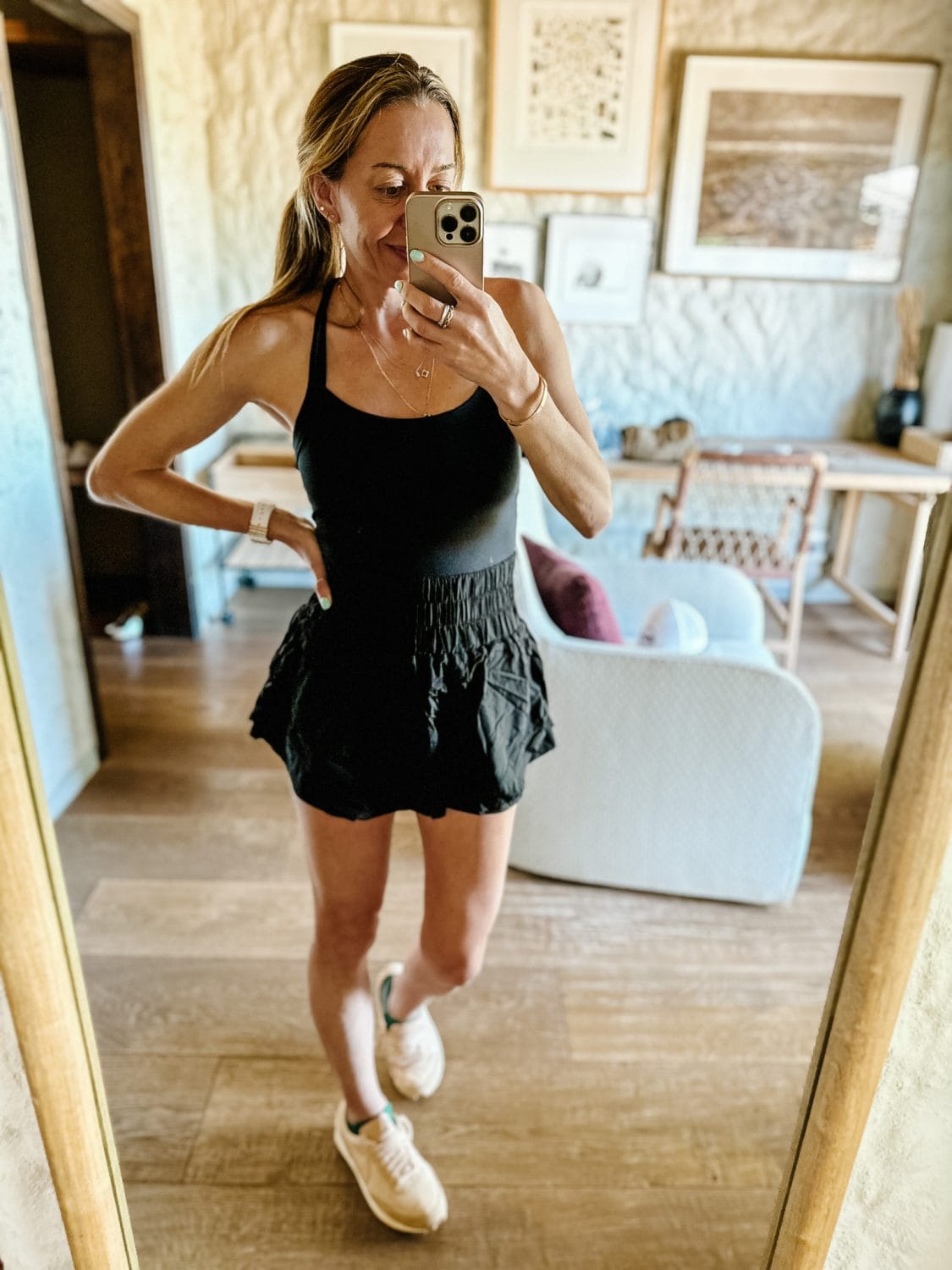 Sleep or soak in the view?! Obviously the later… between game drives we were tired, but it was hard retreat to a bed when you are surrounded by the most amazing landscape.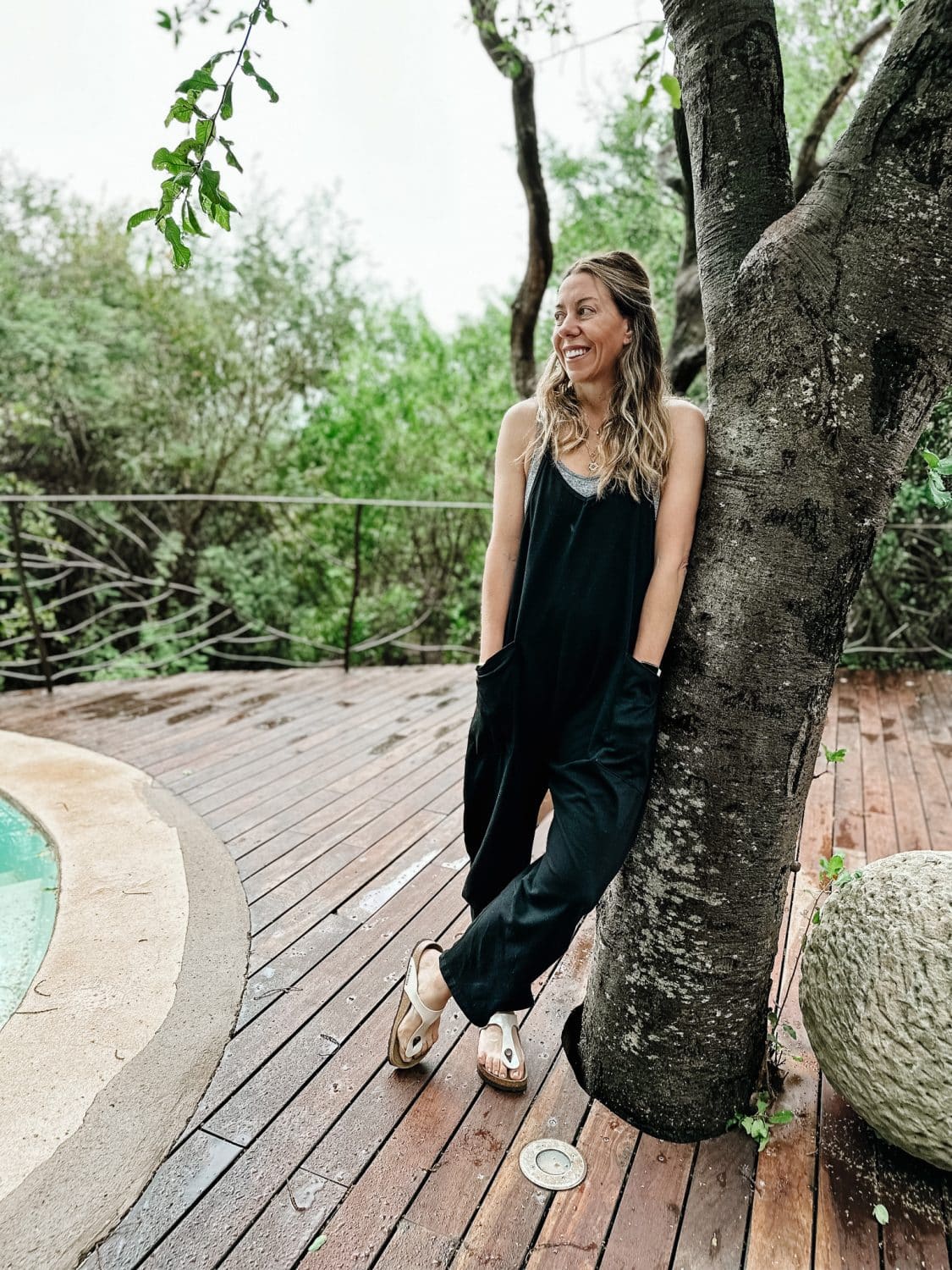 What does a girl where when she her evening activities will consist of horseback riding through the bush (but don't worry not in the lion area… just buffalo, giraffes, and rhinos) to a very fancy restaurant with a side of archery? A denim jumpsuit should do the trick.
What do you wear when you are about to board a puddle jumper plane in the Kalahari? A cute jumpsuit, obviously. Why? Because puddle jumpers don't have bathrooms so you can cross that issue off your list. Also, I knew once we arrived in Cape Town we would go straight to dinner so I wanted to wear something that was a little dressier than my game drive looks.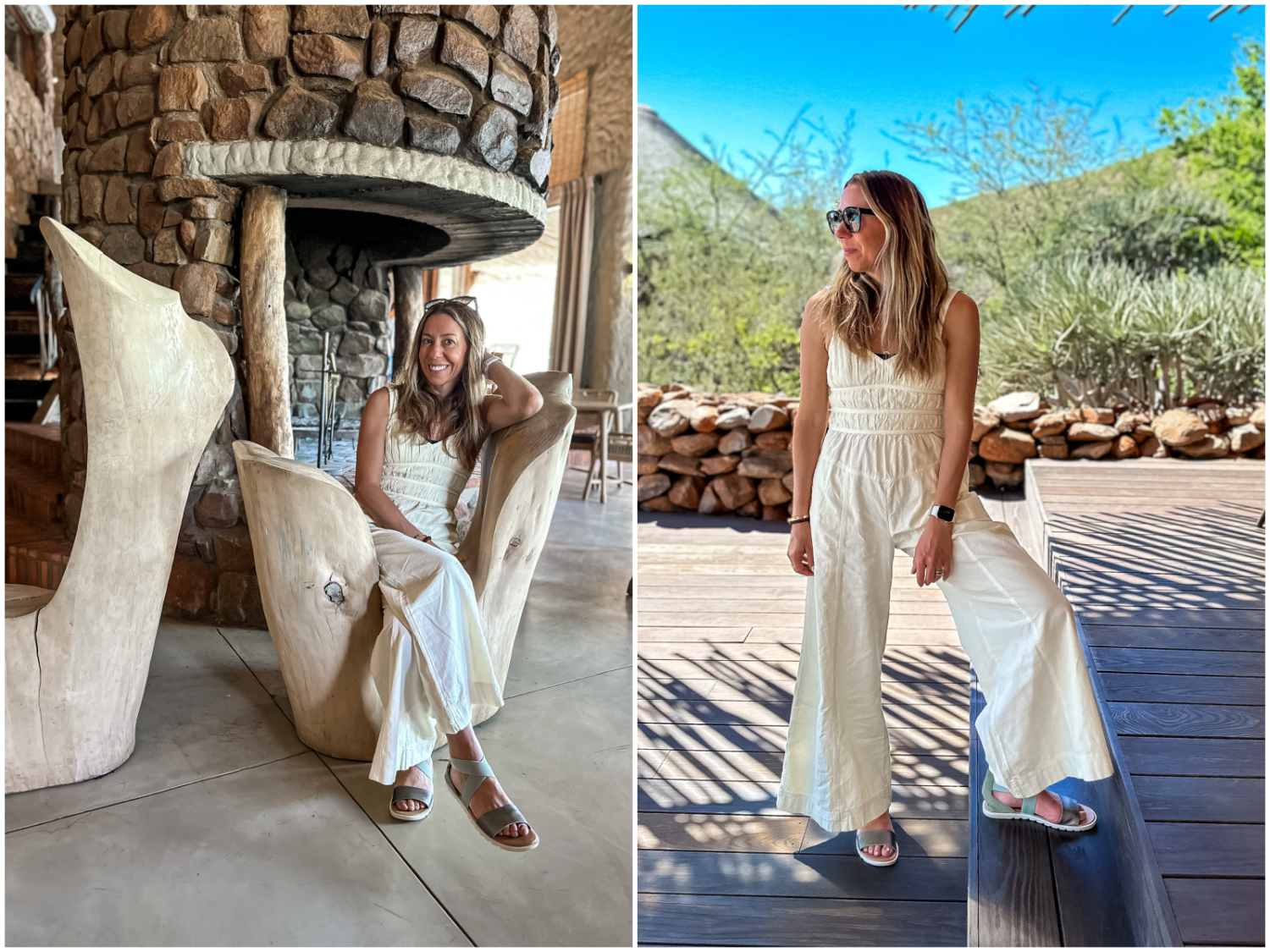 City Exploring
Oh the places I wore this dress… to the top of Table Mountain (check!), to the Kirstenbosch Botanical Gardens (check!) to the wineries in Constantia (Check!). Yes, it was all in a day's worth of our itinerary but this ultimate travel dress proved that she was ready for anything.
Dress | Bag | Sandals | Necklace | Sunnies
Dinner Dresses
When your dress matches your mood: bright and happy!! I wore this colorful number to dinner with my family on the water front in Cape Town.
(I only packed 2 pairs of sandals. Would I have liked to pair a nicer pair with this dress, yes. Did anyone really care? No.)
Did I mention there was a Nobu in our hotel? This was our cue to get the kids room service and have a parents-only dinner. The flavors, the creativity of the dishes, the presentation…. wow, just wow. I wore such a wow-worthy jumpsuit to match this vibe that it is selling out fast 🙁
But don't worry…. some more fun jumpsuits here and here
Swim Suits + Cover Ups
When people think "safari", lounging poolside probably doesn't come to mind, but let me assure you, there was plenty of time for that. Game drives are early morning and late afternoon which means the middle of the day is all about relaxing. The lodges we stayed at had the most beautiful pools and even thought South Africa is entering their winter season, it was in the 70s during the day and we took full advantage… especially of the hot tub.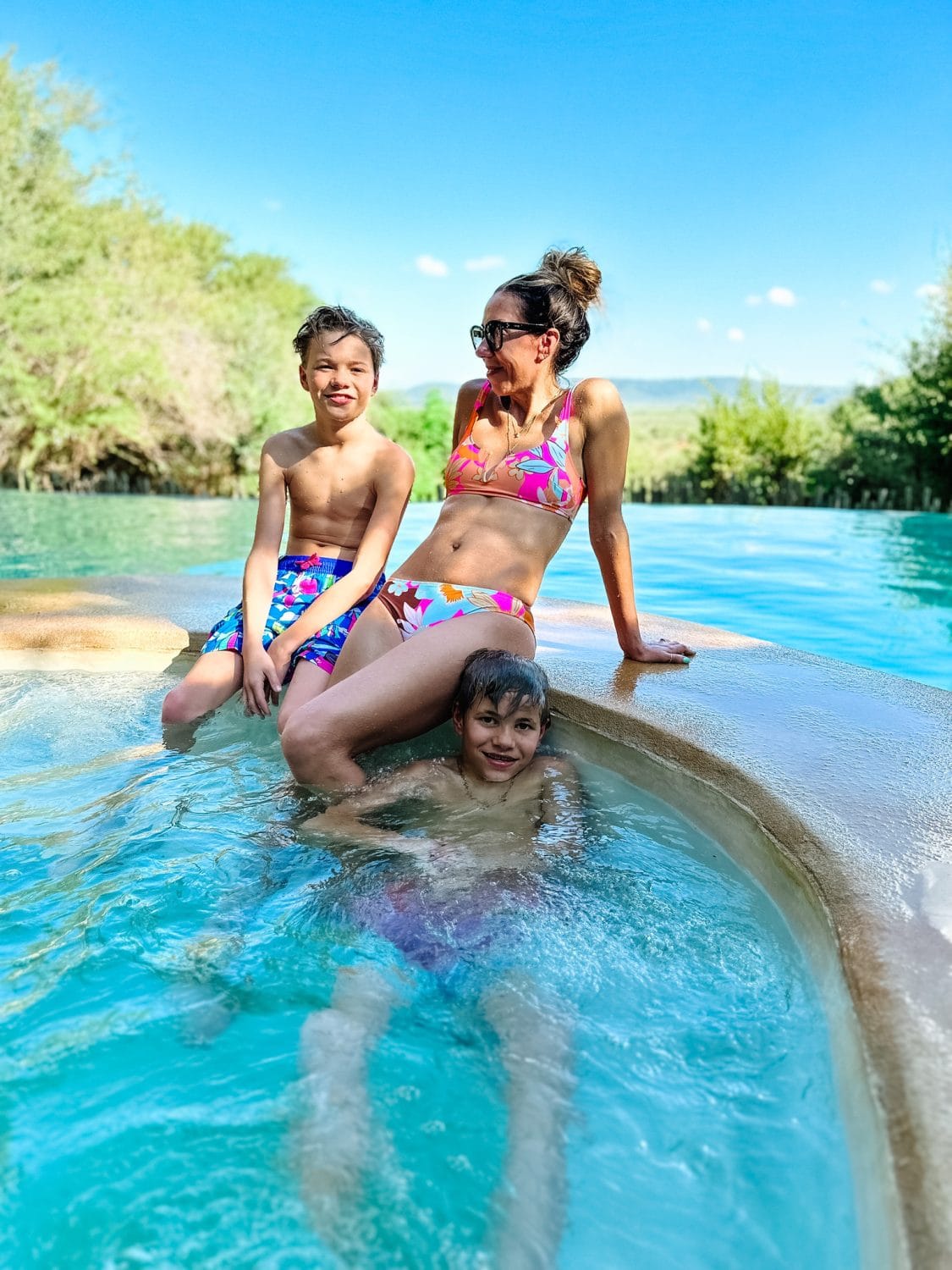 I read a meme somewhere recently somewhere that said you CAN do a cold plunge without posting about it on the internet. That made me laugh. This pool was ICY, but did feel so good!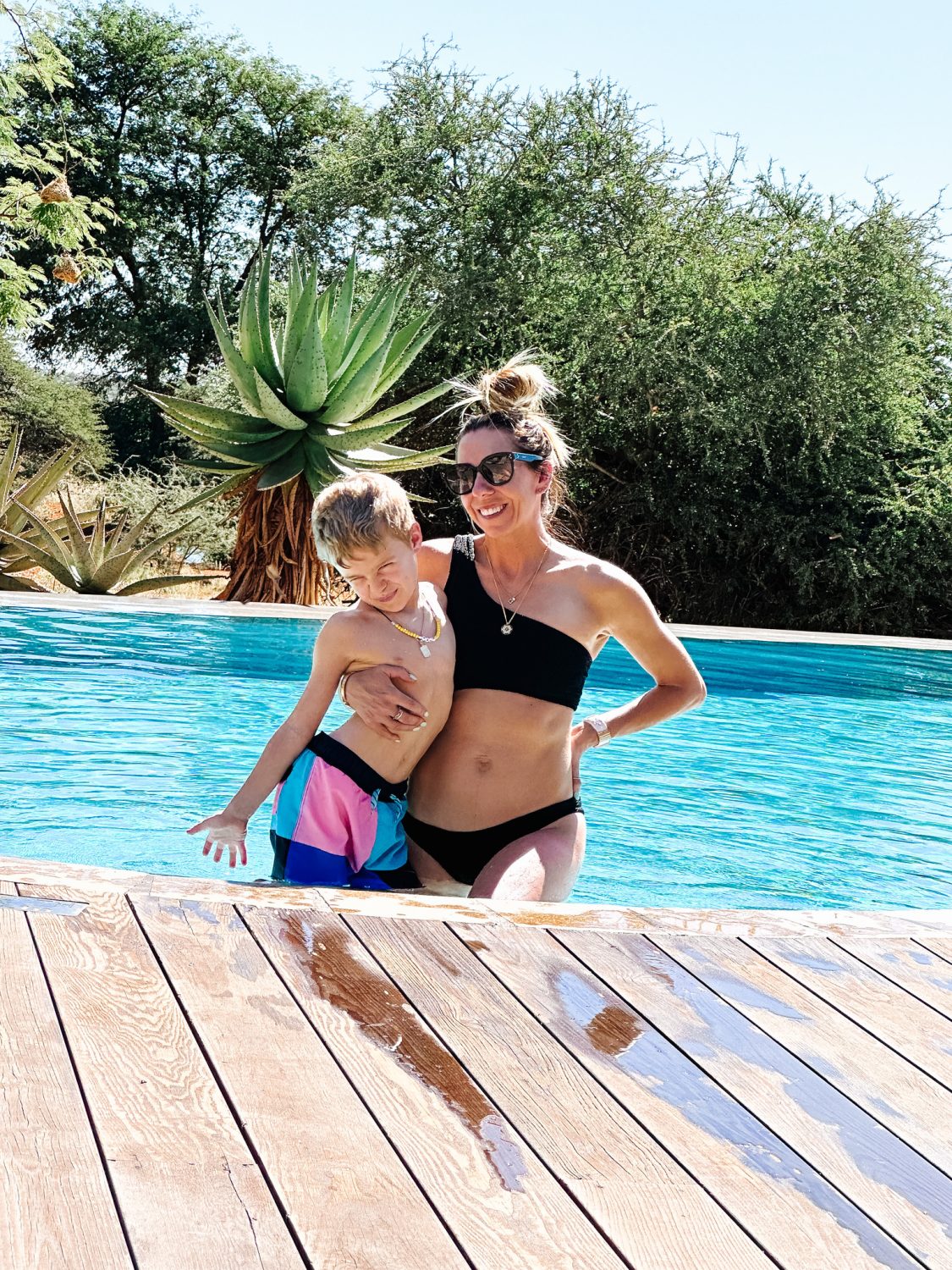 Bikini  (this brand is ONE size — it really does work on many body types! When it comes out of the package its TINY, but the crepe fabric stretches to form to your shape.) | Similar suit less $.
Out of the bush and into the city. We stayed at the One + Only in Cape Town and their pool was a highly for our whole family. The pina colodas were a close second to the breathtaking view of the mountain side. The combination of the two? Next level.
Whoops, I tried a mojito too. Yep, that was delicious too. Take me back to South Africa!!! Full post on what we did and where we stayed coming later this week. Check out our adventure on my highlights on stories here.
Bikini | Sarong (bought in the markets in Cape Town)
Shop my South Africa Wardrobe Here: