So you want to go to on a safari in South Africa? Or maybe you never knew you wanted to go on a safari inSouth Africa and you saw my stories and were like, "and now I want to go to South Africa!" The truth is, I never knew I wanted to go to South Africa. I threw the idea out to my family when we decided that now was the perfect time to take the trip of a lifetime. There is never a perfect time, but with the ages of our kids and the fact that their spring breaks may never line up in the future, we decided it was the perfect time for us. It's hard to put such an epic trip into words so I broke it down by questions that many of you had or that I had before going.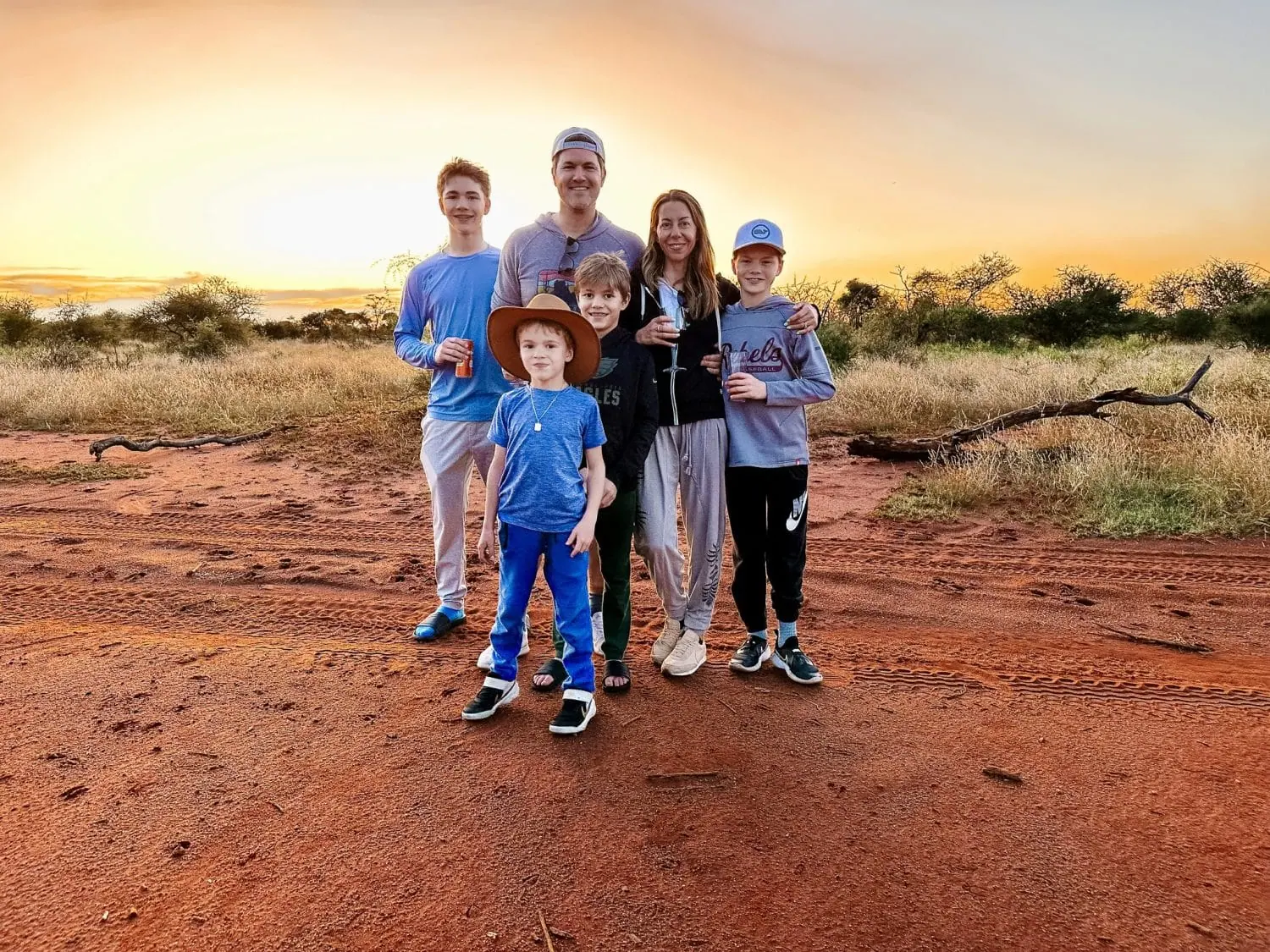 What did you do to prepare for the trip?
Planning the trip:
We started planning this trip about 6 months prior to taking it. We worked with WhirlAway Travel and I told our agent, Jamie, that we wanted to take a big trip before my oldest son started high school. I explained that my kids don't like beaches (can they really be my kids?!), hiking/adventure trips out west are hard because of their ages differences, but how about a safari?! Her response was immediate. Yes. That is the trip you need to take. Jamie had just returned from South Africa with her family and told me it was life changing and that if we were serious, she would plan the perfect trip for us.
To answer the question, I really didn't do anything to prepare. I just told Jamie that I wanted to stick to non-malaria zones in South Africa because I didn't want the fear of getting sick to ruin the trip. She worked her magic and booked us a 10 day trip with three different destinations in South Africa.
If you are curious about what we packed, you can read that post here.
Medical Stuff:
In terms of preparing our family to visit another country, I reached out to a local travel vaccination clinic for my husband and I and to our pediatrician for the kids. The doctors looked at our itinerary and gave us information on the recommended vaccinations, medicine to bring, and general medical travel information. We all received the recommended vaccinations about 3 weeks prior to traveling (hep A and Typhoid were the ones we got, the kids just got Typhoid). They gave us meds in case anyone drank water that didn't settle well but never ended up needing to use it. I also packed Tylenol, Benadryl, cortisone, general first aid, sunscreen and bug spray with deet. We never even used the bug spray, but maybe it was just the time of year and we got lucky! If you go to a malaria zone, you will get pills that you take around the start of your trip. We didn't need to take them, but were advised to get them if we planned on going anywhere out of the boundaries of our itinerary.
How much should I budget for a safari in South Africa?:
Without sharing our credit card statement :), I will say a trip to another continent is definitely an investment. If I learned anything from this trip (and I learned a TON) it's that you can try to put a budget on an experience, but when you are immersed in the moment and horseback riding through the African bush watching the sunset, you will quickly realize that while your physical bank account may be crying, but you have gained a richness in your life that is unquantifiable. That being said, everyone has a threshold and the beauty with working with a travel agent is that they can help you plan an incredible trip within your means. Start with a number, and go from there.
Getting to our Safari in South Africa:
We flew on United Airlines direct from Newark to Johannesburg. The plane tickets for a family of 6 were a huge portion of the cost of the trip. Our flight left at 9pm EST and we arrived in Johannesburg 14 hours later at around 5pm local time. Our sleeping strategy was to stay up for a few hours on the flight, sleep as long as we could, then have awake time for the rest of the flight knowing that it would be time to go to bed shortly after we arrived. The kids all did great – endless movies and candy helped – and honestly the flight was part of the adventure. Is it weird to say we all sort of enjoyed it?!
When we arrived in Johannesburg we had someone meet us at gate (arranged by our travel agent) to help us navigate the airport and getting our luggage etc… She walked us to our hotel across the street, The Intercontential Tambo, where we were staying for about 16 hours before departing for our first safari destination. Our stay in Johannesburg included: showering, eating dinner in the hotel, going to bed, waking up and leaving.
Air Travel Within Africa
Prior to the trip, traveling within Africa on small planes was one detail of the trip that kept me up at night. I am not a nervous flyer, but small planes that aren't pressurized, are super bumpy and have weight limits… yep, that makes me a little nervous. I learned very quickly that this trip was all about doing things out of my comfort zone and I tried to stay "cool" about this whole little plane thing for the sake of my kids. We flew on Federal Airlines from Johanasburg to Madikwe Game Reserve and I am here to tell the tale. Was it a little scary? Yes. Did we land on a dirt airstrip lined with elephants and giraffes? Yes. Looking back, was that one of the coolest parts of the trip? Ok, yes. Yes it was. When we exited the plane our safari guide, Jerry, led us to our game vehicle – a modified, open air defender and drove us to Molori Lodge, well, after we drove full speed toward a giraffe on the airstrip to chase him off so the plane could take off. We flew on Federal Airlines two more times throughout the trip – back from Madikwe and then from Twsalu to Cape Town.
The Airport:
The giraffe to the right of the runway:
Safari #1: Molori Safari
We arrived at Molori around lunch time and were greeted by the entire staff who sang us a welcome song, gave us warm towels and a welcome drink. Molori was as welcoming as it was luxurious. There are only 5 suites on the property and they only ever book four at time so they have a high staff to guest ratio. Our suite was absolutely breathtaking – the most beautiful African decor overlooking the vast expanse of the reserve… with our own pool to boot. Every meal we ate was served in a different location with wine pairings and top notch service. The property had several communal spaces, but because there are so few guests, it sort of felt like we had the place to ourselves. After a tour of the property and an elephant sighting from their own secret "hideout", we were instructed to meet our guide for our first game drive later that afternoon.
What to Expect on a Game Drive on Safari in South Africa
When I saw our itinerary I noticed that we had morning and evening game drives planned for the next 6 days. My gut instinct was that after the third one, my boys would be bored and the whining would ensue. I couldn't have been more wrong. Not only did the kids not flinch when we told them we had to wake up at 5:30am every morning to meet Jerry for our game drive, they looked forward to each adventure. That is really what they were… a game drive is literally just going out on the truck with your guide never knowing what you will see. One second it's elephants gracefully strutting down the middle of the street, the next moment it's a lion walking three feet to your left, the next it's a wild dog eating a dead giraffe. It's was fascinating, nerve wracking at times, and each one ended with the same thought. Did we really just see all of that?!
Morning Game Drive
5:30am wake up
Breakfast snacks in common area
Hot chocolate for the kids + coffee for my husband and I mixed to our liking in to-go containers that we brought with us on the truck.
The trucks were stocked with very warm blankets because it was cold in the morning and evenings.
Jerry would drive with an idea of what he wanted us to see in mind, but you really never knew. We would start driving and sometimes he would get calls on his radio from other guides telling him about a sighting and we would deviate from our plan to check it out. As if the animal sightings weren't cool enough, our guide was extremely knowledgeable about all of the animals we saw and their behaviors. It really was amazing how much we learned from him.
After driving and game viewing for about and hour and half, Jerry would find an open area in the bush to stop and have breakfast part 2. He would pop up a table, turn on the griddle, whip up some pancakes, a little pour over coffee action with some Amarulo…. the kids would find a tree near by if they needed to relieve themselves (yes, this is much easier for the boys), and we would eat, drink, and ask him a million questions about the animals he has seen and the coolest experiences he has had.
After our breakfast in the bush, we would load everything back onto the truck and head back to the lodge…. stopping for animal sightings along the way.
Daytime at the Lodge
Between game drives was pretty much free time…. this was the vacation-y part of the trip. We swam, we ate, we napped, we spa-ed, we went to the hide-out to see if there were any animals at the watering hole. We spent a lot of time talking with the managers of the lodge learning about the area and the local culture. At about 4pm we got ready to head back out for our evening game drive.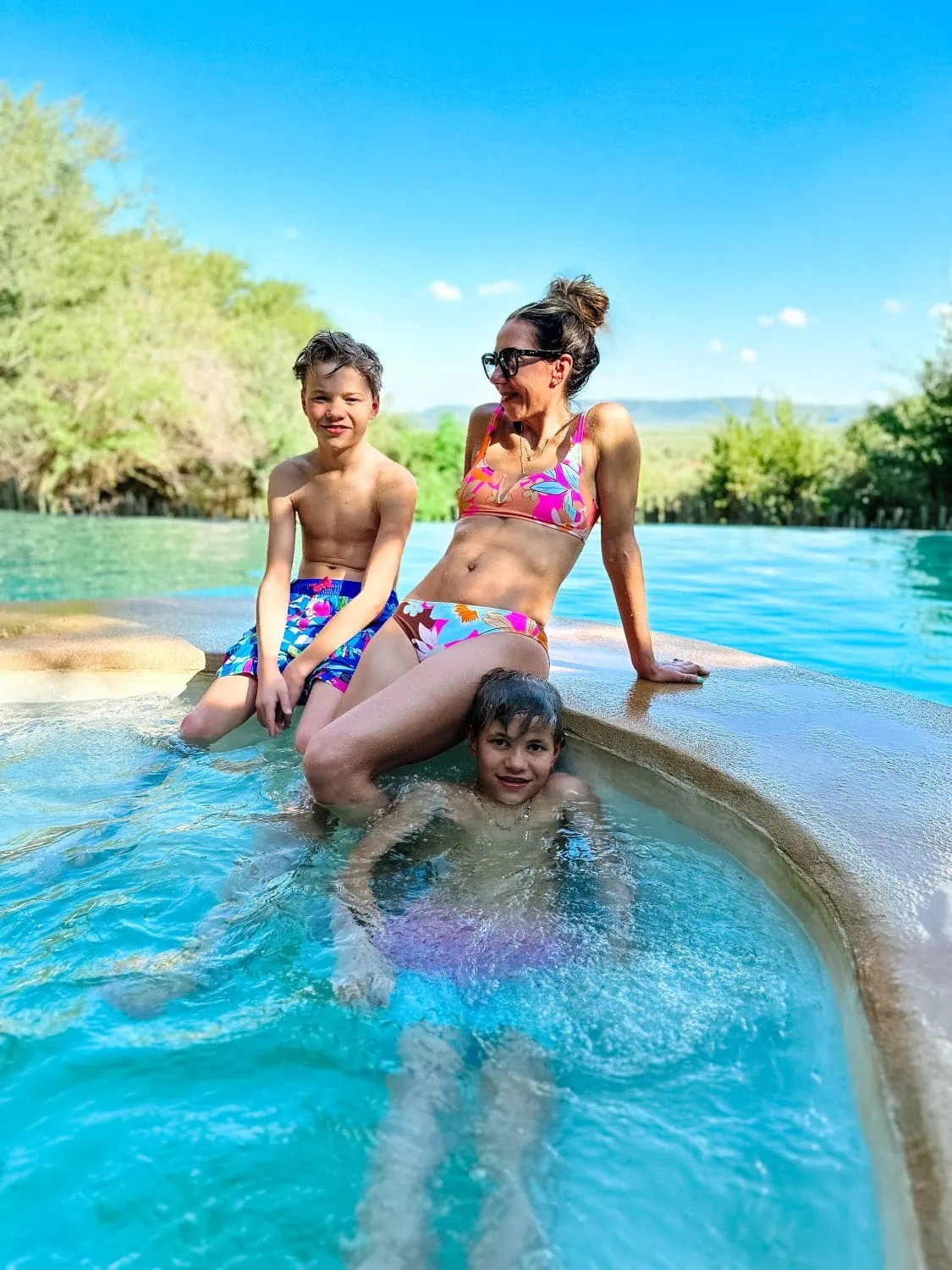 Evening Game Drive
One of the coolest parts of this trip was that we saw the sunrise and the sunset every single day. Just driving in the open air looking at the incredible landscape was probably one of my favorite parts of the game drives. It was peaceful, invigorating (LOTS of fresh air) and allowed for a lot of think time (without technology) which was a true gift. The evening game drives followed the same routine as the morning ones but instead of breakfast, it was happy hour….. sunset, red sand, cocktail in hand – doesn't get much better than that. After our happy hour, the sun would be down and our guide used a strong spotlight to track animals on our way back to the lodge. The light would hit their eyes so we could stop and have a look if we saw something we wanted to view. Once we got back to the lodge, always greeted with a warm towel and a drink, we would head back to our room get ready for dinner, then head to bed for an early start the next day.
Safari #2: Tswalu
After three incredible days in Molori (I teared up as we drove to the airport), we continued our adventure in Tswalu. We flew Federal Airlines back to Johannesburg (about 1 hour), changed planes, then flew to Tswalu (about 1 hour). The beauty of these small flights is that they take you directly to your destination so there is not a long drive once you land by plane. Again, our guide met us on the airstrip and drove us a few miles to the lodge.
Tswalu is a privately owned reserve and the the lodge we stayed at is one of three accommodations on the property. We stayed at Motse which was very accommodating to kids. Because of the size of our family, we did have to get 2 rooms. They were absolutely beautiful. I think I spent an hour one afternoon taking photos for interior design inspiration. Tswalu had a slightly different feel than Molori – a little more modern with rustic roots – lots of earth tones and textures.
Similar to Molori, the staff was extremely welcoming and truly made us feel like we were the only guests there. They also had a person on staff who had activities planned for the kids between game drives – one day it was bracelet making, another day it was pizza making, another day it was cupcake decorating and my kids enjoyed all of them.
The food was incredible and everything was included in our rate. Tswalu had a full menu for each meal that you could order from whereas Molori had 2 options for each meal. Everything we ate + drank was amazing and they were both able to cater to my gluten allergy. Speaking of food, one night they told us we were going on a picnic…. Um, I was not expecting the picnic to look like this….
We had another incredible guide in Tswalu, Brendon from Zimbabwe. Besides his friendly demeanor that put us at ease, he was incredibly smart and knew everything about everything we saw….and more. The moon, the stars, the history of the land… it really was incredible how MUCH information the guides had to share. On our game drives we also had a tracker who sits on a seat attached to the hood of the car. Our tracker, DT, was responsible for following tracks he saw in the sand and helping to navigate the drive. Similar to Molori, each game drive was unique and fascinating. Because we were in different areas, we saw slightly different animals.
The highlight during our Tswalu drives (for me) were the lion cubs (omg so cute) and the cheetah. Not only did we see a cheetah, we saw a cheetah eating a springbok.
One of the most epic things I've ever done in my life also happened in Twsalu. Despite my hesitation, Brendon convinced us to go horseback riding. Not only does horseback riding make me nervous, but horseback riding in the African bush is next level nerves. I'm not sure how or why I agreed to do this, but before I knew it, my family was suited up in chaps and helmets on top of horses walking in a single file line through the bush (yes, with all the wild animals out there too). The sun was setting over the most amazing landscape, and I guess I thought if anything happened, at least it was doing something out of this world. Did I mention we had a destination? We were riding horses to the most incredible restaurant, Kleinjan.
Where do I even begin with Kleinjan… If you go I don't want to ruin the surprises, but I'll just say it was a dining experience we will never forget.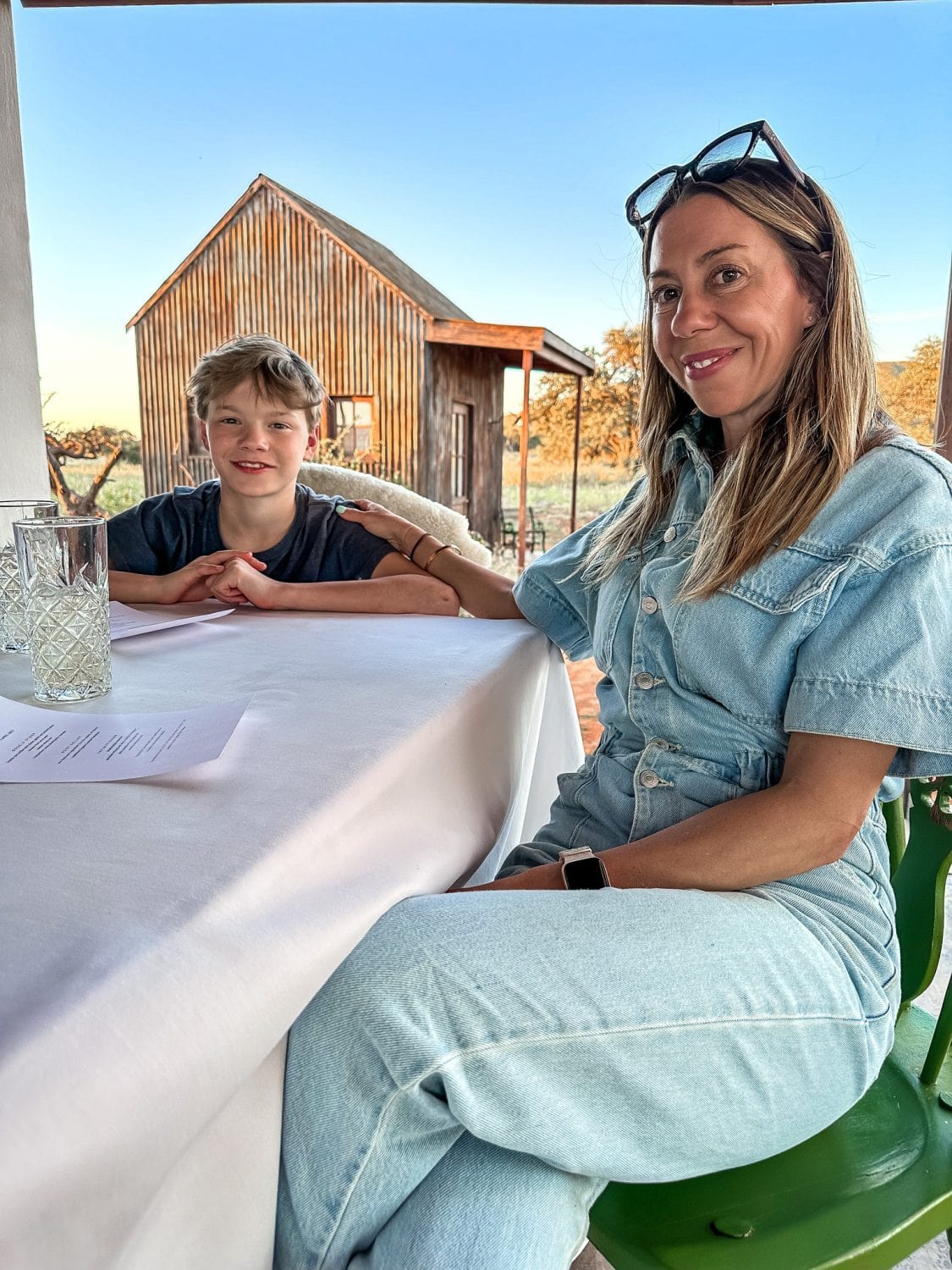 Cape Town
We ended our trip where most people begin an African adventure, in Cape Town. Our travel agent prefers to start her clients off in Cape Town, then head to safari, but we did it backwards because it was the only way it worked with our accommodations. My husband and I loved Cape Town, but I can see how going from watching a cheetah eat a springbok to walking through the botanical gardens was not as thrilling for the kids… alas, we still had an amazing time.
We stayed at the One&Only which was located in the heart of the waterfront/market area. Cautious about our safety, we were assured that it was a very safe area to walk around with our kids and I can attest that was how we felt in and around the hotel property.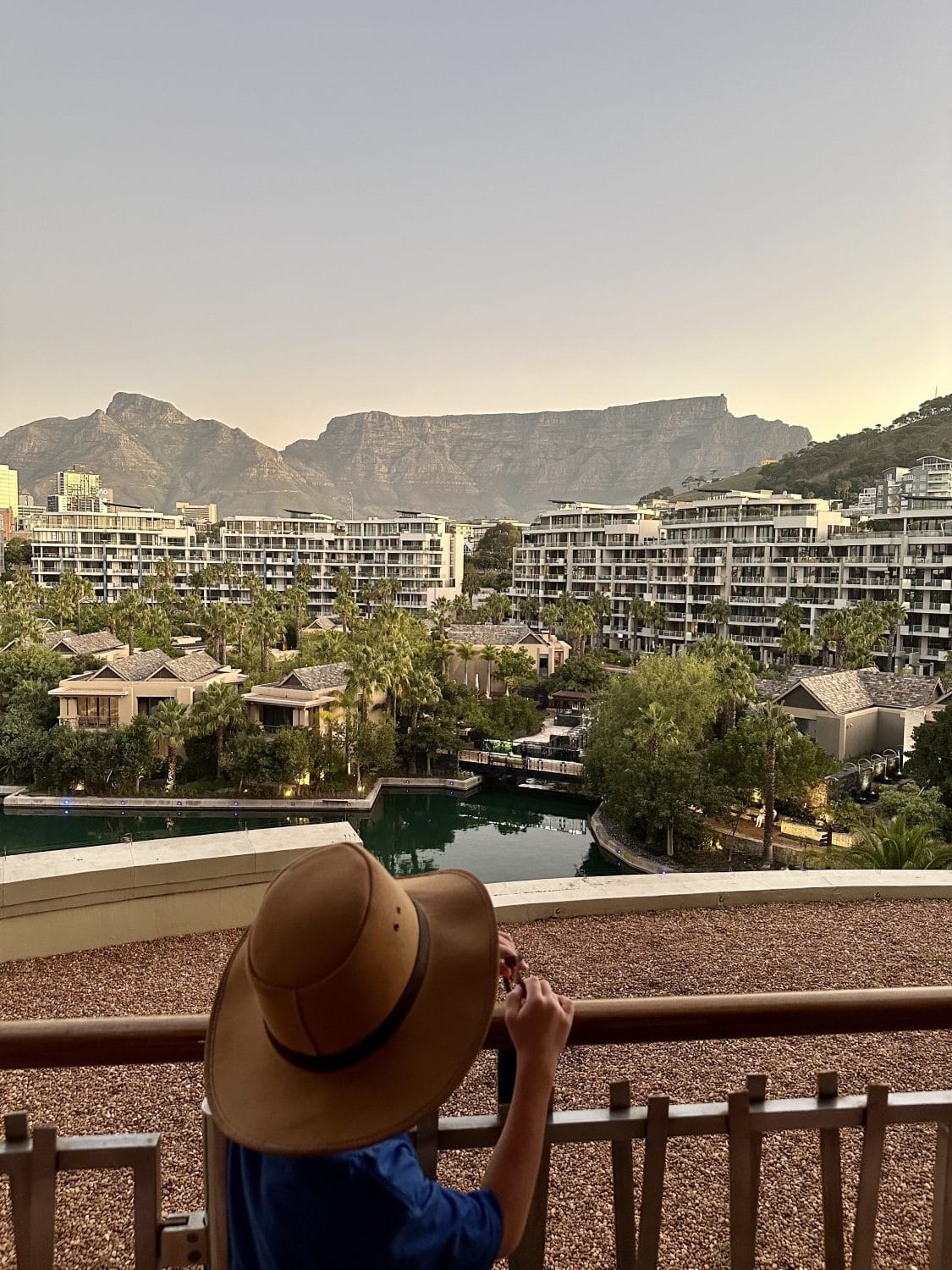 We had a private guide for our entire stay in Cape Town. Ian, the 6'6 Cape Town native via TransAfrica Safaris, drove us to all of our planned activities teaching us about the history and culture of the breathtaking city along the way. We noticed immediately the juxtaposition of extreme poverty and luxury accommodations. There were miles of townships (homes made a of tin, no running water or plumbing where multi-generations of families would live), along side gorgeous homes lined with barbed wire and electric fencing. Ian explained there is a 60% unemployment rate and even though these people in the townships want jobs, it's almost impossible to find one. As a result, there is a lot of petty crime and robbery.
I will say, we always felt safe during our stay there, and being with someone who had such a great lay of the land put us at ease.
What We Did in Cape Town
Day 1
Table Mountain // We took a cable car to the top with 360 panoramic views of the city.
Botanical Gardens // Self-walking tour of the gardens that included all of the area's native plants.
Wine Tasting at Constantia Glen // The kids watched chickens run around the yard while my husband and I sat with Ian to have a wine tasting al fresco.
After lunch we headed back to the hotel for some swimming/relaxation poolside.
We ate dinner at the hotel – well, the kids got room service and my husband and I went to Nobu which is located in the hotel. Wow. So good.
Day 2
Boulders Beach // Who knew South Africa had penguins! We drove down the coast to this iconic beach to view this phenomenon with our own eyes. Boy were they cute.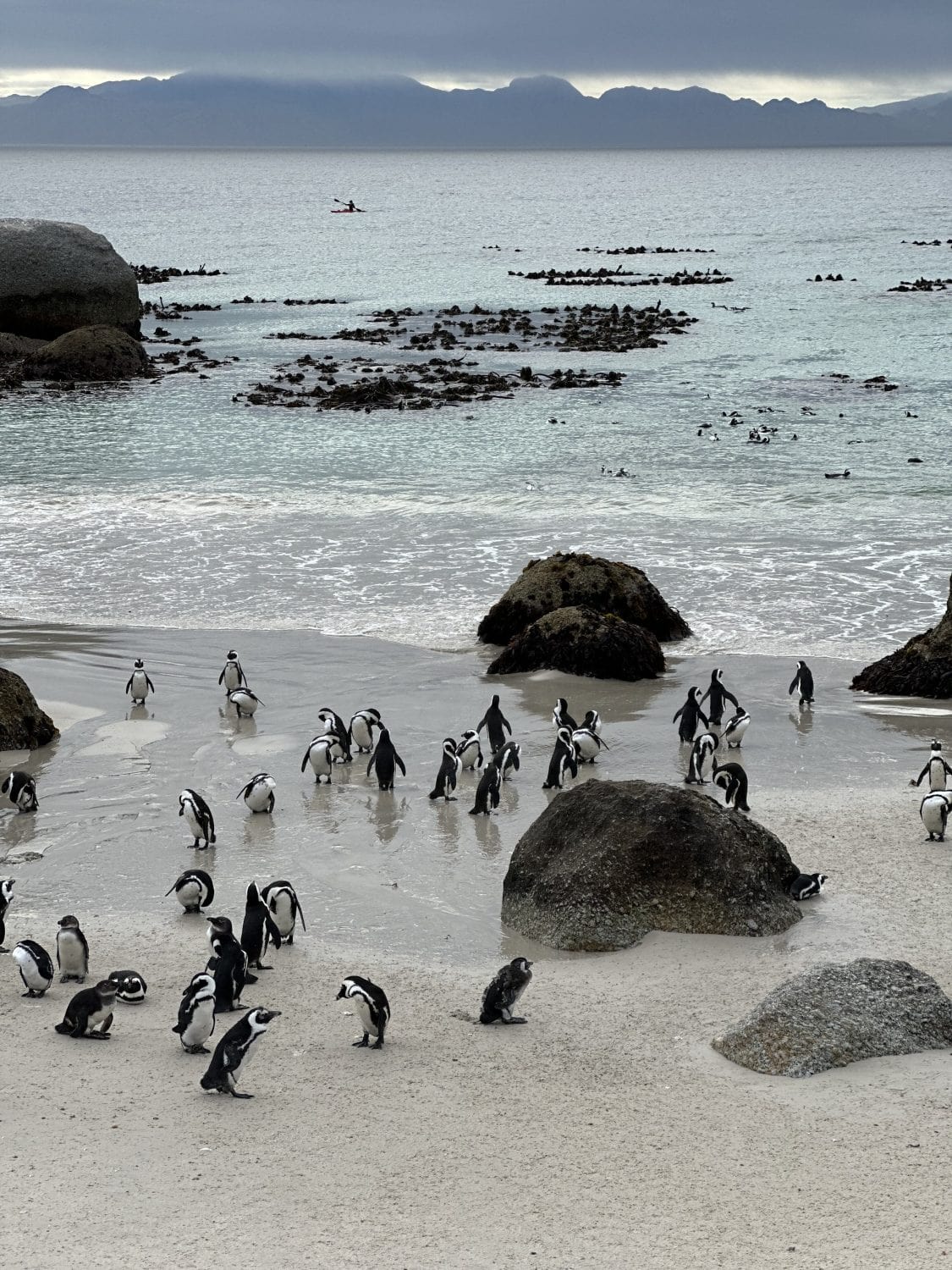 Cape Point Nature Reserve // We took a funicular to check out a lighthouse – sadly it was very foggy and rainy so we didn't get to appreciate the beautiful views. I mean, it was still pretty incredible….
Lunch @ The Food Barn // amazing!
Back to hotel for the afternoon then in the evening we walked to the waterfront area for dinner. Tons of cool restaurants + amazing shopping.
Day 3
Although today was our last day in Cape Town before heading home, we squeezed in one last activity that was probably the best thing we did during this leg of the trip. Enter, the sidecar adventure. We walked out of the hotel lobby to find 4 motorbikes (with side cars!!) waiting for us. We suited up in leather jackets, helmets, AND googles and went on a joy ride down the coast. I kept thinking to myself, "Is this even real life?!" The most spectacular views, in the most laughable outfits, in the most epic form of transportation. Highly recommend.
Yep. So that was our safari in South Africa trip in a nutshell. As I wrap my head around everything we did and everything we saw, I honestly don't know if we will ever take a trip that could top this one. Thank goodness I have 987 photos that documented our once in a lifetime family adventure.
Any questions?