The old saying "it takes a village" couldn't be more true for me.  I know everyone's "village" might look different, but for me it consists of family, friends, neighbors and teachers! Other than my husband and I, most of their daily time is spent with their teacher. As a former teacher and now a parent, I have a so much admiration for the work that goes into running a classroom. Making sure the kids learn the curriculum is just one small piece of a teacher's job – instilling confidence, facilitating relationships, nurturing feelings, managing behavior all the while tying making things fun and relatable are just a few things teachers do all long, all at once. While there is no shortage of gift cards to be given to our amazing teachers, I wanted to step outside the box and put together a few thoughtful and useful gifts to show them just how much we really appreciate them and all they do!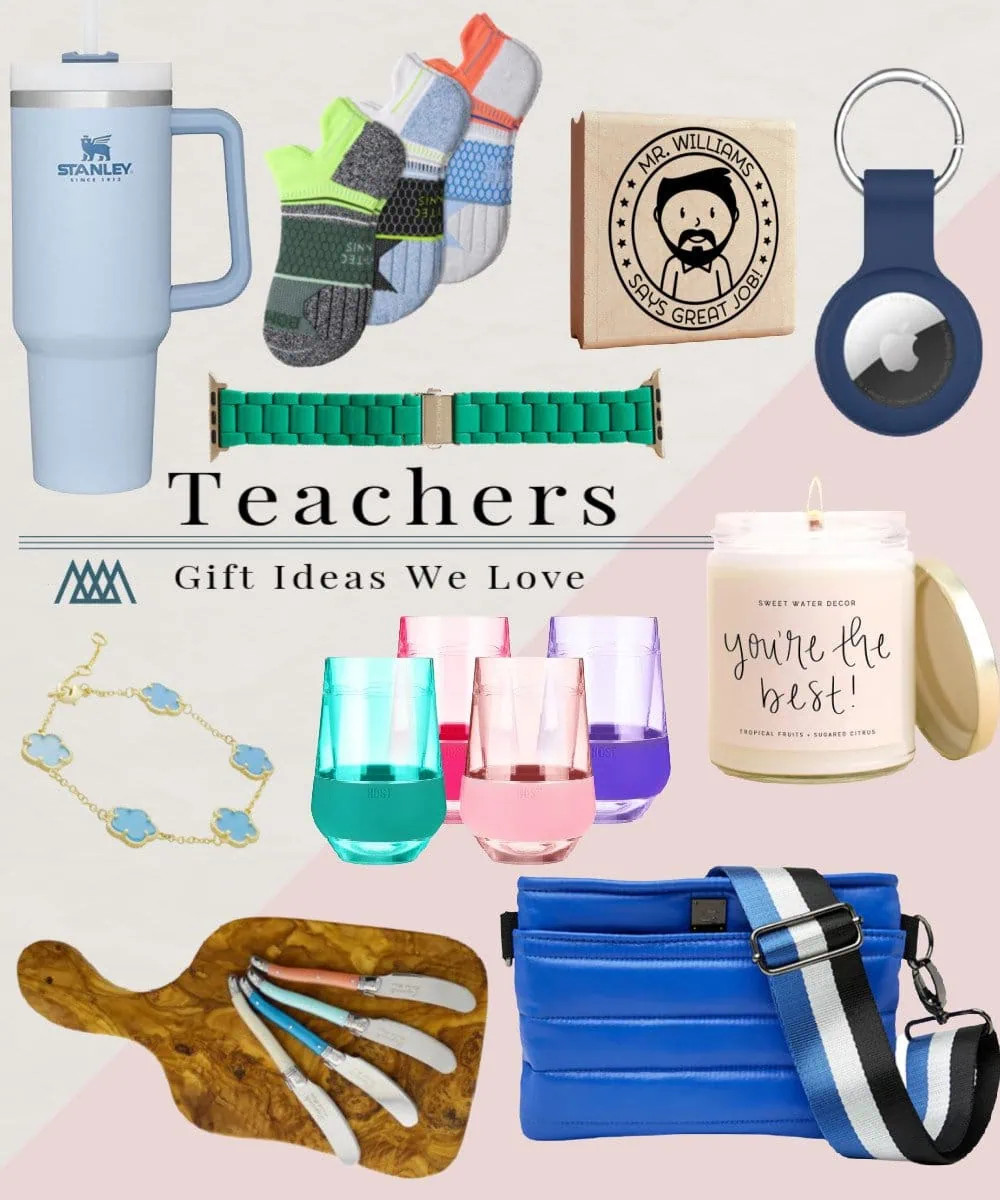 Stanley Tumbler // The "it" tumbler of the year! And something we all can never have too many of. These are great for the classroom, on the go, the beach….anywhere!
Bombas Socks // If you know you know. And my guess is the teachers know that these socks are amazing! They make a great gift and are always appreciated!
Teacher Rubber Stamp // I love a personalized gift. Something useful for the classroom and always something they will remember you for.
AirTag // Even teachers lose things. This is a great gift for keys, phones, and anything that we misplace on the daily. Add a cool keychain as a bonus!
Apple Watch Band // For the teacher who likes to mix things up and add a pop of color! This watchband comes in 9 different colors and makes a great gift!
Flower Bracelet // Something dainty and pretty is always a great idea! I love a piece of jewelry that can be worn for everyday but also stands out.
Wine Freeze Cooling Cups // It's summer so the teachers can sit back and relax and enjoy a cold beverage!
You're The Best Candle // Simple and straight to the point! Love this gift idea!
Cheese Board // For the teacher who loves to entertain…
Think Royln Bum Bag // Give the teacher a break for their big school bag. This bag can be worn three ways and comes in so many fun colors!! (use code MOTHERCHIC20)
More Great Gift Ideas