I've been telling myself lately that I don't need a special occasion to get dressed for the day. I could live in my workout clothes, but post workout it's time to get dressed. Even if it is just cut off shorts and a tank top, it's the effort that counts. Evereve has so many fun pieces in their summer collection and I styled just a few of my favorites. Wherever you are heading this summer, we have the perfect outfit to go with 🙂
Ice Cream Run
Anyone else always feel like they are literally running after the ice cream truck – gotta see if they still are offering chaco tacos! The Evereve cut off shorts have the perfect amount of stretch for fit and comfort. Pair with a fun tank top that emulates the summer night sky. Pop on some sunshine yellow kicks and boom we are out the door running….
Baseball Game
I may be sweating for hours on the bleachers, but at least I look cute doing it. I love the easy zip front and sporty waist tie on this romper. One and done!
Beach Day
This gauzy jumpsuit is the ultimate beach day cover-up. Breezy enough for a hot day, but also provides great coverage from the sun and as the evening gets chilly.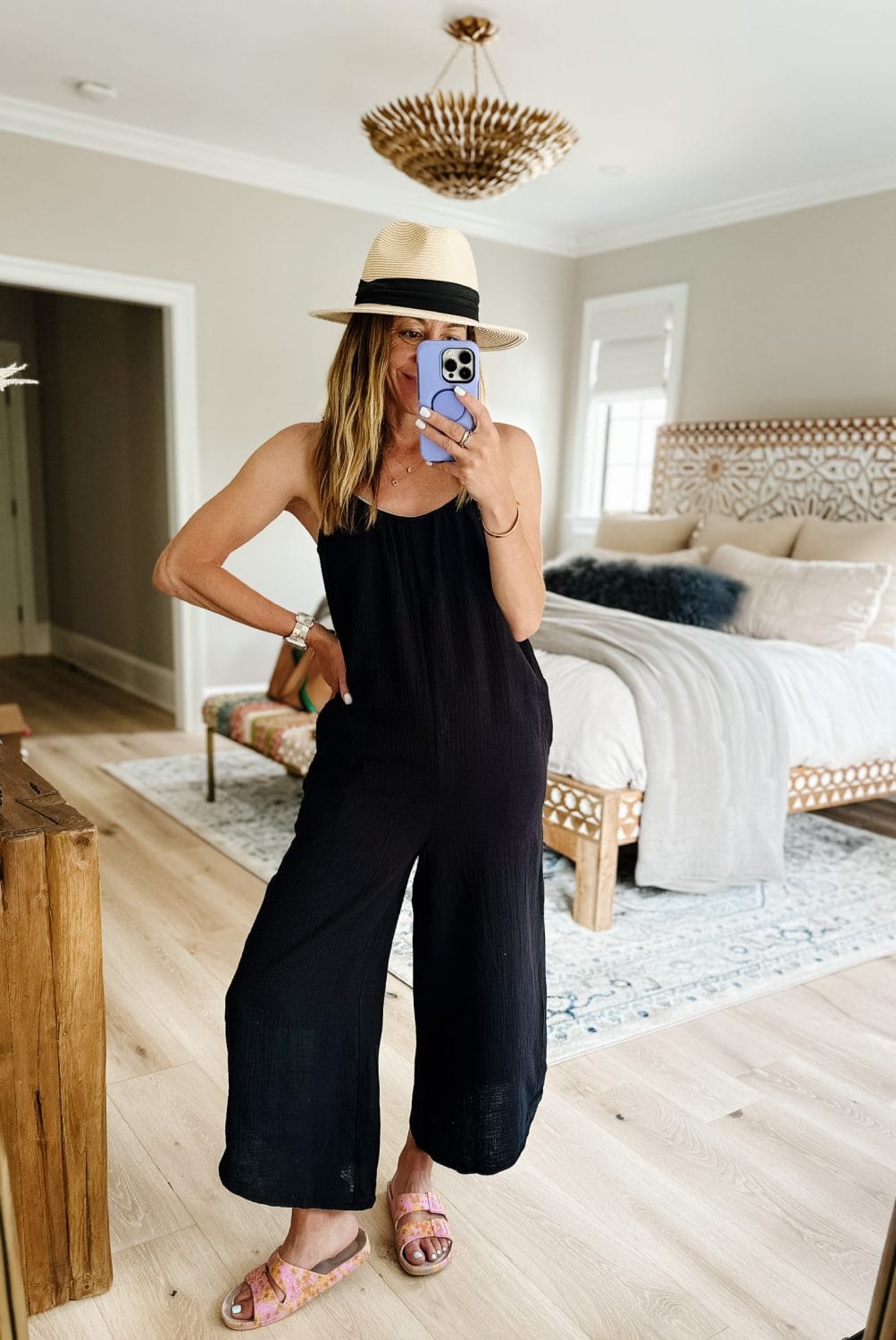 Country Club Lunch
This stripe shift dress is definitely going to be on repeat this summer. I love the vertical stripes and nautical navy color. I rarely go for a super preppy look, but this dress makes me feel polished and classic.
Girl's Night Out
Time to break out your dancing shoes and party pants! I love these silky cargos as an alternate to denim for date night or girl's night out. They are a very substantial and have a slick hand feel. Just add a statement earring to complete the look.
Tank | Cargo Pants | Heels (or here)
Vacation
Speaking of party pants, these printed ones have entered the chat. Leave it to Farm Rio to offer a stunning placed scarf print pant! These are great for a nice dinner or a swing by the pool bar.
Tank | Printed Pants (size up) | Sandals
Any Occasion Dress
Remember I said how I was focused on getting dressed this summer. Well, here is your excuse to wear this dress. Oh wait, there is no excuse, just wear the dress!
---
More Evereve Summer Favorites